Furious Carlo Ancelotti calls for video technology after Bayern Munich exit Champions League
Two of Cristiano Ronaldo's goals looked offside either side of Arturo Vidal's questionable red card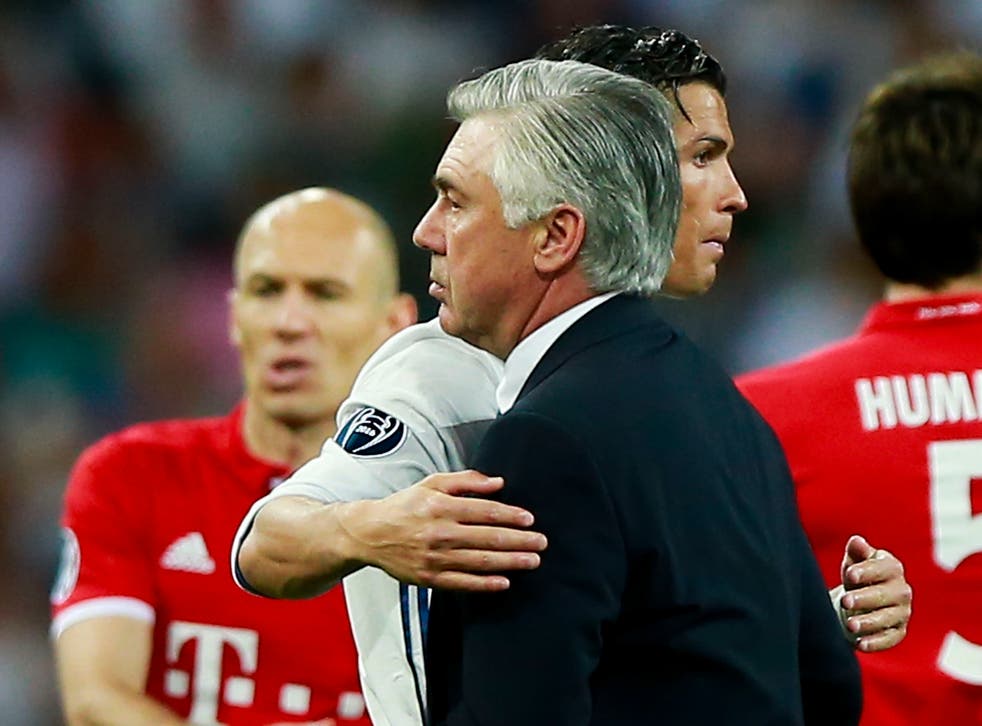 A seething Carlo Ancelotti has called for video technology to be introduced to the Champions League and criticised referee Viktor Kassai for a "bad game" after a series of questionable decisions.
Bayern Munich were eliminated from the quarter-final stage after a 4-2 defeat to Real Madrid on the night, that made it 6-3 on aggregate.
The Bayern manager said the official's performance was "worse" than that his team's after a questionable second yellow card for Arturo Vidal on 84 minutes, and two Cristiano Ronaldo goals that probably should have been ruled offside.
Real Madrid 4 Bayern 2 player ratings

Show all 22
"I know it's football and it happens sometimes, but not this serious of a mistake," Ancelotti railed. "I believe we played very well. I thought we deserved more.
"The decisions penalised us a lot. The card given to Arturo [after 84 minutes] wasn't a card. The two goals of Cristiano were offside. It's clear we're not happy with this.
"A quarter-final, you have to have a referee with... I don't know... with more quality. Or have video. There are too many errors."
Ancelotti refused to say whether he felt his team would have gone through if all decisions were correct, but reiterated that his team had "no luck" and again criticised Kassai.
"I don't say this," the Italian said. "I don't like to do it either [criticise]. The ref had a bad game. Full-stop.
"We haven't had much luck.
"We don't know. The important thing is to not make a mistake. A lot of times with these decisions, there is doubt. Here there is no doubt. I saw it live."
Asked again whether he was explicitly calling for the introduction of video technology, Ancelotti said "yes".
Register for free to continue reading
Registration is a free and easy way to support our truly independent journalism
By registering, you will also enjoy limited access to Premium articles, exclusive newsletters, commenting, and virtual events with our leading journalists
Already have an account? sign in
Register for free to continue reading
Registration is a free and easy way to support our truly independent journalism
By registering, you will also enjoy limited access to Premium articles, exclusive newsletters, commenting, and virtual events with our leading journalists
Already have an account? sign in
Join our new commenting forum
Join thought-provoking conversations, follow other Independent readers and see their replies