Real Madrid captain Sergio Ramos contemplates changing his shirt number to 93 in honour of La Decima goal
The defender has revealed he may change his shirt number to commemorate his most famous goal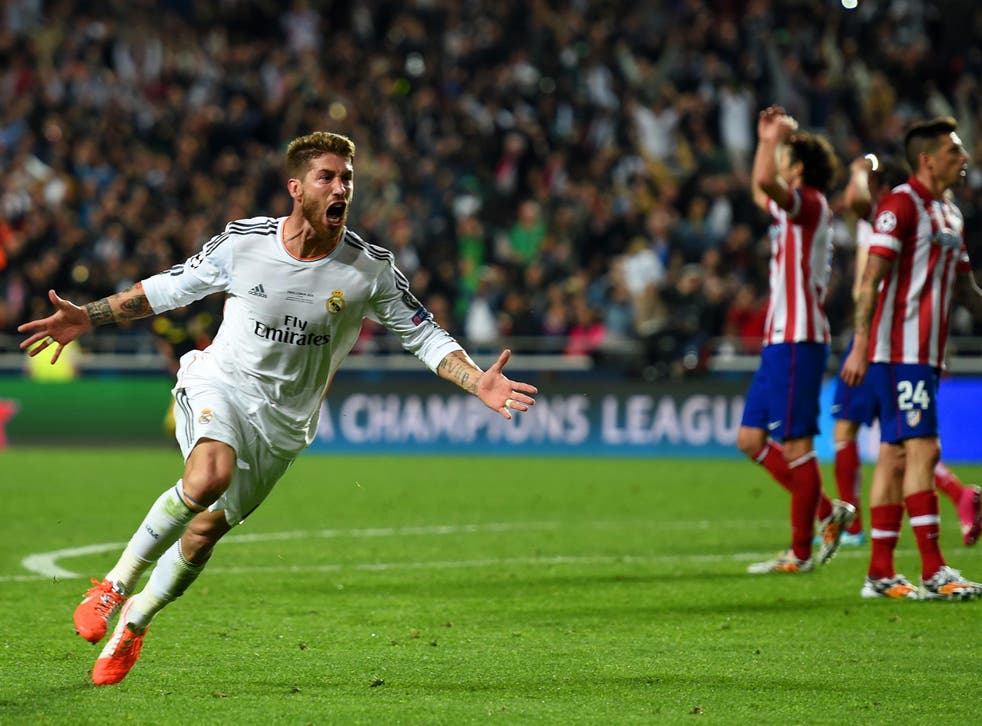 Real Madrid captain Sergio Ramos is contemplating changing his shirt number from No 4 to 93 in the final season of his career, to pay tribute to his injury-time equaliser in the 2014 Champions League final against rivals Atletico, the game that sealed La Decima.
Real appeared destined for defeat in the game after Diego Godín gave Atletico the lead with a header in the first-half, only for Ramos to powerfully head home the equaliser from Luka Modric's corner in injury-time.
A tiring Atletico faded quickly, with Gareth Bale, Marcelo and Cristiano Ronaldo all going on to score as Real came back to triumph 4-1, to finally clinch their long-awaited tenth European Cup.
Ramos has worn the number four shirt ever since signing for Real in the summer of 2005, in a €27m (£22.9m) move from Seville.
However he revealed during a Facebook Live session that he was planning the switch to commemorate his greatest moment at the club.
"Believe me when I say that the thought of changing my jersey number to 93 has crossed my mind," he revealed as he answered questions submitted by supporters.
"At the same time, the No 4 is one that I have always liked and that I have worn throughout all of my time at Real Madrid. It has nearly always brought me good luck.
"But do not rule out seeing me change my number in my final season, as a tribute to what is such a great minute for us."
The 30-year-old went on to explain how important completing La Decima was to those connected to the club. Real were made to wait 12-years for their tenth European Cup after winning their ninth in 2002, and the achievement became the principal target of Florentino Pérez's second spell as president of the club.
"The Decima goal stands out above the rest of my goals," Ramos added. "Especially given how long we had been waiting to win the Champions League, with it coming in the last minute and because it helped us to go on and become champions."
Real's pursuit of a twelfth European Cup continues on Wednesday night as they entertain Napoli in the first-leg of their Round of 16 clash. But manager Zinedine Zidane has decided not to risk Gareth Bale, who has not played since November due to an ankle injury.
Despite Zidane saying "We have got all of our players back" as he met with press ahead of the match, Bale's name was not included in the 19-man squad list later published on the club's website.
The Frenchman also took the opportunity to prais his opposite number Maurizio Sarri, only to swiftly warn the experienced Italian coach that Real have the talent and experience to hurt his high-flying Napoli team.
Zidane said: "Napoli play good football. Sarri is doing a great job as coach and you can see what they're about through their results. Having seen this side play, it's going to be a good game.
"Napoli are a good attacking side and they play with a lot of intensity and speed. They're small, tricky players with good technique.
"But we have the tools to do them harm and we want to do that tomorrow."
Join our new commenting forum
Join thought-provoking conversations, follow other Independent readers and see their replies