PSG fail to deliver on promise of fire and fury as Real Madrid cruise through to Champions League last eight
Paris Saint-Germain 1 (2) Real Madrid 2 (5): Cristiano Ronaldo and Casemiro were both on target as the reigning European champions comfortably swept aside their French hosts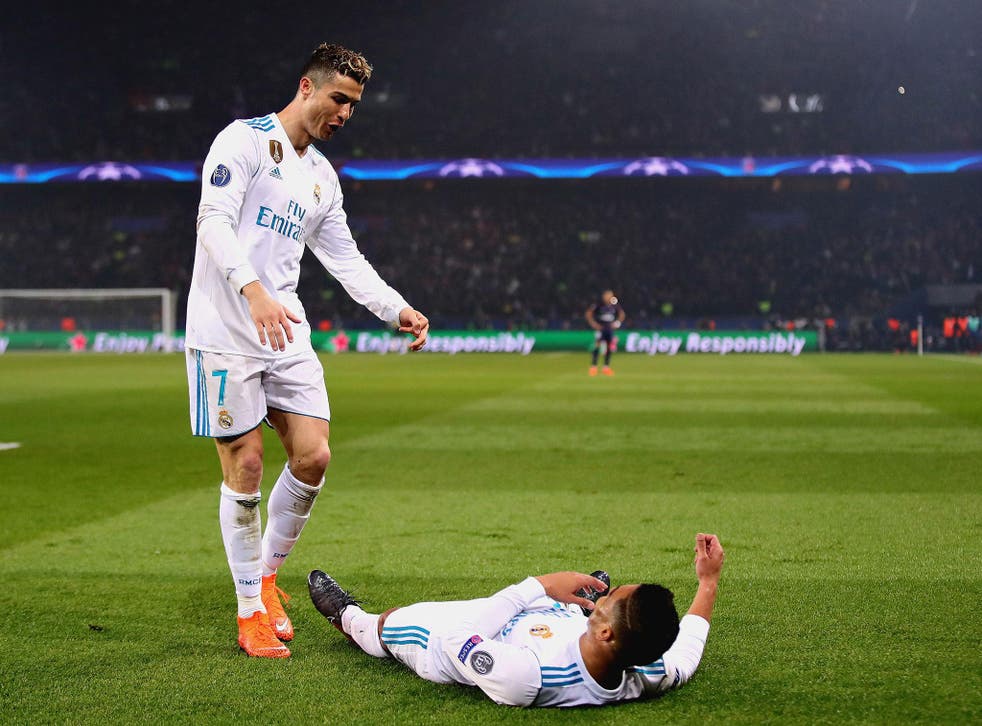 Paris promised fire and fury, and on a fiery night in the French capital, their Champions League dreams went up in flames. The grand project will have to be deferred for another year; their plans for the last week in May can safely be shelved. And in the months before PSG launch their next extravagantly-funded tilt at Europe's top prize, perhaps they will reflect on the lessons they were handed during these two matches by a Real Madrid side who may not be the equal of their illustrious predecessors, but still know how to handle the thrust and parry of these big games like nobody else.
You can buy a lot of things in football, but you can't buy composure. And perhaps the defining motif of PSG's ill-starred night was the sight of their playmaker Marco Verratti charging furiously at the referee, earning himself a moronic red card and firmly treading this tie into the dust. The cause was already lost by then, of course. PSG's late brain fade in the Bernabeu three weeks ago saw to that. But somehow Verratti's mindless rage encapsulated the mindset of a PSG side that can control games, control markets, control title races, but still struggle to control themselves.
Their record in this competition over the last six seasons now reads four quarter-finals, two last-16 exits. And until they manage to master the big occasions, the big prizes will continue to elude them. The lack of balance in their squad, both mentally and tactically, is most brutally exposed on nights like these. And their record group-stage goals tally will offer little comfort as they watch the rest of the tournament on television.
For Real, chasing a 13th European Cup, it was a case of job done. Zinedine Zidane gambled with his starting line-up, leaving out Gareth Bale, Toni Kroos and Luka Modric in a young and inexperienced midfield. But it was their big-ticket players – the imperious Sergio Ramos, the irrepressible Cristiano Ronaldo, the pyrotechnic Marco Asensio – who ultimately came through for them. Ronaldo's inevitable goal was his 117th in the competition. Casemiro's late winner was a delicious final insult. And most importantly of all, amid the crackling Parc des Princes atmosphere, they kept their heads.
The smoke from the pre-match pyrotechnics was still thick in the air as the match kicked off, and the PSG ultras remained in fine voice all night. And yet, in this billionaire's playground, with David Beckham among the celebrities in the posh seats, you would still struggle to describe the mood as genuinely hostile; not so much a wall of noise as a fresco of noise, a bay window of noise, a sliding conservatory door of noise.
And as PSG played out the game without breakthrough, a certain edginess even began to take hold. They grumbled when Adrien Rabiot or Kylian Mbappe gave the ball away. They held their breath as Ramos crept in at the near post and forced a fine save from Alphonse Areola. They howled when Ronaldo took a wild swipe at Dani Alves after an offside call went against him, and somehow escaped without a card.
The game was getting scrappy, and that suited Real just fine. Ramos and Raphael Varane were dealing with PSG's front three easily enough, and with the heft of Benzema up front and the animatronic scarecrow dressed as Ronaldo alongside him, they were creating plenty of satisfying counter-play. Both squandered good opportunities either side of the break.
If Real had been kept up late by the PSG fans besieging their team hotel into the early hours, they weren't showing it. Indeed, six minutes into the second half it was the home side who were caught snoozing on the job, as Real carved their right flank to confetti – the same flank that undid them in late on in Madrid. Lucas Vazquez got a free cross, Ronaldo got a free header, and you know how that usually turns out.
What did PSG have in their locker? Not Neymar, of course, now out for the season. And for the last quarter of the game not Verratti either, receiving his second yellow card for dissent after running at referee Felix Brych and screaming right in his face. With Thiago Motta also sacrificed, PSG's control of midfield simply vanished into thin air, as their 10 remaining men threw everything into their mountainous task.
But fate had a gift for them. With 20 minutes left, substitute Javier Pastore stooped to head at goal. It was a low-percentage effort, but two deflections off Casemiro and Edinson Cavani later, the ball was nestling in the Madrid net, and PSG had a thread of hope to grasp at.
It lasted exactly 10 minutes. And there was a certain irony in the manner in which Madrid ultimately put the tie to bed, Casemiro's shot from 18 yards hitting Marquinhos and looping over a helpless Areola. It was Real's fifth goal of the tie, their second on the night. What fate giveth, and all that. Thing is, when you have spent a billion pounds assembling your dream factory, the idea is not to leave these things to chance.
Join our new commenting forum
Join thought-provoking conversations, follow other Independent readers and see their replies