Harry Winks shines at Real Madrid as Tottenham midfielder proves he has the most important thing - Mauricio Pochettino's trust
The England midfielder is growing in stature and, when trusted on a big Champions League night, proved his worth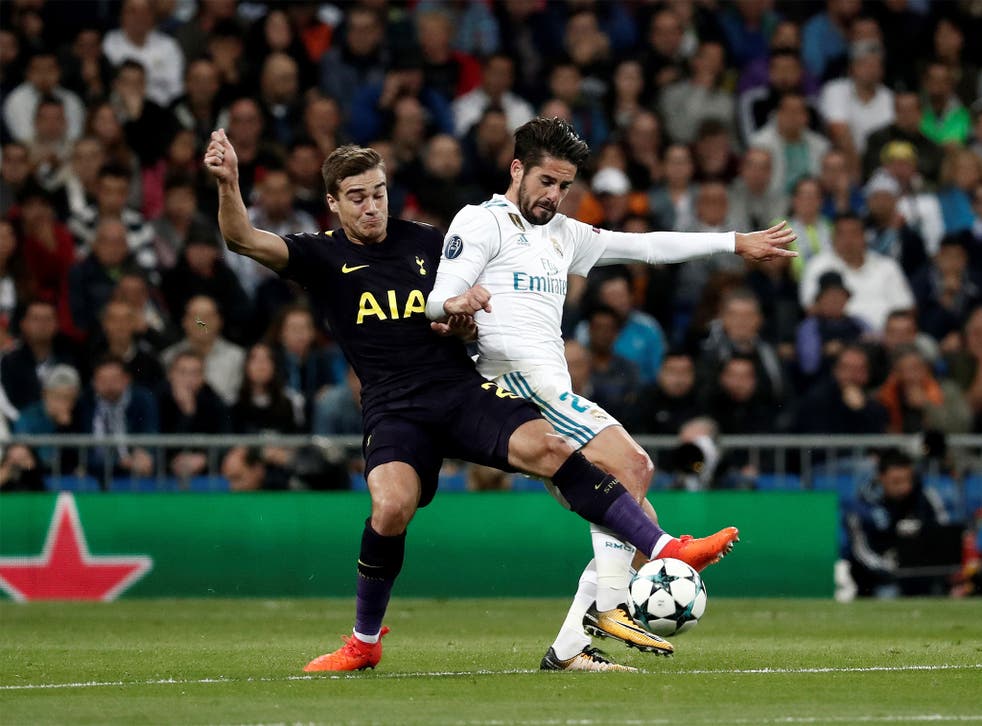 Mauricio Pochettino has always had trust in Harry Winks, but this was the night that he would show it.
The young midfielder, who can now proudly call himself an England midfielder, tells a story of when he first met Pochettino as a wide-eyed 18-year-old scholar signing his first professional deal with Spurs.
"He came in and shook my hand," Winks told The Independent earlier this year. "And he said, and I don't know if he was being truthful or not, 'I have seen your videos, and I told John to sign you up straightaway.' I was gobsmacked."
Real Madrid vs Tottenham player ratings

Show all 22
Winks only made his Premier League debut just over a year ago but ended up playing 33 times for Spurs across all competitions and continues to be in the rotation this year.
But when the big games came he was always left on the bench, watching on and wondering, never trusted to start against any of Spurs' top-six rivals.
In the Champions League, however, his chance came against a team bigger than any of those he'd had to watch from the sidelines, and as assured as he was shaking Pochettino's hand and putting pen to paper on that contract, Winks was impressive on one of footbal's greatest stages against some of its best players.
Luka Modric has been the best midfielder on the planet for some 18 months now and if you must quibble with that, then it can only be to crown his partner, Toni Kroos. The two provide the creativity, deftness and control that Winks can only aspire to but the biggest honour you can bestow upon the 21-year-old is that he did not look out of place. Not a bit.
There was a fair amount for Winks to do with Spurs going 5-3-2 against Real Madrid and the youngster plonked in the centre of that midfield. To his right, Moussa Sissoko was to be the main legs and breaking threat on the counter. Christian Eriksen, holstered in his left pocket, was, as ever, Spurs' creative outlet.
Winks was tasked with holding down the centre of the park. His distribution, as ever, was clean and simple - 94% pass completion - and his breaking up of Madrid's midfield play was vital. Rarely will you see Real Madrid so restricted in the Champions League, a competition they approach like no other.
By cutting off the supply line to Karim Benzema, Winks helped to disrupt Madrid's attack in a way that Dortmund completely failed to do on the last matchday. No Spurs player made more interceptions than Winks as Real Madrid's famously potent attack was strangled.
Mauricio Pochettino can reflect on a job well done, tactically setting up his side for success against a club that his teams had never even scored against in seven attempts.
His strategy and gameplan were spot on but so was his selection, going with a risky line-up and one that included a wildcard choice that repaid his faith.
Register for free to continue reading
Registration is a free and easy way to support our truly independent journalism
By registering, you will also enjoy limited access to Premium articles, exclusive newsletters, commenting, and virtual events with our leading journalists
Already have an account? sign in
Join our new commenting forum
Join thought-provoking conversations, follow other Independent readers and see their replies