Five things we learned as Lionel Messi's late clasico Barcelona winner sunk Real Madrid and blew La Liga title race open
A battered but unbowed Messi makes sure he is not the only one in the Bernabeu spitting blood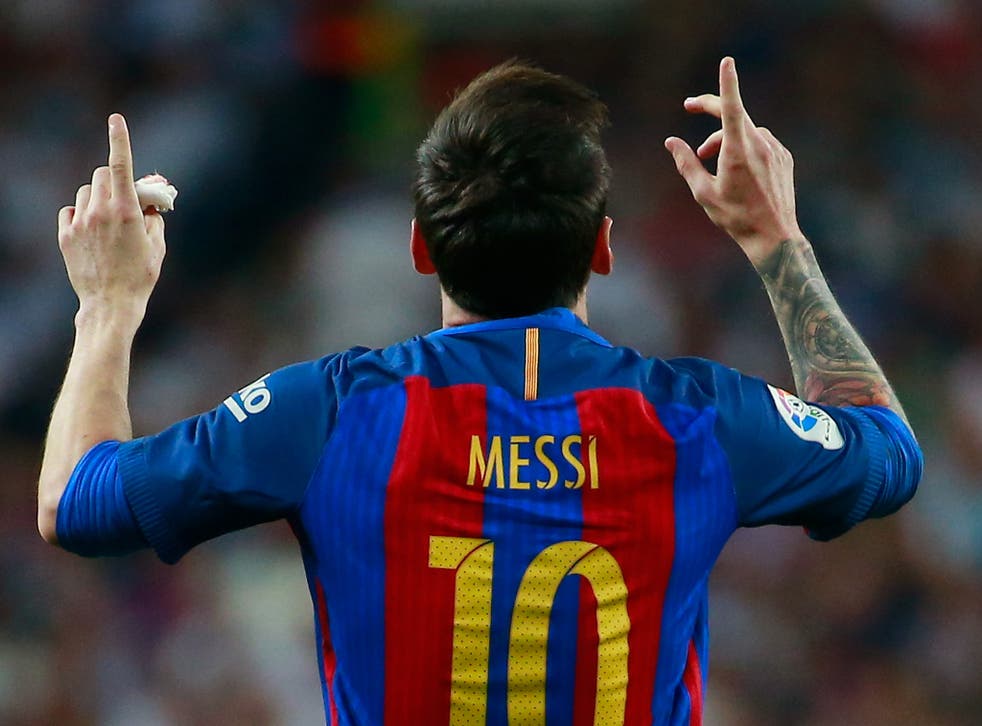 Somehow, there is still life in this title race
This was Madrid's chance to put Barcelona to bed. Luis Enrique's side have been obliging enough, with those defeats at Deportivo and Malaga recently. This is not a great Barcelona team, far from it, but a mixture of Ivan Rakitic's thunderous left foot, Lionel Messi's customary magic and sheer complacency from Madrid means they still have a chance to claim a third straight league title.
Of all three of those reasons, the latter is surely the most important. Madrid should have managed this game to within an inch of its life, and it looked like they might be able to when they started so strongly.
Yet once they went ahead, they switched off. Then once they brought themselves level, they switched off again. It may cost them the title.
Real Madrid vs Barcelona player ratings

Show all 22
Messi bloodied but unbowed
Lionel Messi's magisterial abilities mean he is not often thought of as a scrapper, but the little magician has always had a mean streak and been capable of showing it. He take some serious punishment because he knows, so often, he will ultimately better his opponent.
So it happened here. For the second time in a week he bled on the pitch, on this occasion after an apparently accidental elbow from Marcelo. Casemiro's robust challenges were testing him too. His response was to score one his finest clasico goals to date, a brilliant shimmy inside and finish. His brilliant third, which came not too long after Sergio Ramos' suicidal two-footed, made sure he was not only one in the Bernabeu spitting blood.
Early penalty could have changed everything
In games of this magnitude, early penalties are rarely given and Barcelona can count themselves lucky for that. That, surely, is the only reason why Samuel Umtiti's opening thwack on Cristiano Ronaldo's right calf went unpunished.
The youngster did not come close to claiming the ball from a tackle that had the majority of the Bernabeu out of their seats, that killed off an early moment of promise for the hosts in an opening period that they dominated. The officials, who had a mixed night, either missed it or bottled it. If it had been awarded, this could have been a very different game.
Alcacer fails to fill the Neymar hole
Paco Alcacer put in an admirable effort up front in an attempt to minimise the loss of Neymar, but the 'SAM' simply does not have the same ring to it as the 'MSN'. The former Valencia forward passing was decent, his running was incisive but overall, he failed to properly chime with those around him.
Neymar's absence was felt, and no more so than when Alcacer spurned an opportunity to put the visitors ahead. His touch from Jordi Alba's cross was poor, forcing him into a toe poke at goal and once Keylor Navas had cleared, you could not help but think that a certain Brazilian takes that chance.
For once, Ronaldo could not score at the right moment
66 minutes gone, the game right in the balance. It is at these sort of moments which Cristiano Ronaldo excels, no more so than it the last few weeks. His game-changing goals against Bayern Munich, even the questionable ones, came at the perfect moment, taking the leg away from the Bundesliga champions each time.
He had the chance to do the same here too. Slipped in by Marco Asensio, a 2-1 lead was there on a plate for him. Instead, he somehow looped it over. For once, he could not convert when his team needed him most and it arguably cost them the three points.
Join our new commenting forum
Join thought-provoking conversations, follow other Independent readers and see their replies