Lionel Messi keeps Barcelona in La Liga title race as bloodied striker seals el clasico win at the death over Madrid
Real Madrid 2 Barcelona 3: Messi scores his second goal with 10 seconds left of injury time to keep Barca in the title picture and leave Real facing a true test of their character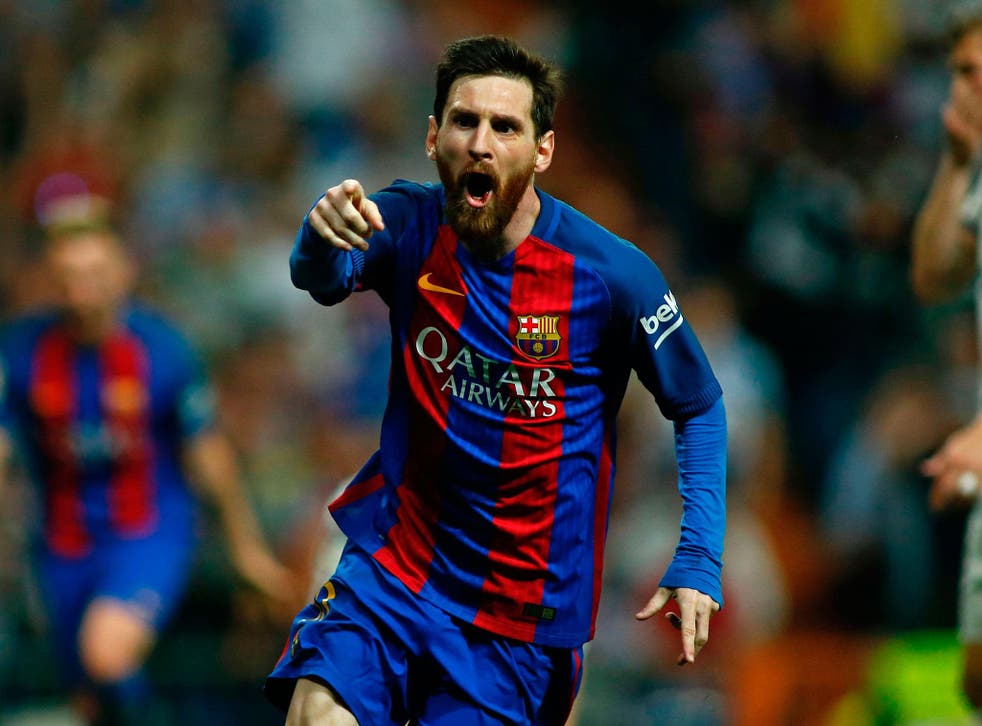 You may bloody him and bruise him, but you will not stop him.
Two strikes from Lionel Messi, including a curling winner with the last kick of the game, hauled Barcelona back into the title race on a night where Real Madrid had, for six heady minutes, appeared to have secured the championship.
Madrid's late equaliser, glanced home at the near post by James Rodriguez, would have been enough for 2-2 and the maintenance of a points buffer that was unlikely to ever disappear.
But as Barca's support celebrated in the top corner of the Bernabeu, the home fans left with a fresh uncertainty. The teams are level on points. Madrid still have a game in hand but they also have a Champions League campaign to fight. It will go down to the wire, just as this engrossing clásico did.
With Barcelona solving the will-he, won't he saga over Neymar's inclusion with a terse statement released some hours before kick-off, Real Madrid solved their own should-he, shouldn't-he by including Gareth Bale from the outset despite his lack of fitness.
The answer, it turned out, was that they shouldn't have, with the Welshman lasting just under 40 minutes before being taken off injured again.
By that point it was already 1-1, his substitution breaking up and slowing an enjoyably open first half laced with the testiness, artistry and violence we have come to expect from this fixture.
We have also come to expect questionable officiating, and this renewal was no different.
Real Madrid should have had a penalty when Cristiano Ronaldo got to a loose ball ahead of Samuel Umtiti but, even at a packed-out and unusually noisy Bernabeu, it is a strange convention of football that referees are reticent to give penalties early in games. This one, after 90 seconds, fell into that quirk of the rules and gave Barcelona a lifeline.
The game felt like it could easily have tilted violently in either direction on refereeing decisions, with the penalty decision costing the hosts but Madrid also fortunate not to lose Casemiro to a second yellow card when he cynically fouled Luis Suarez and then a third for yet another foul on Messi just before the break.
The Brazilian would punish them, becoming the unlikely scorer of the opener as he was first to react to Sergio Ramos' header hitting the post.
He was punishing in other ways too, repeatedly clashing with Lionel Messi as the Argentine danced around him but it was his compatriot Marcelo who did the most damage to the Barcelona number 10, leaving him bleeding from the mouth after an elbow.
It was, of course, unpunished by the officials.
Bloody him and bruise him, but you will not stop him. Messi provided much of the game's quality and, when allowed to pick up the ball in central areas, caused chaos when running at Madrid's defence.
But the equaliser would come when there was no chaos. Instead, it was as serene a passage of play as you will see, with Messi nipping ahead of Luka Modric and then around Dani Carvajal before sliding home. It was high-speed slalom taken to turf and it was the perfect way to restore parity in a game where Barca had been the better side, Madrid mainly staying in it through brutality after their bright opening faded.
They began the second half in the ascendancy once more, and Karim Benzema was incredulous when his point-blank header was saved brilliantly by Marc-Andre ter Stegen just when the hosts were dominating.
As in the first period, that strong start weakened and for 25 minutes the two goalkeepers traded high-quality saves, Ter Stegen particularly impressive twice from close range and Keylor Navas producing three of his own dazzling stops in what may well be his last clásico, if Florentino Perez's chequebook has anything to do with it.
But there was always the feeling, in a game so open and with such good chances being created, that the goalkeeping circus could not continue and that more goals would come. Indeed, it needed a stunning left-footed drive from Ivan Rakitic, taking advantage of a fateful half-step in the wrong direction by Navas, to score the game's third and breathe new life into La Liga's title race. 2-1.
The Bernabeu roared in hope and desperation, hoping 17 minutes would be enough time but they would only need 13 of them – and just ten men – as substitute James Rodriguez tapped home at the far post, scoring with just his sixth touch.
Few celebrated as wildly as Sergio Ramos, who was sent off for a two-footed lunge on Messi minutes earlier - the latest in a catalogue of assaults on the Argentine. Undeterred, Mateo Kovacic tried his own hack on Messi and was booked moments afterwards. The strategy was not to be abandoned.
But with James' goal came the feeling that it was done. The title was sealed.
Barring a complete collapse Real Madrid had won La Liga. Only a miracle could stop them.
That miracle was Lionel Messi, surviving 95 minutes' worth of battering and beasting to curl home a left-footed strike in the dying seconds. It was a goal to settle any title race, but whether it proves to be such a strike will only become clear down the line - right after those bruises heal and the teeth are replaced.
Join our new commenting forum
Join thought-provoking conversations, follow other Independent readers and see their replies