Real Madrid vs Liverpool: Better without Gareth Bale? James Rodriguez inspires slick midfield quartet
Real have put in their best three performances of the season in Bale's absence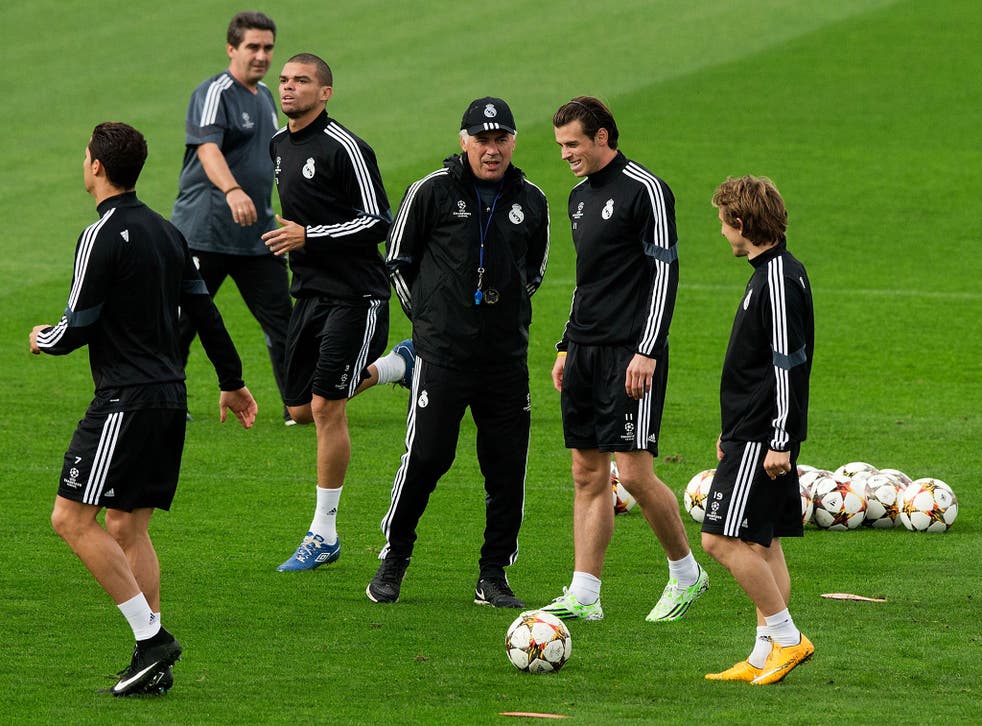 Carlo Ancelotti is the only manager in the world for whom a returning Gareth Bale could actually be a problem.
The Real Madrid coach admitted the Welsh winger was available again but Ancelotti was still not sure about whether to welcome him back into the starting line-up for the Champions League game against Liverpool at the Bernabeu. "I have doubts," the manager said. "I'm not sure if he will play from the start or to bring him on and give other players who have played a lot of games recently a rest."
On merit, Real's team stays the same. Since the former Tottenham man picked up his gluteus injury, Ancelotti's side have put in their best three performances of the season. They put three past Liverpool at Anfield two weeks ago, then brushed Barcelona aside in the season's first Clasico and beat Granada at the weekend in a convincing 4-0 win.
At the heart of hitting the heights so early in the season has been the bringing together of a midfield quartet who are all similar in style and stature – all lack Bale's explosive pace and power but all help Madrid to keep the ball better than they have done at any time in their recent history.
Isco has emerged as the fans' favourites – the Malaga kid is the closest they have to a local hero. Luka Modric was last week voted the best defensive midfielder in the league last season and alongside him Toni Kroos shows every week why Bayern Munich coach Pep Guardiola was so upset by his sale to such a big European rival.
The jewel in the crown is James Rodriguez. The star of the World Cup does not always become the star of the following season. Buying the best player from Brazil 2014 was the very unscientific way that Real went about their pre-season business. As the Colombia midfielder huffed and puffed his way though the first few games of the campaign, it seemed they might have moved hastily for a player whose performances in Ligue 1 with Monaco last season were not always as noteworthy as his international displays.
But of his two goals against Granada on Saturday, one was a left-footed volley to match his strike against Uruguay at the Maracana in the summer and is already a favourite in the race for goal of the season dominated by team-mate Cristiano Ronaldo.
James's eye for the spectacular was evident at an early age when he was a 13-year-old scoring direct from a corner in the final of Colombia's famous annual Pony Futbol youth tournament in Medellin.
But he has always been more than just a pretty face. That goal was one of nine James scored as he won player of the tournament and within a year he had not only been signed by Colombian top-flight side Envigado – playing his first official game for them aged just 14 – but the teenage debutant was thrown straight into a relegation battle in the Liga Postobon.
Although he was unable to keep Envigado up, he helped get them promoted the following season, scoring nine goals in 22 games and making all of South America sit up and take notice in the process, winning a move to Banfield, then on to Europe with Porto and then Monaco.
His rise is not the gentle climb of a talented but fragile playmaker. James has shown he can lead from a young age. He did so at the World Cup for his country and he did not hold back when asked about La Liga options in the summer, stating he preferred Real to Barcelona in a bold statement most make only when the ink has dried on their lucrative new contract.
"I would go to Madrid with my eyes closed," he said in another interview before he signed his six-year contract and before Monaco's Russian president Dmitry Rybolovlev had accepted Real's €80m (£62m) bid. If all that did not endear him to Real supporters, his performances since then will have done.
"We have the same attitude and the same style as always," Ancelotti said, dealing with another barrage of leading questions about how Real's style has been easier on the eye since Bale's injury allowed him to pick his four passing midfielders.
"I want to make it clear that this style of play is the same we have always tried to play. It's not new that Real Madrid try to play possession football. Sometimes we do it well and others not so well but the idea is always the same."
James has made it easier and nothing sums up the success of his and Kroos' assimilation into the team more than the fact Barcelona are looking across at their eternal rivals and wondering why suddenly they have all the midfield talent.
"[Johan] Cruyff was right" ran one headline in the Catalan media recently. The former Barcelona player and coach had warned in the summer that Madrid were suddenly buying the players that Barça used to snap up. He feared for the consequences.
What Barcelona, and Liverpool too, would not give to have anyone of Real's fantastic four in their midfield. If Bale does make the starting line-up, one of Europe's most on-form midfielders will have been left out.
Join our new commenting forum
Join thought-provoking conversations, follow other Independent readers and see their replies