Roberto di Matteo's Chelsea park the yacht at Barcelona to leave Messi all at sea
When the Argentine  was booked for pulling up Frank Lampard it was a sign of frustration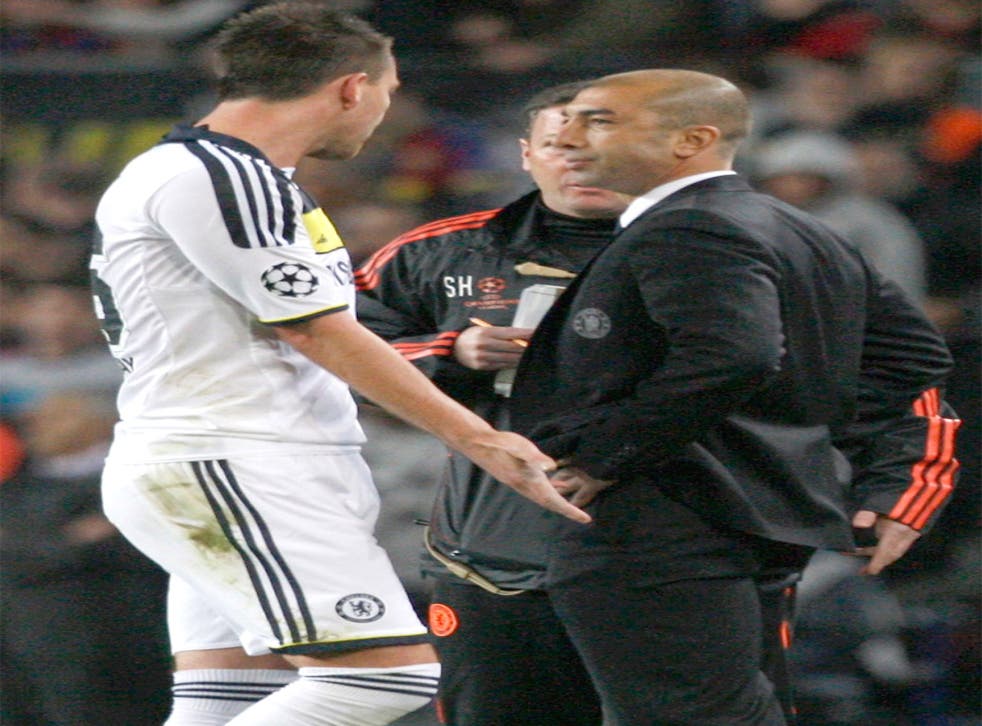 So Fernando Torres will end the most miserable season of his club career with a Champions League final no less. For much of the season he has looked like a man who probably needed to go home in order to rediscover his scoring touch. Ultimately that is exactly what he did.
He has now scored eight goals in 11 games against Barcelona, five in the Nou Camp. If this does not kick-start his Chelsea career,nothing will. Barcelona supporters were worried about Torres' ability to hurt them on the counter-attack and although the Premier League side would have gone through without his goal, it was the moment they sunk to their knees knowing they were definitely out.
There were smiles as he left the pitch as Chelsea celebrated and Lionel Messi, who for so long looked like being the man of the tournament, went out with a whimper. If the genius has a flaw it is from the spot. Messi has missed a quarter of his 33 penalties for Barcelona and when he hit the bar last night at the start of the second half Barça were heading for the exit.
For 10 Champions League games Messi had been enough. His 14 goals made him the competition's top scorer with potentially three games to spare. But after drawing blanks in the last two matches he will not play in the final in Munich.
The missed penalty had been his second effort on goal. His first was saved by Petr Cech. It was an improvement on the weekend's defeat to Real Madrid when he had failed to get a single shot on target but it was still a failure to carry Barcelona into the final, and they needed carrying.
Early on, they had gone nowhere with all their possession. Messi gave the ball away three times in the first 15 minutes and Chelsea looked comfortable with the job in hand. When the visitors lost first Gary Cahill through injury and then John Terry to his sending off, the spaces opened up but still there was no way through.
When Messi was booked for pulling back Frank Lampard midway through the second half it was a demonstration of the frustration. In the summer Pep Guardiola had brought in Cesc Fabregas and Alexis Sanchez to support his best player but neither has been able to do the job that Pedro and David Villa did last season.
And so Jose Mourinho will face his former players in the Champions League final if his Real Madrid team can overcome Bayern Munich tonight. He will have watched Chelsea overcome Barcelona with memories of his Internazionale side's passage into the final two years ago. For Barça the memories will be the same – in many ways it was Inter all over again – another semi-final, another first-half red card for an opponent and another failure for a poor first leg.
For Thiago Motta sent off in 2010 read Terry. But the sending off left Chelsea with one only one option – park themselves in front of Petr Cech's goal.Park the bus, park the plane as Mourinho had put it in 2010, or park Roman Abramovich' 530ft yacht, currently moored in Barcelona port, whatever it took to keep out the holders with 10 men. When the defensive heroics failed them, with Didier Drogba filling in as an auxiliary defender bringing down Fabregas, Messi showed his Achilles heel.
In the 2009 semi-final between these two teams Barcelona had needed a late goal and the ball had been at Messi's feet three minutes into injury time. He looked up to his right and rolled it to Andres Iniesta who sent it past Cech and put his team in the final. Last night when the protagonist looked for a best supporting actor he was nowhere to be found. When the last-minute goal came – it came from Torres.
Torres sets seal on the miracle of Barcelona
'That special spirit is part of the DNA of these players', says Di Matteo
Man for man marking: Barcelona v Chelsea
James Lawton: After Terry atrocity, Chelsea heroes produce performance of their lives
Register for free to continue reading
Registration is a free and easy way to support our truly independent journalism
By registering, you will also enjoy limited access to Premium articles, exclusive newsletters, commenting, and virtual events with our leading journalists
Already have an account? sign in
Register for free to continue reading
Registration is a free and easy way to support our truly independent journalism
By registering, you will also enjoy limited access to Premium articles, exclusive newsletters, commenting, and virtual events with our leading journalists
Already have an account? sign in
Join our new commenting forum
Join thought-provoking conversations, follow other Independent readers and see their replies