Roberto Mancini: 'Joe Hart saved everything, I should say thank you to him. He was fantastic'
Ian Herbert
Thursday 04 October 2012 11:22 Comments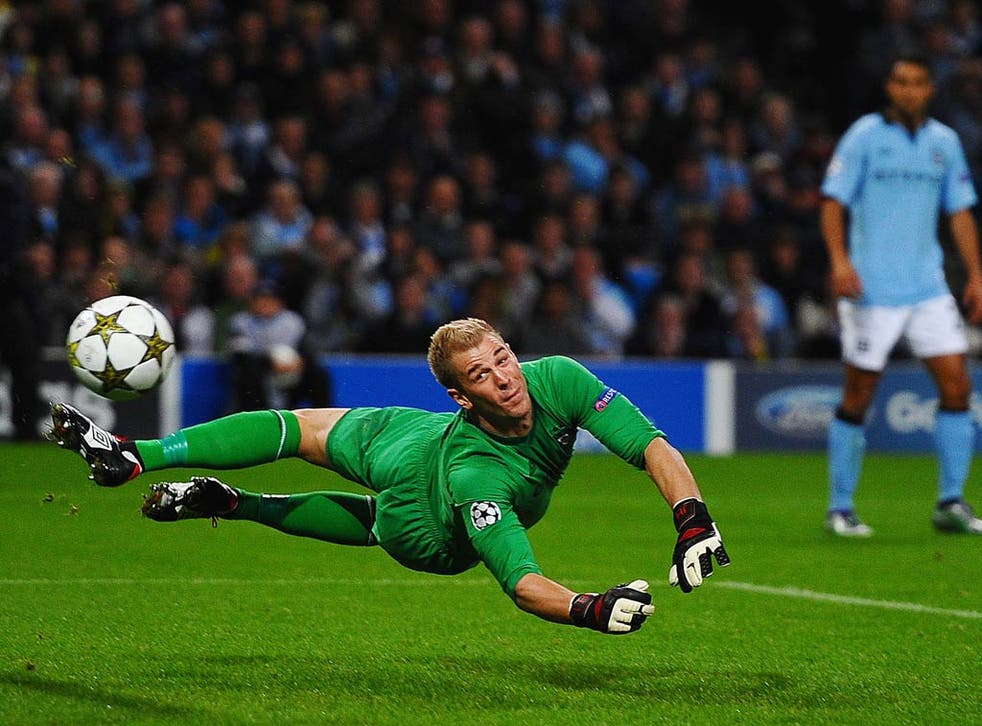 Roberto Mancini last night hailed one of the great British goalkeeping performances by Joe Hart, which preserved City's Champions League hopes and led Wayne Rooney to describe him as "the best in the world".
The City manager, who had criticised Hart for describing the side's performance in defeat to Real Madrid last month as unacceptable, said he owed much to the 25-year-old England goalkeeper. "He saved everything. I should say thank you to him," Mancini said. "He did a fantastic play. If it is the best in football history, he did very well."
Rooney tweeted that "I have to say that Joe Hart has been fantastic. For me he is the best goalkeeper in the world," though Hart was only called into such service because of the lack of defensive discipline which allowed German champions Borussia Dortmund's fast-running side to overrun City at times.
"Our performance was very, very poor but I think at the end of the group this point could be very important," Mancini said. The Italian hinted that profligacy and indiscipline, in the way that the club went for all-out attack, were the problems that needed to be rectified before the club's next game in Ajax on 24 October.
"I think the Champions League is totally different from every championship," Mancini said. "When you play, you play against the best players, so when you have a chance you have to score. If you don't score and after you concede, like we conceded this evening, it's difficult that we can win.
"First half we had three or four incredible chances and I don't know why we didn't score but this can happen," he added. "The problem was our performance. This is the problem. In Champions League we can't play with all players that attack. We need to defend with all players. If you don't defend, if you don't run like Borussia Dortmund did this evening it's difficult."
Hart said that "off the top of my head" he could not remember making as many saves in one game. "I thought Dortmund were different class," he admitted. "It took a good defensive effort by us to keep it to just one. I hope this result is important and that it is not a waste of effort. This game shows just how tough this group is."
City's owed their point to the penalty, for handball, awarded in the final minute against defender Neven Subotic, who later said he felt unjustly punished. "It was very, very unlucky, I don't know what I did, if I have bad karma, I don't know why [the referee] called it," Subotic said.
"I am sad this is the way they scored, if they'd scored from a normal goal OK we'd say the deserved it but it's a painful way to [concede] the equalizer."
The Borussia Dortmund coach, Jürgen Klopp, was gracious in his disappointment at two deserved points dropped. "I think we were the better side overall. [Sergio] Aguero had one or two great chances and it could have been different. In that respect it wasn't an undeserved draw," Klopp said.
Register for free to continue reading
Registration is a free and easy way to support our truly independent journalism
By registering, you will also enjoy limited access to Premium articles, exclusive newsletters, commenting, and virtual events with our leading journalists
Already have an account? sign in
Join our new commenting forum
Join thought-provoking conversations, follow other Independent readers and see their replies