Roma vs Liverpool: Three key battles that could decide the Champions League semi-final
Mohamed Salah's pace in behind will be Roma's biggest worry, but Liverpool should be concerned by Edin Dzeko's aerial ability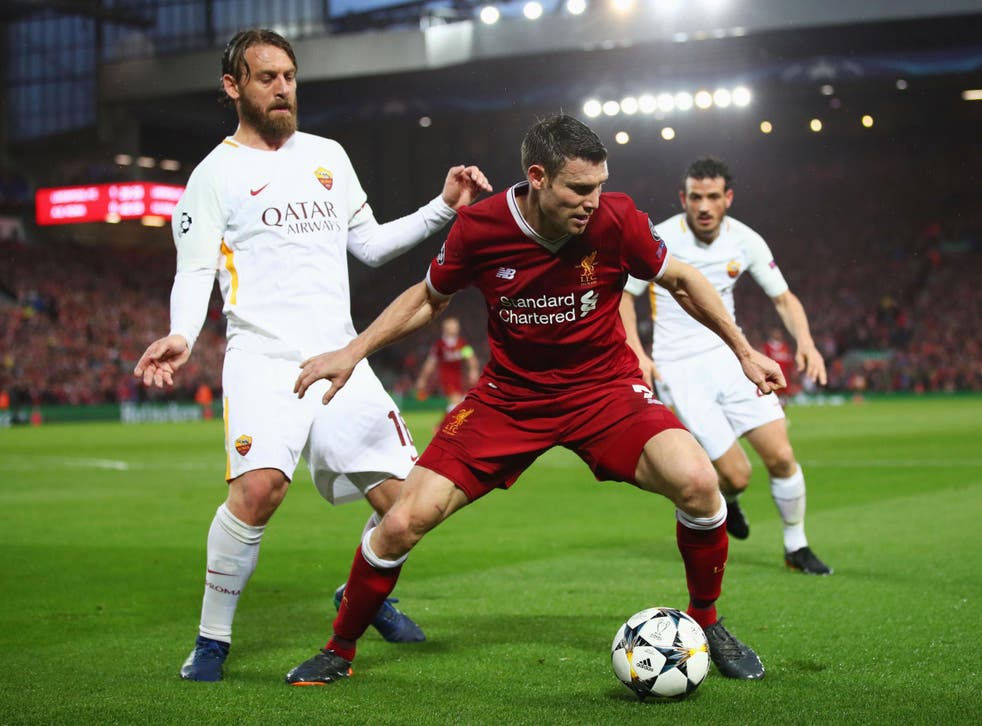 Alessandro Florenzi and Kostas Manolas vs Mohamed Salah
The definition of insanity is doing the same thing repeatedly and expecting different results, so the cliché goes, and though Eusebio di Francesco may have the look of a mad scientist, he will surely abandon last week's experiment of a three-man defence and an extraordinarily high line. It left Roma badly exposed and played right into Mohamed Salah's hands.
The Egyptian is therefore unlikely to have as much joy in Italy as he did at Anfield, with Roma expected to revert to a back four, but the hosts also need to play on the front foot to reduce the three goal deficit. Salah should still be able to find plenty of space.
It will be up to left back Alessandro Florenzi and left-sided Kostas Manolas to manage Salah's movement in the channel between them. Manchester City initially succeeded in limiting Liverpool's top scorer in the last round, but their own attempt at a comeback was inhibited by the knowledge could undo all their hard work. Once Salah's goal came, it was game over.
Liverpool vs Roma: Player ratings

Show all 23
Edin Dzeko vs Dejan Lovren and Trent Alexander-Arnold
The blueprint for an unlikely Roma comeback in this tie was set in the last round - not in their remarkable victory over Barcelona, but in Juventus' narrow failure to overcome Real Madrid.
Max Allegri's side exploited a Madrid weakness three weeks' ago by isolating Dani Carvajal against Mario Mandzukic and maximising their Croatian's aerial advantage. Juventus' comeback came from crosses to the far post, where a towering Mandzukic made taking a two-goal lead at the Bernabeu look easy.
It ultimately did not prove to be enough for the Italians, but their compatriots from the capital may fare better if they employ a similar tactic. Dejan Lovren and Trent Alexander-Arnold have looked vulnerable as a right-sided partnership to high balls and Edin Dzeko's late strike at Anfield last week came after Lovren mistimed a header.
Daniele de Rossi vs James Milner
It may not be the most glamourous of match-ups but the duel in the middle of the park between each side's eldest player will be important. Like many of his Roma team-mates, the 34-year-old Daniele de Rossi began the first leg well, dictating the tempo and snuffing out all Liverpool advances in the first 20 minutes.
Yet by the final whistle, it was James Milner, a man two-and-a-half years his junior, earning the most plaudits for his performance. Despite being such a familiar figure, Milner is arguably the revelation of Liverpool's Champions League campaign so far, breaking the competition's all-time record for assists and proving once and for all that he can be effective in a central role.
As the more advanced of the two, Milner will be in direct competition with the holding De Rossi, and the Yorkshireman's reserves of stamina should stand him in good stead against a player who seemed to struggle with the pace of last week's first leg.
Register for free to continue reading
Registration is a free and easy way to support our truly independent journalism
By registering, you will also enjoy limited access to Premium articles, exclusive newsletters, commenting, and virtual events with our leading journalists
Already have an account? sign in
Register for free to continue reading
Registration is a free and easy way to support our truly independent journalism
By registering, you will also enjoy limited access to Premium articles, exclusive newsletters, commenting, and virtual events with our leading journalists
Already have an account? sign in
Join our new commenting forum
Join thought-provoking conversations, follow other Independent readers and see their replies