Samir Nasri faces prospect of four-year drug ban as WADA demands urgent investigation into LA 'drip' treatment
The World Anti-Doping Agency has demanded that an investigation into Nasri be carried out after it emerged last month the player had visited an intravenous therapy clinic in Los Angeles. If found guilty of wrongdoing, the 29-year-old could be banned for up to four years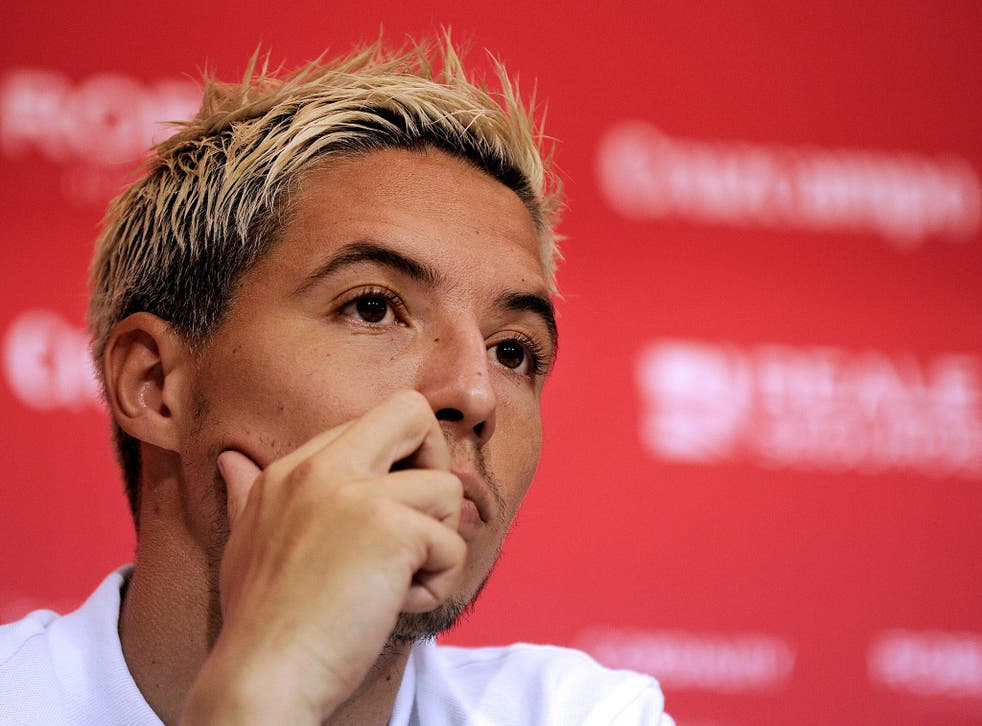 Manchester City's Samir Nasri faces being banned from football for up to four years, with the World Anti-Doping Agency demanding that an investigation into whether he broke its rules be carried out with utmost urgency, The Independent understands.
Nasri, currently on loan at Sevilla, is under investigation by Spain's Anti-Doping agency after visiting the Los Angeles intravenous therapy clinic 'Drip Doctors' last month and though City are indicating that it is a matter for the Spanish club to deal with, they face being lumbered with a banned player if Spain's anti-doping authority finds wrongdoing.
A ban would be disastrous on several levels for City, not least because there would be benefits for them of Nasri moving permanently to Sevilla, where he has started ten La Liga games this season. The Spanish side's former Stoke City player Steven Nzonzi has emerged as one of the leading defensive midfielders in Spain and City may be interested in trading Nasri for him.
Privately, Sevilla seem confident that Nasri will not be found guilty of any wrong-doing, despite the LA clinic tweeting on December 27 that it had provided the Frenchman with "a Concierge Immunity IV Drip to keep him hydrated & in top health" during his season with Sevilla.
Intravenous therapy is banned by WADA unless administered in quantities of no more than 50 millilitres per six-hour period, or in cases where the athlete in question has obtained a certificate of special dispensation on medical grounds.
Nasri would have needed a Therapeutic Use Exemption (TUE) to be exempt from the regulation. But the picture from Spain is confused, with Sevilla offering no sense that he either needed or secured a TUE. They have admitted they were unaware the player was having the treatment in LA.
Spain's anti-doping agency AEPSAD (the agency for the protection of health in Spanish sport) has indicated that the investigation into the Nasri case, opened on December 28, is on-going, though has not disclosed when it will conclude.
Though WADA declined to discuss the case specifically, the organisation did warn against unacceptable delay in the conclusion of such an inquiry.
"Whilst WADA does not yet have the full details and facts [regarding the situation], we are aware of this matter and expect the relevant anti-doping organization to investigate further," said the organisation's spokesman Ben Nichols. "As with all anti-doping matters, we will be monitoring the work conducted by the applicable anti-doping organization.
"It is important that information is provided to and gathered by the investigating anti-doping organization as quickly as possible and in as much detail as possible, because the longer the period between the incident and the investigation, the greater the risk that certain evidence may no longer exist. Anti-doping organizations are required to come to a decision efficiently and without undue delay as to whether the proceedings should be brought against the athlete or other person."
After Drip Doctors published its tweet about the intravenous therapy administered to Nasri, tweets were then sent from Nasri's account which suggested sexual services had also been provided by the clinic. Nasri later tweeted that his own account had been hacked and Drip Doctors issued a statement, also indicating that the founder and chief executive of Drip Doctors, Jamila Sozahdah, had been the victim of a hacking.
Nichols said that a violation of article 2.2 of WAFA's code could result in a sanction of up to four years. That seems unlikely, with factors such as whether or not the use was intentional also coming into play. Kolo Toure was issued with a six-month ban for taking his wife's water tablets, while a City player.
Though there is no suggestion that the multi-vitamin intravenous booster contained banned substances, the practice is prohibited because the intravenous method may be used to disguise other forms of doping. WADA guidelines state that such infusions are prohibited because athletes could use them to mask the use of a prohibited substance and distort the values of their Athlete Biological Passport.
Since arriving in Sevilla, Nasri has told French television that Guardiola wanted him to stay at the Etihad but that he declined because he could not be guaranteed full-time football. The picture he has painted of life under Guardiola before leaving for Spain included the revelation that the Spaniard had told players not to have sex after midnight, because it can contribute to muscular injuries.
Nasri is free to play for Sevilla pending the publication of AEPSAD's findings. He played on Wednesday in the Copa del Rey against Real Madrid and is due to face Leicester in the Champions League next month.
Join our new commenting forum
Join thought-provoking conversations, follow other Independent readers and see their replies