Serbian government vows to help debt-ridden giants Red Star and Partizan
Zoran Milosavljevic
Wednesday 14 November 2012 12:40 Comments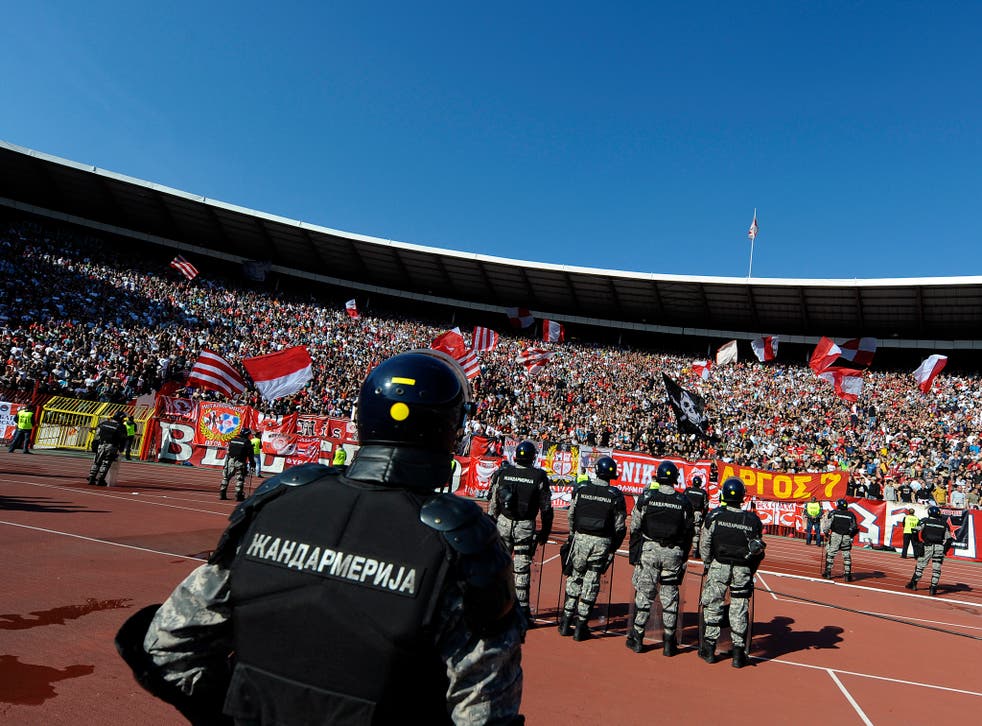 The Serbian government will help refinance debt-ridden soccer giants Red Star and Partizan Belgrade and have appointed managers to temporarily run Red Star, the Balkan country's deputy Prime Minister Aleksandar Vucic said.
Vucic had called a press conference in the early hours on Wednesday to announce the refinancing after Red Star chairman Vladan Lukic resigned on Tuesday saying he was exhausted from struggling with managing the club's debt of about €60 million and from a poor run of results.
Lukic's resignation left a massive void at the club ahead of Saturday's crunch derby with champions and league leaders Partizan, and the government concerned about the health of two of the biggest clubs in the country.
"I spoke to the club's legends and leadership on the behalf of Serbia's government and we have agreed to (refinance) Red Star's and Partizan's debts because the state cannot allow these two clubs to go under," Vucic said.
"The situation is so dire it's beyond comment and we will do what we can to help out Red Star and Partizan.
"As far as Red Star are concerned, we will speak with Gazprom, their general sponsor, to elaborate how soon they can pour some money into the club."
Vucic said a working group headed by former player Dragan Dzajic would take charge of Red Star to try to consolidate the club's financial position until a new president and board were elected in either December or January.
Dzajic, who was a club director when they won the 1991 European Cup before he became club president in 1998, however, faces a mammoth task of restoring Red Star's past glory after they were brought to the brink of administration by years of mismanagement that went hand in hand with the Balkan conflicts of the 1990s and the economic depression in Serbia.
Both clubs were heavily funded by the authorities in communist Yugoslavia before the country's bloody break-up but have been left largely to their own devices in the past 20 years, mostly selling talent to richer overseas clubs and drawing as many sponsors as they could.
Dzajic, who quit as president in 2004, said he was looking forward to the challenge of getting the club back on the rails.
"All of this is a bit unexpected for me but Red Star must never give up and the club's first priority is to finish the first half of the season in a dignified manner.
"I thank Mr. Vucic for having faith in me and its obvious that the best use of my abilities is in the sports sector.
"I will do my best, I have been away for eight years but I think I still know how it's done."
Red Star, who have not survived beyond the winter break in European competition since 1992 and saw Partizan clinch the last five league titles in Serbia, have lost two games in a row and fallen eight points behind the champions with three games remaining before the league halts play until February.
Their derby on Saturday is likely to be played under tight security monitored by mounted and riot police amid fears of crowd trouble, which has plagued Serbian soccer in the past 20 years.
Register for free to continue reading
Registration is a free and easy way to support our truly independent journalism
By registering, you will also enjoy limited access to Premium articles, exclusive newsletters, commenting, and virtual events with our leading journalists
Already have an account? sign in
Join our new commenting forum
Join thought-provoking conversations, follow other Independent readers and see their replies