Manchester City's Sergio Aguero in race against time to be fit for Liverpool clash
The Argentina international has been on the sidelines since he sustained a knee injury in training at the beginning of last month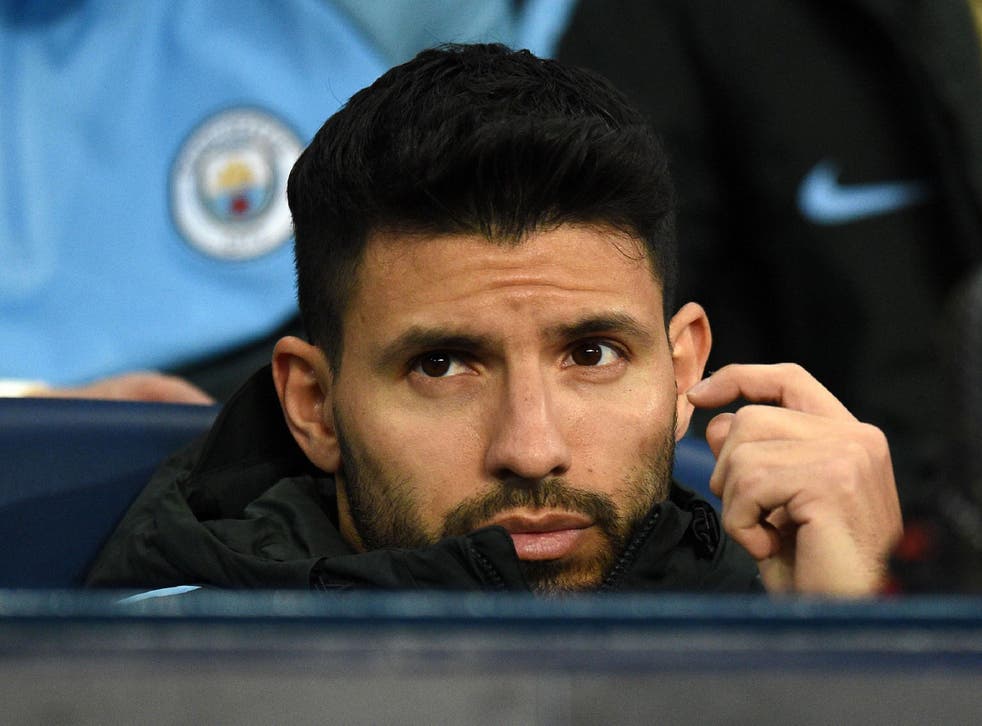 Manchester City striker Sergio Aguero is set to be fit enough for a place on the bench for their Champions League showdown with Liverpool at Anfield.
The Argentina international has been on the sidelines since he sustained a knee injury in training at the beginning of last month.
Aguero underwent specialist treatment during City' s recent warm-weather training camp in Abu Dhabi in bid to get him fit for a crucial period of the season.
The 29-year-old striker has scored 30 goals in all competitions this season and City will assess his fitness on Monday.
Although City manager Pep Guardiola is optimistic he can play some part in Wednesday's quarter-final first leg on Merseyside.
"We will see. Still he didn't train," Guardiola said. "Hopefully he is much better. We will see and in these situations it is day by day. I hope he can help us. Maybe not in the beginning but maybe the bench.
"After that we have Manchester United and after that you have Liverpool in the second leg. Maybe you have to change the system in the second leg and have six strikers to win the game and we need Aguero and Gabriel Jesus and Lukas Nmecha and everybody."
Meanwhile, Guardiola revealed he will not single out in-form Liverpool winger Mohamed Salah for any special attention when the sides meet at Anfield.
The Egyptian has scored 37 goals across all competitions for the Reds during a stunning debut season.
"Not just Salah," Guardiola said. "But Sadio Mane and Roberto Firmino, all three, they are almost unstoppable. They are fantastic, fantastic players and the way Liverpool plays is so complicated for us. They are an extraordinary team.
"We know that. They are so quick, they are so good and it is tough, but it is quarter-final of Champions League so we cannot expect in that level, something is going to be easy.
"To score goals away is so important and we are going to try to score goals but we cannot deny three people running up front plus Alex Oxlade-Chamberlain in the middle and set-pieces with Virgil Van Dijk.
"We play against ourselves and say 'that is the target, we have to overcome'. If we are able, ok, semi-finals. If we are not able, congratulations Liverpool and next season we will be back stronger but we are going to try."
Register for free to continue reading
Registration is a free and easy way to support our truly independent journalism
By registering, you will also enjoy limited access to Premium articles, exclusive newsletters, commenting, and virtual events with our leading journalists
Already have an account? sign in
Register for free to continue reading
Registration is a free and easy way to support our truly independent journalism
By registering, you will also enjoy limited access to Premium articles, exclusive newsletters, commenting, and virtual events with our leading journalists
Already have an account? sign in
Join our new commenting forum
Join thought-provoking conversations, follow other Independent readers and see their replies