Arsenal storm past Slavia Prague to reach Europa League semi-finals
Slavia Prague 0-4 Arsenal (1-5): Mikel Arteta's side will face Unai Emery's Villarreal in the last four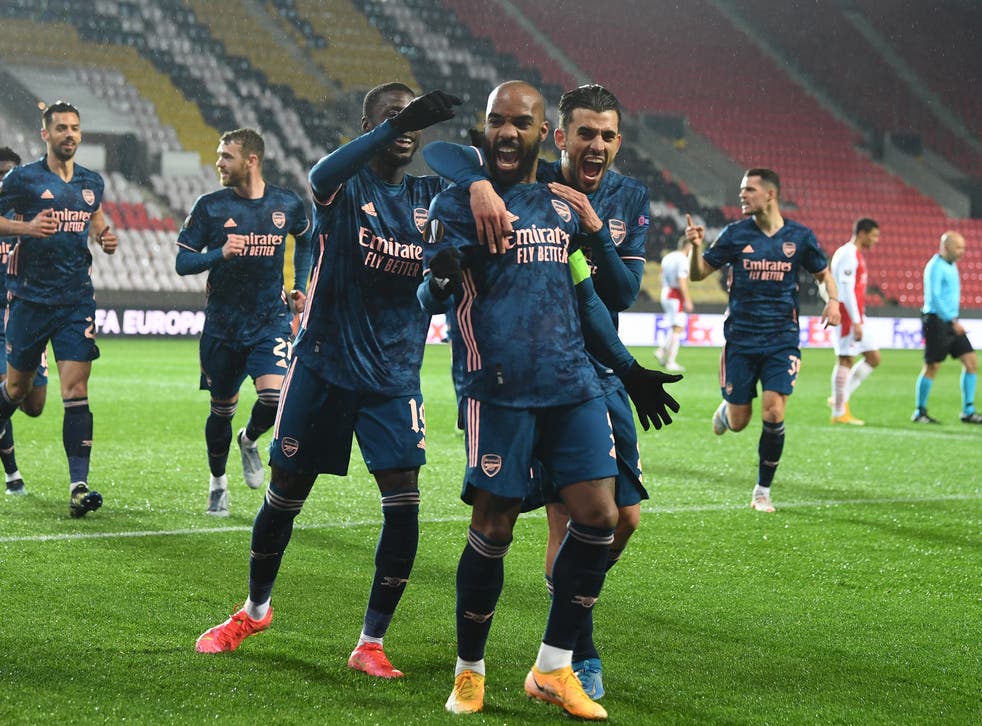 For all their questionable resolve and tendencies to invite disaster, rarely have Arsenal produced a half hour of such devastating conviction. An evening otherwise destined for panic was reduced to a breathless onslaught as Arsenal surged into a commanding three-goal lead inside 24 minutes to render this Europa League quarter-final and all its accompanying angst obsolete. 
It was a vision of this Arsenal side rarely witnessed this season, and one that bore vestiges to the finest of old. For that, they have their traditions to thank, too. This was a rout inspired by Bukayo Saka and Emile Smith Rowe, two academy graduates raised in the shadow of the glory years, who now have the chance to stir some of their own. A semi-final awaits against Villarreal and Unai Emery, the manager who gave the pair their first-team debuts and touted them as the future. Now, they are very much the keys to Arsenal's present, attempting to take Arsenal one hurdle further than they fell under the Spaniard. 
Slavia Prague might not have amounted to the steeliest of opposition, but their mettle had not wavered until tonight. They had conceded just five goals in their last 13 league games at Sinobo Stadium, while the continued absence of Pierre-Emerick Aubameyang, who revealed he is recovering from malaria in hospital prior to kick-off, only served to raise doubts over Arsenal's ability to break the Czech champions down. Yet, Arsenal began with an irrepressible fire, sparked by Alexandre Lacazette taking a knee in front of Slavia's players after their defender Ondrej Kudela received a 10-match ban for racist abuse. 
In fact, Arsenal began with such impetus it threatened to be a false start. Saka surged down the right wing, cut inside into clear space and fizzed a left-footed shot against the post. The rebound fell generously into the path of Smith Rowe, but after a lengthy delay the goal was eventually ruled offside. The setback did nothing to stem their insurgence, though. Only seconds later, Smith Rowe picked up the ball on the edge of the box, weaved in between two defenders - nutmegging the latter - and set up Nicolas Pepe, who finished cooly with a dink over the goalkeeper.
It took just another three minutes for Arsenal to double their lead. This time it was Saka whose quick feet confounded Slavia's defence, brought down clumsily in the box, with Lacazette sending the goalkeeper the wrong way from the penalty spot. And with Slavia's threat all but redundant, it was deservedly Saka who completed the first-half massacre. In a replica of his already denied goal, he jinked inside with venom, opened his body but this time allowed his eyes to wander to the far post while drilling the ball low across his body. It was a snapshot of the teenager's obvious but never ostentatious talent, combining skill with a clinical purpose. In the Slavia goal, Ondrej Kolar fell over his heels in helpless admiration. 
In all, the three goals encompassed just six minutes, and what remained was trivial. In the end, Slavia did not even muster a shot in surrender against Arsenal's makeshift defence, with Granit Xhaka and Calum Chambers both excellent at full-back, as the game drifted into training ground patterns. Lacazette's second was taken duly in such a fashion, receiving the ball with his back to goal, from where he was afforded a lavish amount of space and promptly rifled a shot in at the near post. The game was long beyond Slavia by then, but it was a reward hard-earned by Lacazette, who happily takes on the burden of nurturing this crop of flourishing young players. Together, they provided a deafening answer to Arsenal's whispering doubts. This volatile season has often left them straggling, but just as in the FA Cup last summer, Mikel Arteta's side are within sight of unlikely and redemptive glory. 
Register for free to continue reading
Registration is a free and easy way to support our truly independent journalism
By registering, you will also enjoy limited access to Premium articles, exclusive newsletters, commenting, and virtual events with our leading journalists
Already have an account? sign in
Register for free to continue reading
Registration is a free and easy way to support our truly independent journalism
By registering, you will also enjoy limited access to Premium articles, exclusive newsletters, commenting, and virtual events with our leading journalists
Already have an account? sign in
Join our new commenting forum
Join thought-provoking conversations, follow other Independent readers and see their replies