Sulley Muntari has ban overturned after being racially abused, but reveals he received no help from his club Pescara
Muntari had to lodge his own appeal after being booked for dissent despite being racially abused by a section of Cagliari fans, raising further doubts about Italy's commitment to tackling racism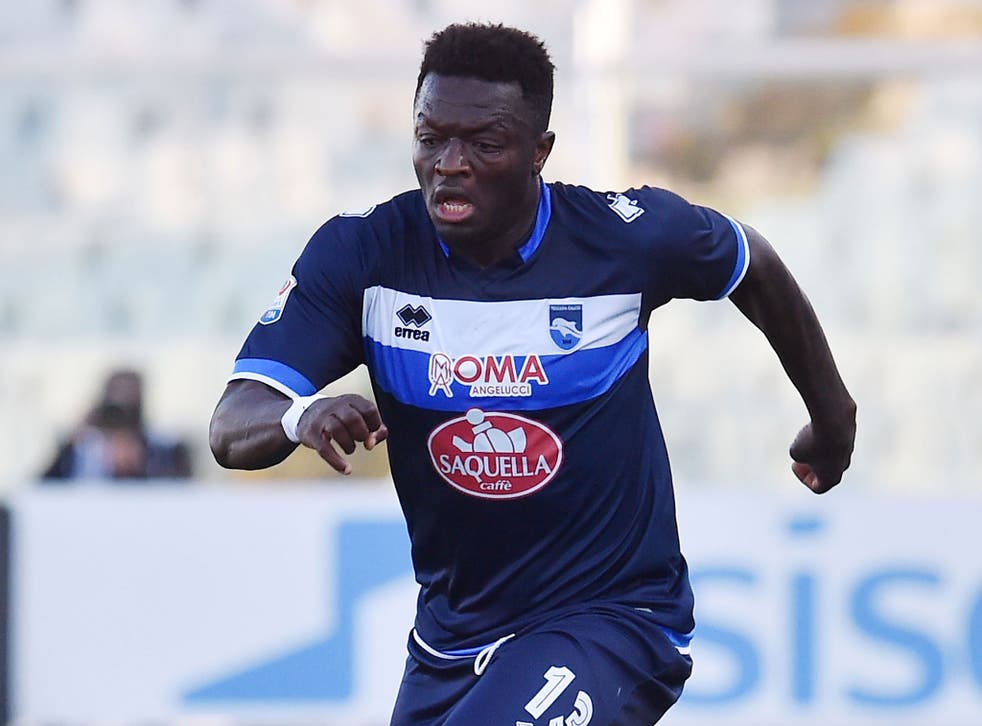 Angered that he was treated like a "criminal," Sulley Muntari won his fight with Italian football authorities on Friday to overturn a one-ban match for walking off the field in response to racist abuse.
The Pescara player received a yellow card during Sunday's Serie A game at Cagliari for protesting to the referee about the monkey chants from the stands. The 32-year-old midfielder was booked again for leaving the pitch because his concerns weren't being acted on by the match officials, who are required to halt games and issue warnings throughout the stadium to try to stop racist behaviour.
The red card led to Muntari receiving a one-match ban by the league's disciplinary commission, which didn't appear to take into account his suffering. Receiving no support from Pescara, Muntari was forced to lodge the appeal himself with assistance from the players' union in Italy.
"I feel that someone has finally listened and heard me," Muntari said in comments published by FifPro, the international players' union. "The last few days have been very hard for me. I have felt angry and isolated. I was being treated like a criminal. How could I be punished when I was the victim of racism?"
Cagliari escaped punishment because Serie A's disciplinary body said only 10 fans bellowed abuse at Muntari, raising further doubts about Italy's commitment to tackling racism in football.
"I hope my case can help so that other footballers do not suffer like me," Muntari said. "I hope it can be a turning point in Italy and show the world what it means to stand up for your rights."
The global anger reached the United Nations, with a top human rights official calling Muntari an "inspiration."
FIGC President Carlo Tavecchio told national news agency ANSA that he was "satisfied" with the appeal ruling "because roles and procedures which are guaranteed by our system were respected." Tavecchio was banned by Uefa for six months at the start of his Italian federation presidency in 2014 over a reference to bananas when discussing the presence of foreign players in Italy.
Muntari, who has played in the English Premier League with Portsmouth and in Serie A with Inter and AC Milan, is now available for Pescara's home match against Crotone on Sunday.
"This is an important victory to send a message that there's no place for racism in football, or society in general," he said.
Muntari told referee Daniele Minelli and his assistants several times about the chants from home fans in the final minute of Pescara's 1-0 loss. The official then showed a yellow card to Muntari, who was so angry with the booking that he walked off the pitch. It left his side with 10 men for stoppage time.
FifPro said "common sense has prevailed" with the ban being rescinded.
"The right result has happened and justice has been served," Bobby Barnes, FifPro's leader in Europe, told The Associated Press. "All of us felt the decision was wrong because there is a clear protocol in place and the player had followed that protocol.
"To be penalised for leaving the field because the protocol hadn't been carried out was an insult to injury. When you've got the victim of a situation being the one that ends penalized, I think it is only right you look at that again. We've got to the right place, albeit belatedly."
AP
Register for free to continue reading
Registration is a free and easy way to support our truly independent journalism
By registering, you will also enjoy limited access to Premium articles, exclusive newsletters, commenting, and virtual events with our leading journalists
Already have an account? sign in
Register for free to continue reading
Registration is a free and easy way to support our truly independent journalism
By registering, you will also enjoy limited access to Premium articles, exclusive newsletters, commenting, and virtual events with our leading journalists
Already have an account? sign in
Join our new commenting forum
Join thought-provoking conversations, follow other Independent readers and see their replies