Teenagers get chance to 'feel like a real footballer' as Bayern Munich and Allianz search for next bright talent
75 teenagers from 28 different countries will travel to Munich to train in front of the Bayern youth coaches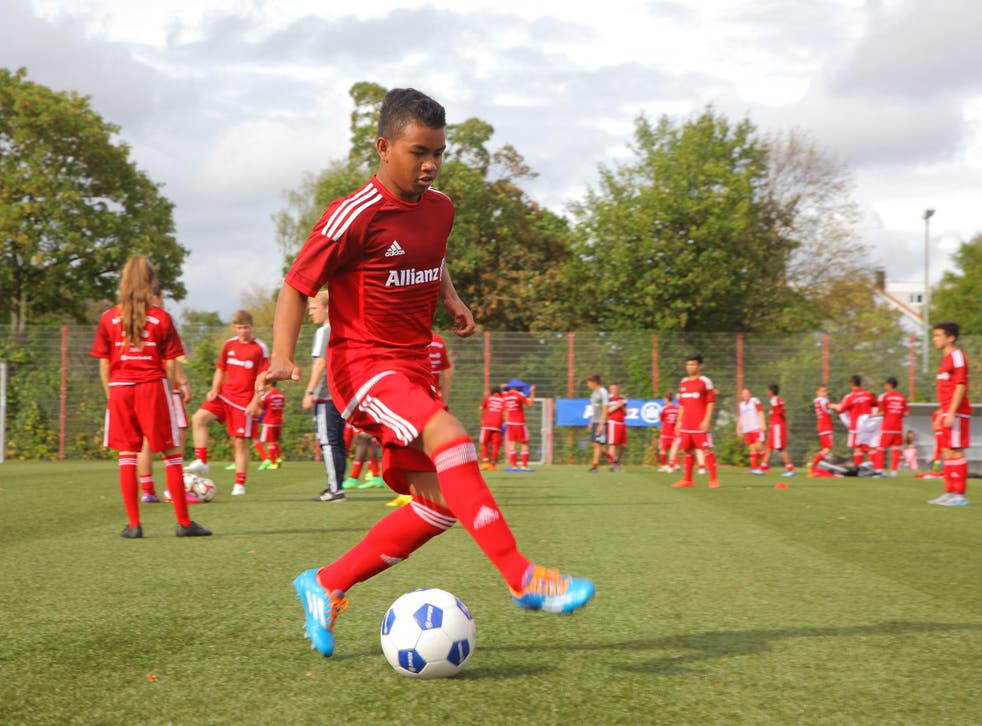 Bayern Munich are on the lookout for the next bright star of German football after teaming up with sponsors Allianz to try and unearth a hidden gem among 75 lucky teenagers from across Europe.
For the seventh year running, Bayern will welcome 75 participants aged 14-16 years old to Germany, with the United Kingdom set to supply two lucky youngsters who will travel to Bavaria to participate in training sessions run in front of the Bayern youth coaches.
The pair will also get the chance to meet members of the reigning Bundesliga champions' squad as well as take a tour around the famous Allianz Arena, scene of the 2012 Champions League final as well as one of the 2006 World Cup semi-finals.
For many young teenagers, the dream of playing football professionally remains just that, an unachievable dream that they will never achieve unless the unthinkable happens. Yet Bayern and Allianz are looking to change that, and as Matthew Burn remembers from his experiences last year, the opportunity to train in front of the club's coaches really is a life-changing opportunity.
"When I got told I'd been picked, I couldn't believe it," said 15-year-old Matthew. "One minute I'm sitting in my living room, the next I'm being told I'm going to train at Bayern Munich. The trip was just incredible, and it did actually make me feel like a real footballer."
Simon McGinn, general manager at Allianz UK, explained how the trip not only presents a once in a lifetime opportunity, but also an experience to remember in seeing what for most of the teenagers will be their first Bundesliga match.
"Matthew is just one of over 500 young footballers that have trained with Bayern since we introduced the Allianz Junior Football Camps seven years ago," McGinn explained. "This trip is an incredible opportunity for young footballers for so many reasons, not least because they get to train with some great coaches who give them some really useful advice. Last year they went to the amazing Allianz Arena to see Bayern play Hoffenheim - a game which Bayern won 5-0 and they got to meet the players too.
"We are proud that we can give young people the opportunity to meet their football heroes and give them a real insight into what it takes to become a professional. Aside from having a brilliant experience participants have also fed back that they particularly love the coaching sessions and that as a result feel more confident as players and even perhaps dare to believe that they too can go on to become a pro footballer."
"Allianz believes that the values of football – teamwork, passion, and discipline, to name just a few – are equally important on and off the pitch. We are committed to instilling these values in the next generation of football players and fans. To achieve this goal, we have hosted the Allianz Junior Football Camp every year since 2009. These young men and women are given a once-in-a-lifetime chance to develop their skills, take a behind-the-scenes look into life at FC Bayern, watch games and practices with their favourite football stars, and make friends with other aspiring footballers from around the world."
"Love of football brings people together regardless of differences in nationality or language, and Allianz is proud to be able to build a global community of young fans united by passion for the sport."
For your chance to take part in the Allianz Junior Football Camp visit www.thosewhodare.co/AJFC #thosewhodare
Register for free to continue reading
Registration is a free and easy way to support our truly independent journalism
By registering, you will also enjoy limited access to Premium articles, exclusive newsletters, commenting, and virtual events with our leading journalists
Already have an account? sign in
Register for free to continue reading
Registration is a free and easy way to support our truly independent journalism
By registering, you will also enjoy limited access to Premium articles, exclusive newsletters, commenting, and virtual events with our leading journalists
Already have an account? sign in
Join our new commenting forum
Join thought-provoking conversations, follow other Independent readers and see their replies