Terry McDermott: Putting family first, Rome 1977 and my personal anguish along the way
The local lad became Liverpool's first goalscorer in a European Cup final, but the joy was overshadowed by the cancer that would eventually take his mother's life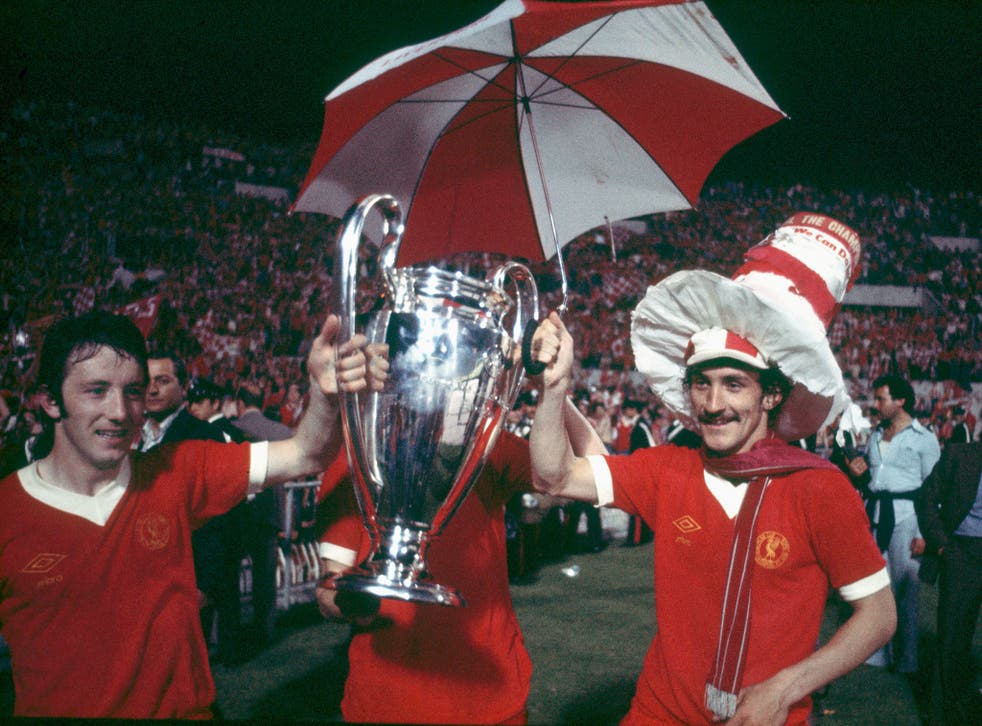 It has been a plan of Terry McDermott for some time to sell the medals that make him one of the most decorated players in Liverpool's history, to offer security for his children's future, but then his has been a longer journey than most will travel.
McDermott has perspective. There was so much more to his life before he became the first Liverpool player to score a goal in a European Cup final, in the Stadio Olimpico in Rome in 1977.
The streets were not paved with gold. There would be cornflake packets put in his shoes to cover holes when he was a child, family holidays were to Southport and he ate brown sauce butties.
He was 10 the first time he went to Anfield, around the corner from where he had lived when he was first born, before his family was moved to Kirby, a new town on the edge of the city, because of overcrowding. "We didn't have a lot of money, but we always found money to go to the match," he said.
When Liverpool went to Rome in 1984

Show all 41
He used to go to Anfield at one o'clock on a Saturday with his dad, his uncles and his brother. "You go there dreaming to be one of them one day, not believing for one minute you will ever actually play for Liverpool," he told me. "We used to get to the Kop early, you wouldn't get in if you didn't. I don't think there was too many season tickets. People didn't have the money.
"There were 28,000 fanatical Scousers in the Kop and in a little corner, as you look from the pitch, it was to your right, the boys' pen, and it had big fencing and wire on the top, I used to go in there.
"There would be a big hole in my shoe and they put the cornflake packet inside the shoe to make it look like something was there. If you didn't put that in, your feet would be touching the ground. My mam and dad did everything to get you them but there was no money.
"We used to go to Southport for our holiday, fifteen miles away. Or go across the Mersey on the ferry to Wallasey or New Brighton, that was like going to America."
There was not even a schoolboy form with a professional club when he left school. McDermott, like Dennis Mortimer, was the only player in the Kirby Boys team not signed. He had to go to work.
"At the end of school, in June, I hadn't been offered an apprenticeship. My mam said to me, 'You need to get a job.' I had about six jobs in three weeks. I worked in a wood factory, lifting wood, big long strips of wood, about twenty foot long, and moved them from here to there, about six bloody feet away, I was thinking, what a f*****g business this is.'"
He went to watch Liverpool play Burnley in a night game and a scout from Bury turned up at his house.
"When I came back, me mam said, 'There's been a scout from Bury here for you.' I said, 'Bury, where's that?' She said, 'I don't know, I think it's Manchester way.' I said, 'What did they say?' She said, 'They've left you forms.' Straight away I said, 'I'll sign, no one else wants me.' I filled in the forms and I sent them back."
He joined Bury, and then Newcastle, and became so good that Liverpool paid £166,000 for him in November 1974. By the summer of 1977, Liverpool had reached the European Cup final against Borussia Monchengladbach, in Rome – where they will return once more to face Roma in the second leg of their Champions League semi-final on Wednesday night.
There was more heartache.
"My mother was dying of cancer. That was in May. She died in June. She was on her last legs then. I knew when I was playing in an FA Cup final and a European Cup final and she didn't know anything about it. She was full of morphine or whatever it was. I would have loved her to have been there in Rome to see that. She was in a bloody cancer unit.
"It's only when you look back and think: 'How did I get through that, playing in those games knowing my mam was dying?' It was a hard time. I would have loved her to be there. She couldn't. She was a month away from dying."
Like when he was 10, his dad, his brother and his uncles all went to the game. It has always been about family.
In the 29th minute, McDermott set off on a trademark run from deep and ghosted behind two German defenders on the edge of the Borussia penalty area. It was spotted by Steve Heighway, who slipped in a neat pass, and he clipped his shot into the bottom corner of the Monchengladbach goal. It never looked like being saved.
Barry Davies, commentating, said: "That's nice, that's McDermott and that's a goal! Beautiful build-up, McDermott finding a lovely position, he sees things early, he takes up good positions in the box, just look at him running, he's in space, the German defender has to come across, leaving Keegan, and McDermott tucks away superbly into the corner. Lovely stuff and a fine goal."
"How did I feel as a Liverpool lad scoring the first goal in the European Cup final in Rome against Borussia Monchengladbach? F*****g hell, man! That's how I felt!
"F*****g hell, I can't believe it, I'm playing for my home-town team, in a European Cup final, and I've just scored."
Liverpool won 3–1 and Terry McDermott, the Kirkby lad with cornflake packets in his shoes, lifted the European Cup.
It is one of an astonishing three European Cup winners medals he collected, along with five First Division titles, two League Cup winners' medals, the Uefa Cup and the Super Cup. That haul will go before auction because, as he says, "I've got three kids, who are doing nicely, but I want to give them something before I die. They can put it in a house or pay off the mortgage."
McDermott has a lovely family home in Ponteland. He has a room filled with shirts commemorating famous nights in his glittering career, but he has never forgotten how far he had to travel to get there.
Join our new commenting forum
Join thought-provoking conversations, follow other Independent readers and see their replies