The Last Word: Nastasic breaks cover to expose Mancini's plan
Few have given the City manager credit for a remarkable show of faith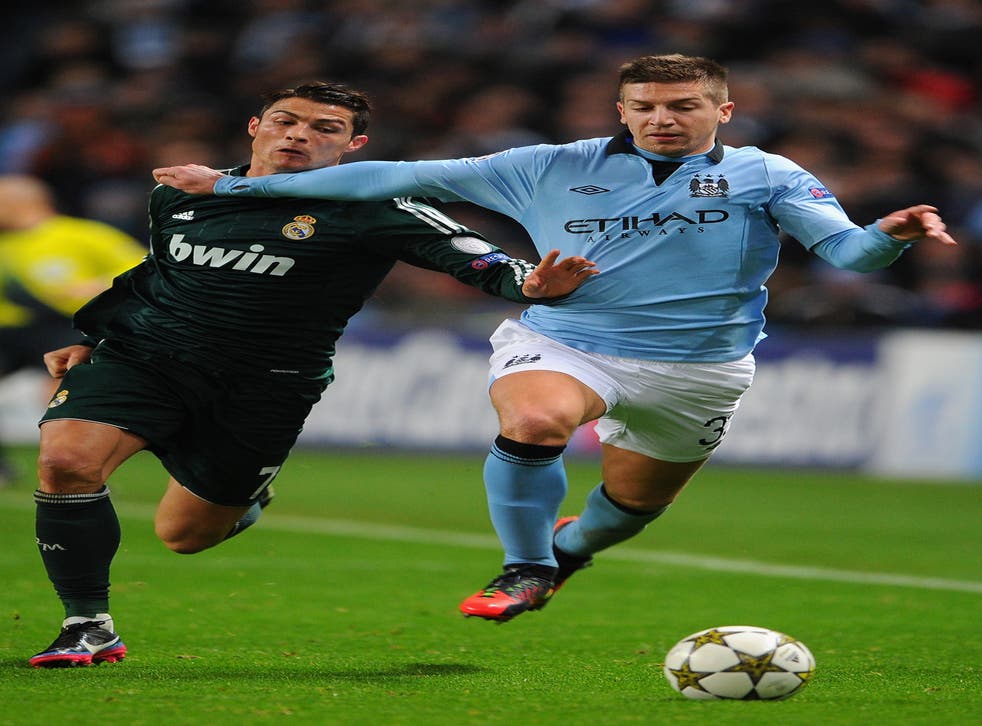 Remember Stefan Savić? He'd tell you. Sometimes, as a young defender, there is no better way to make your name than in anonymity.
Savic is still only 21, and his rehabilitation at Fiorentina suggests he could yet mature into a player whose only deficiency was in precocity. All the more bewildering, then, that the teenager with whom he traded places last summer – albeit with the rather humiliating makeweight of £12m – should already exude such composure and authority.
Unfortunately, Matija Nastasic may have blown his cover. Hitherto, even the fact that a 19-year-old made his first start away to Real Madrid had been lost in the schadenfreude infecting coverage of a brutal Champions League group. In their rush to condemn Roberto Mancini for "tinkering with a winning formula", few have given him any credit for that remarkable, calculated show of faith and the long-term agenda underpinning it.
Sure enough, by the time the return fixture was played on Wednesday, Nastasic had quietly carved a niche in both the starting XI and the affections of City fans. Only this time, in neutralising an ego as extravagant as that of Cristiano Ronaldo, it proved impossible to continue incognito.
Of course, there will still be the odd howler. These remain early days and, in his position, Nastasic has no hiding place. But that is exactly what sets him apart from Savic: he looks more robust in every sense. He has the temperament to file away a mistake, and face the next challenge firm and focused. The same coolness informs his distribution, which extends his superiority over the raw defender he replaced to the seasoned one he is displacing.
To some, Mancini's disenchantment with Joleon Lescott has required him to shoehorn less eligible players into his experiments with three at the back. The fact is, however, the system only works if the outlying centre-backs are ball players.
Mancini's gamble should not be underestimated. He deserves congratulations for taking a long view – tolerating short-term risks to develop Vincent Kompany and Nastasic as the future bedrock of his team.
And already the boy is cruising through games, preternaturally taking positions and choices that might otherwise reflect years of experience.
Those who monitored his emergence at Fiorentina feared he might stall as a squad player in Manchester. But Mancini plainly had his card marked by his old ally, Siniša Mihajlovic, who helped to groom Nastasic at La Viola and, as national coach of Serbia, is now fast-tracking him into that squad.
When Mihajlovic was replaced at Fiorentina by Delio Rossi last year, the very next game was against AC Milan. One regular centre-back was suspended, another injured. The new coach did not hesitate. He not only gave Nastasic his first start, but charged him with keeping Zlatan Ibrahimovic himself under lock and key. Ibra barely had a touch, the game ended goalless and Nastasic was a fixture for the rest of a chaotic campaign at the club.
His head for heights was proven, then, before he came to City – which was never true of Savic. Nastasic retained his composure even as the respected Rossi lost his job.
Fiorentina spent the summer getting their house in order. The new sporting director, Daniele Pradè, hired Vincenzo Montella – who had proved an overnight success at Catania, unfeasibly disclosing brains commensurate with his glamour as a player. Pradè then supervised a dizzy series of transfers, in and out, helped by cashing in on Nastasic.
Montella's deployment of a squad of strangers has confirmed his status in the vanguard of an innovative generation of young European coaches. And it will hardly have escaped Mancini's attention that the foundation stone – as with Antonio Conte at Juventus – is a rearguard of three.
The wing-backs consume the opposition's pressing, so yielding space to play out from the back. When under attack, they drop in and the back three compress the base. But while Juventus have largely relied on sheer dynamism to invert the formation, Montella has trusted creative, technical players throughout – many of them mistrusted or marginalised by previous employers.
The results have been sensational. After 13 matches, Fiorentina are breathing down the necks of Juventus and Inter Milan. As it happens, two key contributors were at City last season: David Pizarro and Savic. It turns out that Mancini was not entirely barking up the wrong tree. He knew what he wanted, to make City competitive in Europe. Savic was simply too delicate a sapling to bear such a weight, so soon. Sooner rather than later, however, people are going to wake up to the substance that has since spirited Nastasic into the side. And once they see the invisible man, they might yet discern an invisible plan.
Register for free to continue reading
Registration is a free and easy way to support our truly independent journalism
By registering, you will also enjoy limited access to Premium articles, exclusive newsletters, commenting, and virtual events with our leading journalists
Already have an account? sign in
Register for free to continue reading
Registration is a free and easy way to support our truly independent journalism
By registering, you will also enjoy limited access to Premium articles, exclusive newsletters, commenting, and virtual events with our leading journalists
Already have an account? sign in
Join our new commenting forum
Join thought-provoking conversations, follow other Independent readers and see their replies