Thomas Hitzlsperger: Former Germany international hopes revelation about his sexuality will 'move the discussion forward'
Hitzlsperger revealed on Wednesday that he is gay and hopes that the widespread acceptance will help to progress the discussion of homosexual sportspeople forward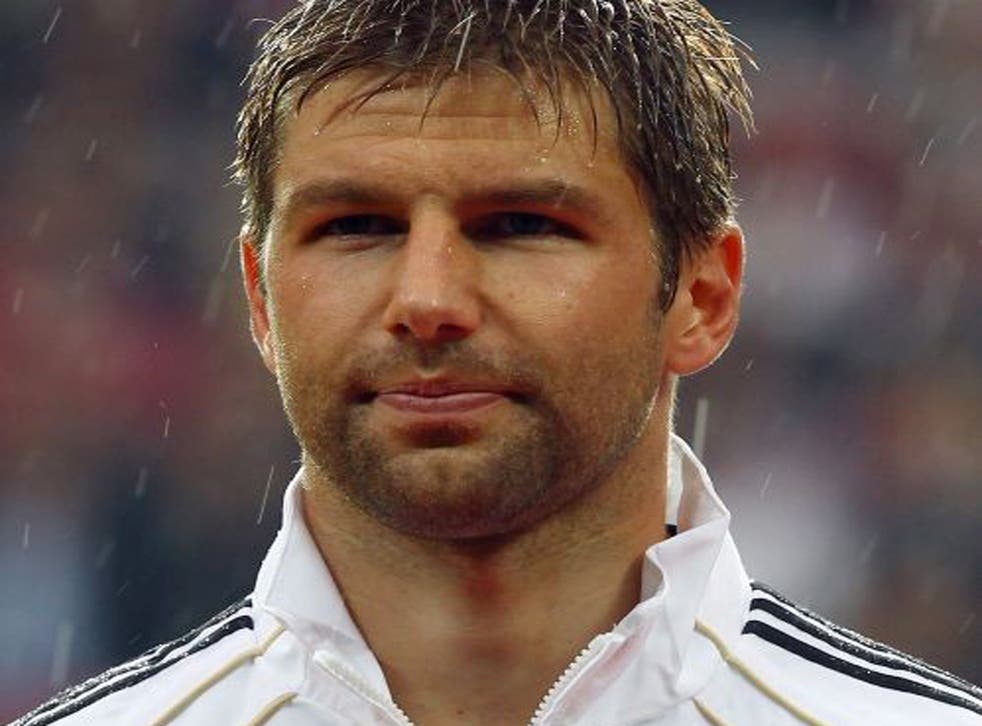 Thomas Hitzlsperger hopes that revealing he is gay will advance the "discussion" about sexuality in sport.
The former Aston Villa, West Ham, Everton and Germany midfielder, who ended his playing career in September due to persistent injuries, revealed his sexuality on Wednesday.
In an interview which will be published in full in Die Zeit newspaper on Thursday, the 31-year-old said,: "I'm coming out about my homosexuality because I want to move the discussion about homosexuality among professional sportspeople forwards."
Hitzlsperger added that he only realised "in the past few years" that he would "prefer to live together with another man".
"I've never been ashamed of the way I am," he said, although he conceded it has not always been easy to live with comments on the subject.
"Just picture 20 men sat around a table together drinking - you've just got to let the majority be, just as long as the jokes are halfway funny and the talk about homosexuality doesn't get too insulting," he said.
"In England, Germany or Italy, homosexuality is not taken seriously as an issue, at least not in the dressing room."
Ex-NBA player John Amaechi, who came out in 2007, took to Twitter to welcome Hitzlsperger to "the club".
But Amaechi later told BBC Sport: "Football is toxic and not just for gay people - it's toxic for Asians who want to play the game, it's toxic for women who want to be executives, it's toxic for black people who want to do anything but play.
"But football doesn't see itself like that. It sees itself as this amazing, wonderful, bold and progressive organisation.
"Footballers coming out at the highest level will happen only as the product of a cultural change within the game. It will not be the precursor to cultural change.
"If you want to see people coming out and playing at their best because they're able to be who they are, then the culture of football must change first."
German Football Association (DFB) president Wolfgang Niersbach told the DFB's website: "Thomas Hitzlsperger was always a role model during his time as a Germany international and I always had the greatest of respect for him, and now that respect has grown even more."
Germany general manager Oliver Bierhoff, one of the first people within the game Hitzlsperger confided in, added: "I welcome this step and we will give him all the support he needs to be able to follow his courageous path."
But former Chelsea defender Alex, now with Paris St Germain, made apparently homophobic comments - though not aimed at Hitzlsperger - in a documentary entitled "Jesus Football Club" which was to be broadcast on Canal+ on Wednesday evening.
Brazilian Alex reportedly discussed homosexuality during the programme about sport and religion, saying: "God wouldn't have created Adam and Eve but Adam and Yves."
Outspoken QPR midfielder Joey Barton, formerly of PSG's rivals Marseille, tweeted in response: "To be religious extremist, you must first be extremely dumb in my opinion.
"Alex from PSG simply confirms my theory with his comments today."
PA
Join our new commenting forum
Join thought-provoking conversations, follow other Independent readers and see their replies