Thomas Muller interview: Why Bayern Munich will never be underdogs, even in 'random' Champions League
A rematch of last year's final awaits as the Bundesliga champions take on PSG in the quarter-finals
Miguel Delaney
Chief Football Writer
Wednesday 07 April 2021 07:08 Comments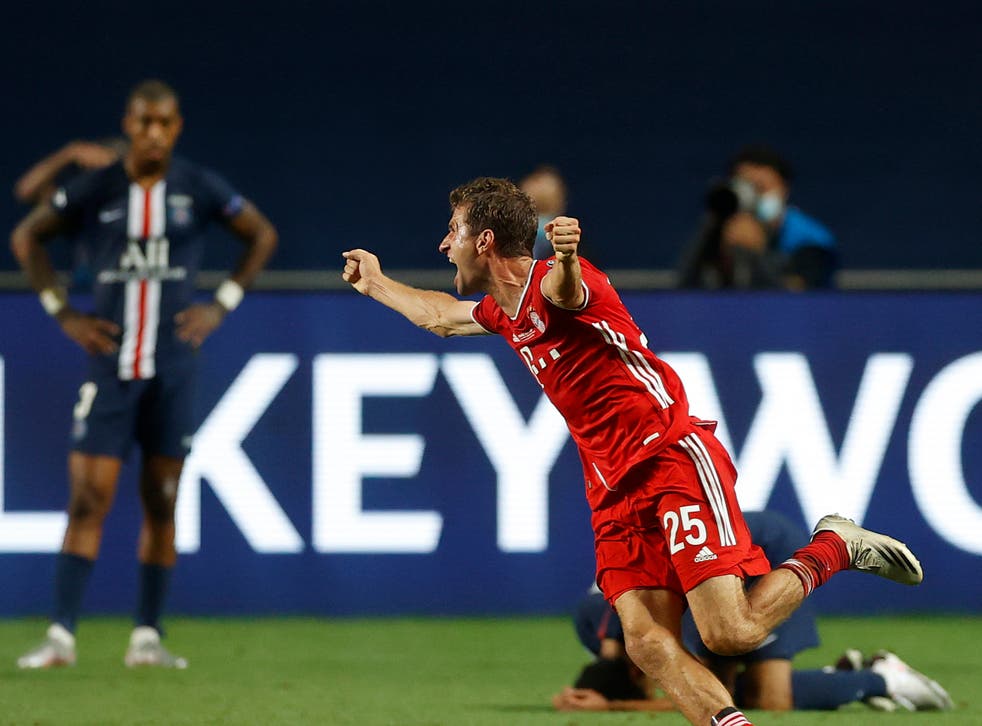 A key question, when you've been at a club like Bayern Munich as long as Thomas Muller has, is whether any win can still feel the same. It surely subsides? The forward gives a telling answer that sets up this week, as well as the season's run-in.
He describes the most elusive, elevated moment in club football.
"When you win a normal Bundesliga game, this feeling is – I don't know – is shorter," Muller explains. "But to hear the final whistle in the Champions League final against Paris [Saint-Germain] last year… it's special.
"Because, when you win a Champions League, you always think about this road to the final, everything you need to be successful, because the Champions League is so difficult to win. Take Paris or Manchester City. They tried the last 10 years. There are a lot of very good teams in Europe, but only one team can win. I think the emotion is there, but of course you need the special situation."
There are a lot of follow-up questions to this, which are highly relevant to the Champions League and the standard required to win it. Do domestic processions help the super clubs or take away some of their edge? Have the standards at Bayern changed in the 12 years Muller's been in the first team? What does he think of the level of the Champions League right now?
Read more:
Most pointedly, given the opposition for this quarter-final and the fact Bayern are missing Robert Lewandowski, can he ever remember a time at the club when he felt like they were underdogs?
The response to that one is even more pointed. The endearingly expressive Muller, speaking over Zoom, becomes almost monosyllabic. "No," the 31-year-old responds. "Never."
You can bet, even without Lewandowski, they don't feel like underdogs against PSG on Wednesday.
"No, in Bayern, you cannot learn this," he explains. "You have to build it up with experience and self-confidence when you win and win and win. But this winning identity of the club, in the period I've been playing for the club, has maybe exploded a bit. Bayern was always good in the past. Bayern was always a contender, but since 2010 we were in the Champions League final in 2010, 2012, 2013, then with Pep [Guardiola] in the semi-finals 2014, 2015, 2016. So we always had this feeling that we are the best team on the pitch before the game starts.
"After the game, it could be the other way around! But to feel like the underdog, I cannot remember.
"Okay, I always try to have this feeling that we can beat every team we play against. Maybe sometimes that's very subjective, and maybe it's a trick I play on myself, to play that well. Because what is your advantage when you think you are about to lose? I don't know. I don't think there is an advantage. So I try to think that we are the best in every single game, but I know that we have to do it with a lot of work.
"You don't have to think everything is going automatically."
It's for this reason Bundesliga titles that almost feel automatic have not taken away the team's edge. There has always been something of a contradiction there, which PSG can relate to. Always winning almost creates no-win situations, at least in terms of mood. While the team are expected to win almost every individual game, it means every individual defeat is almost a crisis. Every seemingly low-intensity fixture has an inherent capacity for high tension.
Muller can very much relate to this. "Normally, I say that one year at Bayern is like playing three years at a different club in Germany. You age three years. The intensity is very high of course, with the media. Every friendly match is on German TV so you have no time to relax.
"Every time you make a wrong pass or a bad shot, everybody says, 'Oooh, Thomas Muller is not playing good!" the forward says while mimicking an observer looking through a magnifying glass. "It's stressful, but I love it. When you are in this business a long time, you aare a bit addicted to this pressure and that's maybe one of the most difficult things after the career, to get in a set-up that gives you this adrenaline, that gives you this feeling. Maybe when I go to the mountain and I make heli-jumps, I don't know!
"To win is the goal – that is what gives you the feeling that you are searching for – not the metal shield. Okay, that's nice for the pictures, but to be better than your opponent: That's the feeling that makes you happy."
Whatever about better, does he see any teams at Bayern's level in this season's quarter-finals, given they are the European champions? Manchester City have for a long time been favourites, and there has been much talk of a potential all-English final with the way the draw has gone. Bayern could even end up as the only potential obstacle to that, if they eliminate PSG and face City in the semi-finals. 
"I do not feel that teams of the Premier League are super, super strong," Muller says, with typical forthrightness. "But, of course, the competition is great. There are prestigious games each week. I think it's the biggest league in the world, for sure. But that doesn't mean that the top five of the Premier League are winning everything in their international competitions, or when you compare the fourth of the Premier League and the fourth of the German league. When they play a knockout game against each other, any team can win."
That leads on to a bigger question, that could be all the more relevant this season. Is that why Guardiola didn't win the Champions League at Bayern, and still hasn't reclaimed the trophy in 10 years? "Standards", after all, were never higher at the club than when the Catalan was manager. Like City now, Guardiola's Bayern went into every latter stage looking the obvious favourites.
"A team with Pep Guardiola is always in shape to win it," Muller explains. "But the problem is in the Champions League, in the knockout stage, you have only two games and many crazy things can happen. And last year in the tournament, there was only one game against Lyon. Maybe if there were two games they go to the next round, maybe. That's the problem when you have only one chance or only two games, there is more 'random' than in 38 games like in the Premier League.
"In the last two years, Liverpool was amazing. But normally a good team with Pep Guardiola wins the league, for sure. The continuation, how he prepares his teams. His team against smaller teams, he is the best. But when two top teams play against each other, the difference is not big enough to put away the 'random'."
It's why winning the Champions League remains so "special". The winners are not just overcoming the field, and the highest standard of football in the game. They are also overcoming so much more, and a lot of sporting randomness.
All they can do is try and maintain standards for when the chance comes.
Register for free to continue reading
Registration is a free and easy way to support our truly independent journalism
By registering, you will also enjoy limited access to Premium articles, exclusive newsletters, commenting, and virtual events with our leading journalists
Already have an account? sign in
Join our new commenting forum
Join thought-provoking conversations, follow other Independent readers and see their replies