Harry Kane looking to draw inspiration from Liverpool and Chelsea's European turnarounds
Spurs are one-third of the way to a famous comeback after Kane's two late goals beat PSV Eindhoven on Tuesday night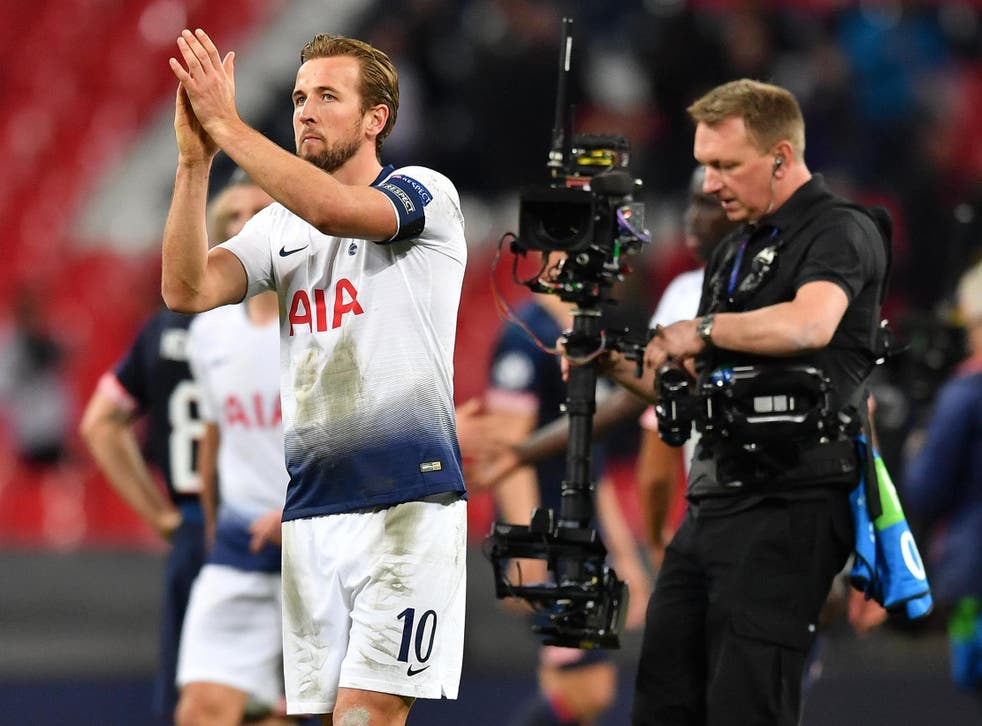 Harry Kane is drawing inspiration from Liverpool and Chelsea's historic Champions League turnarounds as he tries to guide Tottenham into the last-16 of this year's tournament.
Spurs are one-third of the way to a famous comeback after Kane's two late goals beat PSV Eindhoven on Tuesday night. If they beat Inter at home and Barcelona away then they will almost certainly qualify for the next round. It would be quite an achievement for a side who took one point from their first three games.
Kane is more important to this than anyone and after dragging Spurs to victory against PSV, he said that the examples of other English teams succeeding against unlikely odds should give Tottenham hope for their last two games. "It just shows that it is possible," he said. "The Champions League has thrown up some amazing fairytales in the past."
Tottenham vs PSV player ratings

Show all 11
Looking back to two recent English winners of the competition, Kane pointed to Chelsea's surprise semi-final win over Pep Guardiola's Barcelona in 2012, when they came back from 2-0 down in the Nou Camp with 10 men to draw 2-2 and go through. Or even Liverpool's famous penalty shoot-out win in 2005 over AC Milan.
"When I watched Chelsea against Barcelona they looked as though they had no hope," Kane said, looking back to 2012. "And they ended up getting through somehow, and winning the final. Liverpool were 3-0 down in the final and won, so sometimes things are meant to be. I'm not saying that this is going to be our year, but this win gives us that little bit more belief that we can get through the group. That's the next step for us. That is all we can try and do. If we can do that, we will be ready to fight in the knockout stages."
Kane said that he was keen to repay the faith of the Spurs fans with his performances. It has not necessarily been an easy season for them, promised a move into the new stadium for September, with January now the best case scenario instead. So Kane is determined for Spurs to keep grinding out results for their benefit.
"We know that the fans would love to be in the new stadium," Kane said. "We know we could have played better as well. It has been one of those years where we have had to just grind it out. We've been doing well at it. We've kept ourselves alive so far. Obviously another tough game on Saturday that we've got to go and win and see where we are at going into the international break."
Next Thursday Kane will temporarily hand the England captaincy back to Wayne Rooney for the Wayne Rooney Foundation International. Kane said he fully supported the idea. "I think it is great," he said. "Wayne was an amazing player for us, one of our greatest-ever players and it is a shame that his international career kind of just stopped. I think the fans will embrace it, we should all embrace it, and give him the send-off he deserves."
Register for free to continue reading
Registration is a free and easy way to support our truly independent journalism
By registering, you will also enjoy limited access to Premium articles, exclusive newsletters, commenting, and virtual events with our leading journalists
Already have an account? sign in
Register for free to continue reading
Registration is a free and easy way to support our truly independent journalism
By registering, you will also enjoy limited access to Premium articles, exclusive newsletters, commenting, and virtual events with our leading journalists
Already have an account? sign in
Join our new commenting forum
Join thought-provoking conversations, follow other Independent readers and see their replies