Tottenham vs Bayer Leverkusen: Mauricio Pochettino 'ashamed and embarrassed' by Spurs performance
Tottenham 0 Leverkusen1: Kevin Kampl scored the only goal of the game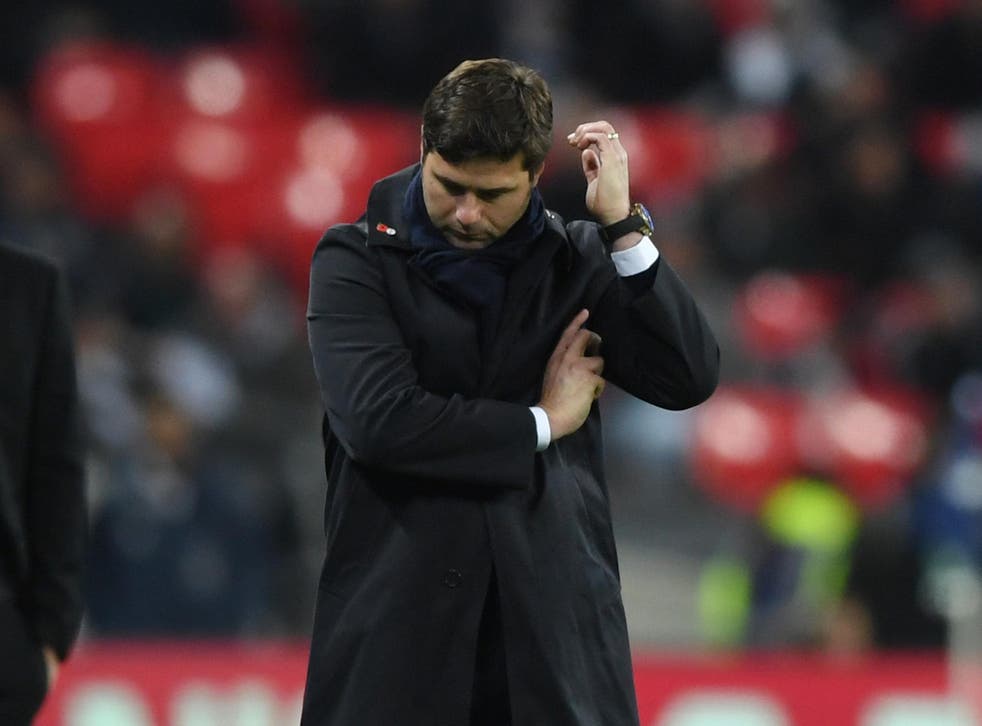 Mauricio Pochettino admitted he was "ashamed and embarrassed" about how poorly his Tottenham side had played here at Wembley in the Champions League so far following their 1-0 defeat at the hands of Bayer Leverkusen on Wednesday night and said they could not blame the stadium for their poor performances.
Tottenham's task of reaching the knockout stages is now a monumental one. The Wembley effect appears to be a draining one, not a positive one, for Spurs for whom it is played two, lost two and who are in real danger of rattling around in this 85,000-seater stadium hosting Europa League matches on Thursday nights come the new year.
But Tottenham's manager was baffled as to why the players were not inspired by playing at Wembley.
"We can put excuses out like saying there is a psychological block about playing here but it's not true. What better place is there to play football than here? Tell me one place better to play with the history of here. It is where football was born. If we don't play with quality it is down to us, not to Wembley. There were 85,000 here. I am ashamed, it is embarrassing for me.
"There is nothing wrong with playing at Wembley. We can't blame that. For me it was fantastic playing here. We need to show more. We were poor again. We need to find answers in ourselves. It is not about Wembley. We need to be critical of our performance. We were the problem not Wembley. Stop blaming Wembley. That is not the problem."
Pochettino added that is now necessary to beat Monaco away and CSKA at home to stay in the competition. "We must win both games, if not forget the Champions League. If not, it is bye bye Champions League."
Next up for Spurs is Arsenal away in the league on Sunday. Pochettino admitted that both Harry Kane and Toby Alderweireld are highly unlikely to start and even seemed apprehensive about their chances of being involved at all. "We need to improve [before Arsenal]," Pochettino said. "We don't have much time. The players are disappointed. We need to be critical of ourselves, put ourselves in front of the mirror. We need to be realistic in our analysis. If not it is hard to improve. We need to find the answer which is inside us. We were poor today and in both games we have played at Wembley we don't show our qualities. The first game maybe was an accident. It was new. The second, something wrong happened.
Tottenham vs Bayer Leverkusen player ratings

Show all 11
"I am not angry with the attitude, that was not the problem. We were short of quality. The Champions League is tough and the demands are both physical and mental. I am not upset – I am very calm now. It is good that we are in both competitions For 90 per cent of the players it is our first experience of both. It is good to see how we react. It is good for the future."
Eric Dier hit the bar for Spurs with a free-kick in the second half but it was a rare highlight. The defender admitted Tottenham are struggling. "It was very disappointing that we couldn't score, not just me. We are all very disappointed and it leaves us in a difficult position now. We have to get back to work tomorrow and go again. If you want to be a big team you have to bounce back straight away so we have got to do that."
"I don't think anyone can work out what is wrong," the Spurs midfielder Dele Alli, who could have been awarded a penalty, added after his side's sixth match without a win and fifth without a goal in open play. "We are playing well but we have got to finish our chances and have got to keep going.
"Tottenham is a club looking to move forward. We have confidence in our ability. It is a matter of finishing off games and getting results. We are a young team but we expect ourselves to perform against anyone."
Join our new commenting forum
Join thought-provoking conversations, follow other Independent readers and see their replies