Liverpool lift Champions League trophy after beating Spurs in Madrid
Champions League final result: Liverpool conquer Europe to return to heights where they belong
In Munich, Jurgen Klopp warned: 'Liverpool are back.' If you didn't believe him then, you surely do now
For Liverpool, it does not matter at all their wonderful season finishes like this on the outskirts of Madrid in the semi-desert where summers make the terrain so arid it's a wonder anything survives never mind flourishes.
Alisson Becker, an outstanding figure in this victory, would fall to his knees and thank god. Virgil van Dijk's legs buckled altogether, proving he is not superhuman after all. At other locations across the pitch, Liverpool's players had also met the floor, Jordan Henderson was almost in tears even though there were still a few minutes to go.
His burned face reflected both the conditions and the nature of the achievement here in the furnace of Spain's capital which now holds the same significance to Liverpool's supporters as Rome, Paris and Istanbul, places where European champions were made – those names that will live on for eternity back on Merseyside where Concert Square had apparently been filled since midday with an awesome anticipation.
Divock Origi becomes another of those special characters in Liverpool's history, an unlikely legend. His goals have shaped the direction of Liverpool's season, intervening against Everton to give their league campaign the push and belief it needed. Then he scored twice against Barcelona, taking his team to the Metropolitano where he struck again.
Tottenham were creating when he sniffed a chance and served a finish like Gary Lineker at the semi-finals of the 1990 World Cup; utterly lethal. While Alisson, van Dijk and Henderson disappeared into the turf at that moment, the first teammate to catch him in the far corner of the ground was Trent Alexander-Arnold who at 20 becomes the youngest locally raised Liverpool player ever to win the European Cup, the sixth in the club's existence. He would describe himself as "just a normal lad from Liverpool whose dreams have come true."
Best photos from the Champions League final: Tottenham 0-2 Liverpool

Show all 100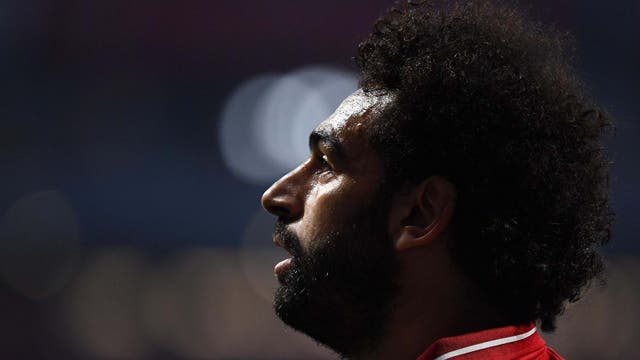 At the Liverpool end, there were thousands who felt just like him.
---
It begins with van Dijk seeing the ball and knocking Harry Kane out of the way. Ten seconds later, Liverpool had a penalty. It had already gone terribly wrong for Tottenham. Jurgen Klopp had warned the winner here would be the team which reacted better to the bad things that happened. Against Real Madrid, Liverpool had started well but then Mohamed Salah fell in agony and the mood shifted entirely. Though they found an equaliser, there was no space for another fightback after what happened to Loris Karius.
The nature of Liverpool's opener tested Tottenham's resolve but it tested Liverpool too. The landscape of their challenge became different straight away. Their season had been one where the chase had suited Liverpool more than being chased and the manner of the victory over Barcelona which brought them here followed that pattern.
Liverpool's passing was not certain thereafter but their clearances absolutely were. There was an element of League Two about this: you get the advantage with so long to go, you make no mistakes yourself. In the moments after their first goal, van Dijk booted the ball into touch three times. Right at the end of the first half when it was announced there was two minutes of injury time, it felt like he was trying to ensure the ball remained out of play for as long as possible.
Tottenham were building no momentum so anything that came their way was more likely to be from a Liverpool mistake. With their defenders, led by van Dijk, so certain about the best way of reducing those possibilities, Liverpool were very comfortable indeed even if they were not absolutely convincing in other areas of the pitch.
Fabinho had been their best player in that 45-minute period, judging well the threaded passes of Christian Eriksen as well as the runs of Dele Alli. He won possession and gave it to someone else in a better position. There was a feeling Sadio Mane would do something else against Tripper having won the penalty and Salah was worrying Danny Rose who rarely went forward. Yet Roberto Firmino – like Kane – struggled for involvement, dragging himself across the pitch.
Firmino did not last the hour, with Origi introduced in his place a few minutes before James Milner came on for Georginio Wijnaldum. These were sensible decisions by Klopp who then tweaked his formation as well to adjust to the changes made by Maurico Pochettino, a manager with a plan B.
Liverpool's shape became a 4-4-1-1 with Salah centre forward, Milner on the right of midfield, Mane on the left and Origi in the hole, pressing on Eriksen – surely trying to make the Dane think about going backwards rather than forwards.
Maybe Origi wouldn't have had so much space if Salah wasn't beside him, making Tottenham nervous. Eriksen's influence, indeed, had begun to drain by then – and yet, another significant moment in Liverpool's second half was Alisson's save from his free-kick.
In Kiev, Liverpool's goalkeeper had cost them dearly. Klopp realised then he needed to go big on a position that can define absolutely the way things are remembered. Alisson's presence here backed that judgement, a Brazilian who has had as much a transformative effect as van Dijk, two massive signings in terms of outlay. Considering what Liverpool will earn from this night as well as subsequent add-ons from all sorts of commercial deals from companies that will now want to be associated with them, those fees will look like small change in their very real economic world.
---
The really brilliant thing about Madrid has been the sense of respect between supporters irrespective of allegiances. It rarely gets reported when people who want different outcomes get along but it really should. Isolated incidents might look awful on clips taken on camera phones but they present false reflections of the way things generally actually are.
In Plaza Sant Ana on Saturday afternoon, a seasoned match-going Liverpudlian told me about the night before when he lost sight of all his friends for an hour or so. He found himself in a bar surrounded by Spurs fans but they took care of him and in the end, the night turned out to be rather good despite the unexpected nature of the company.
If the invasion of Madrid amounted to more than 80,000 as some local media outlets suggested then surely four-fifths of those were from Liverpool. Spurs were outnumbered but they were loud and on Calle de Echegaray, they gathered in big numbers belting out their version of Allez Allez Allez, encouraging those in red shirts walking by to join in – which they did.
Any problems were rooted in poor organisation. The gates at the Metropolitano Stadium opened three hours before kick-off and many were already waiting by then but there was no sensible funnelling system in place or cordons until extra perimeter fences came later. With the sun beating down on the moon-like topography out to the east of the city and light winds causing dusty eyes, impatience was rising but those in authority were unsympathetic and there were initial stories of truncheoning from the guarda civil.
Someone's nephew had their ticket taken off them even though it was genuine and for no particular reason. One reporter from a British newspaper witnessed a fan pinned up against a wall by two policemen before he was head-butted. The traffic was so bad back towards Madrid that some decided to ditch their cars and walk the rest of the way.
Tottenham vs Liverpool player ratings

Show all 23
Earlier in the day may have seemed long ago, back when it was estimated that more than 20,000 Liverpool supporters had assembled at pre-arranged fan park Plaza Felipe II near the Goya metro stop. On any other afternoon, the long strip of a square would be unimpressive. A scruffy looking Corte Ingles in need of a jet wash. Plenty of concrete. Here, it was transformed. Shevchenko Park in Kiev was an incredible because it felt new. This was more dramatic because of the way it looked, rather than a crowd huddled between trees, a river of red that went on and on.
The visual show of strength showed what Liverpool is but also what it could become. There is a real potential here for Liverpool to become the biggest club in the world in terms of the numbers who want them to win, their new financial landscape and the trophies they might win.
Another European Cup would follow, taking them above Barcelona and Bayern Munich – two clubs, of course, they have beaten recently to get back to this stage.
In Munich, Klopp had warned: "Liverpool are back." If you didn't believe him then, you surely do now.
Join our new commenting forum
Join thought-provoking conversations, follow other Independent readers and see their replies