Chaos in Bundesliga match as VAR orders players back on to pitch for penalty after half-time whistle
Both sets of teams were ordered back onto the pitch having gone to the changing room at half-time after VAR awarded a penalty for handball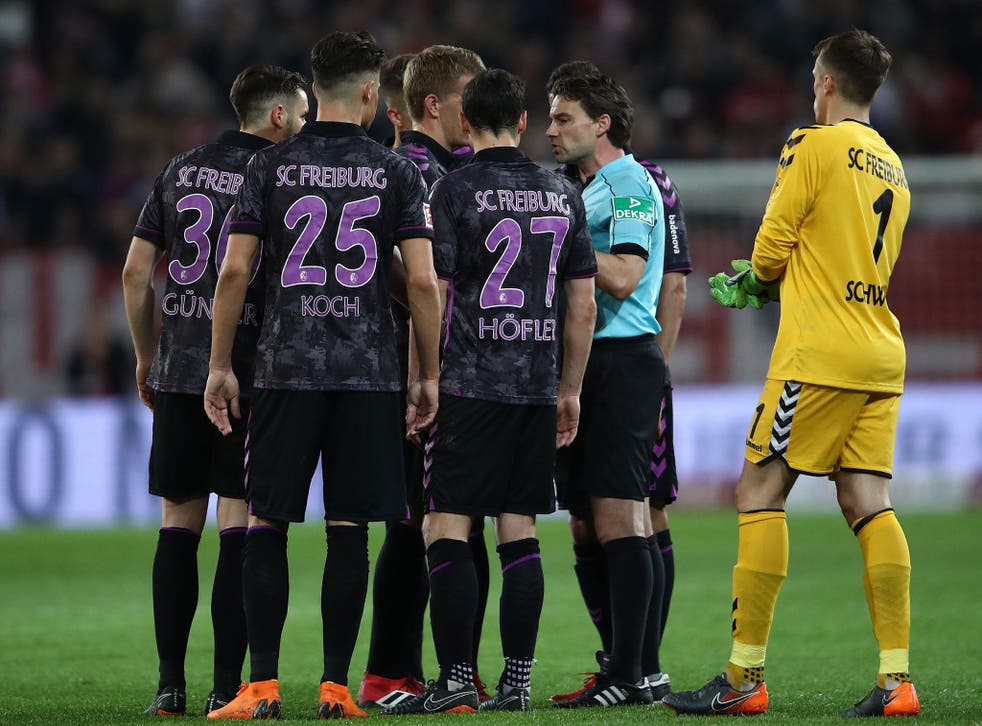 Mainz's Bundesliga match against Freiburg on Monday night was subject to arguably the strangest scenes of football seen since VAR was first introduced to European football.
Both sets of teams were ordered back on to the pitch having gone to the changing room at half-time after VAR awarded a penalty for handball.
Referee Guido Winkmann, who was also on his way to the tunnel having initially dismissed the penalty appeal and blown for half-time, ordered the players to return so that Mainz's Pablo De Blasis could take a penalty for a handball that VAR noticed after the half-time whistle had been blown.
Freiburg coach Christian Streich, who was recently sent off for dissent in a league match, was on the sideline smiling and shaking his head in disbelief after being told to get his players back out.
The chaotic scenes angered fans who signalled their disapproval by throwing toilet rolls on to the pitch.
The VAR system has been used in the Bundesliga this season but not without controversy as it has been at the centre of several disputed decisions.

Register for free to continue reading
Registration is a free and easy way to support our truly independent journalism
By registering, you will also enjoy limited access to Premium articles, exclusive newsletters, commenting, and virtual events with our leading journalists
Already have an account? sign in
Register for free to continue reading
Registration is a free and easy way to support our truly independent journalism
By registering, you will also enjoy limited access to Premium articles, exclusive newsletters, commenting, and virtual events with our leading journalists
Already have an account? sign in
Join our new commenting forum
Join thought-provoking conversations, follow other Independent readers and see their replies