Who are Ostersund? A closer look at Arsenal's opposition in the last 32 of the Europa League
Ostersund have already beaten the likes of Galatasaray and Hertha Berlin but could they claim their biggest scalp yet in downing Arsenal?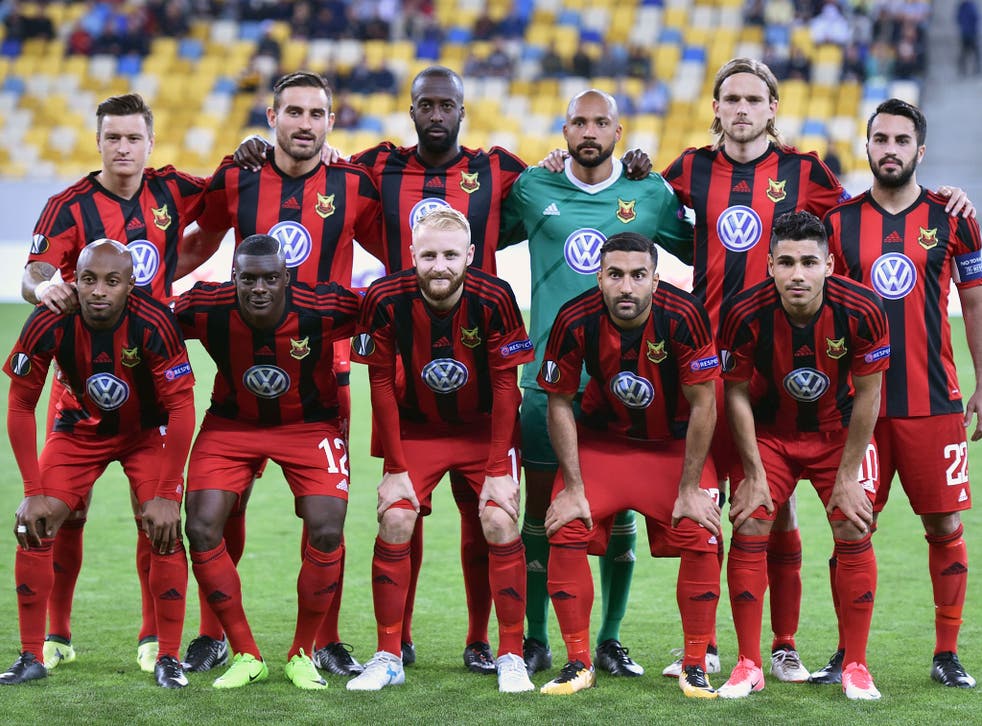 Arsenal have been drawn against Swedish side Ostersunds FK in the last 32 of the Europa League in a clash which pits Arsene Wenger against Graham Potter - the last Englishman in European competition.
Wenger's men will fancy their chances of progression, though the Swedish outfit will be looking to upset the odds having defied all expectation to reach this stage of the competition.
Ostersund have already beaten the likes of Galatasaray and Hertha Berlin but could they claim their biggest scalp yet in downing Arsenal?
Here, we take a closer look at the side ahead of their last-32 clash next February:
Who are they?
Ostersunds FK play in Allsvenskan, the Swedish first tier. They achieved promotion to the league for the first time ever in 2016. Six seasons ago the side languished in the fourth division of Swedish football, having previously spent its entire history not being able to progress beyond the third tier. The club was formed on 31 October 1996 – a month after Wenger took over at Arsenal.
Who is there manager?
Graham Potter. The Englishman was born in Solihull and played eight times in the Premier League for Southampton in the mid-1990s, one of those appearances as a substitute in the famous 6-3 victory over Manchester United at the Dell. Potter spent time working as a coach at Hull University and Leeds Met University before taking up the top job with Ostersund in 2011.
What has Potter said?
"In Sweden, anywhere north of Stockholm is essentially the wilderness and we're five hours north by train. We're also two and a half hours away from the nearest town which would be Sundsvall to the east or Trondheim (in Norway) to the west. That provides its own challenges and opportunities.
"Persuading Swedish players to move to the northern part of the country isn't straightforward because we have the location issue and the short history of our club, which was only formed in 1996. We don't have a long tradition. So, we've had to provide a reason for them to come.
"When I first came the winters felt a lot colder, often as low as minus 30 degrees. Whether I'm just used to it now or whether it's global warming I'm not sure. We still get days when it drops very low but they are fewer. Östersund has marketed itself as a winter city. But that's changing now, with the success of the football team."
Ostersund's route to the last 32:
Europa League qualifier – first leg: Ostersund 2-0 Galatasaray
Europa League qualifier – second leg: Galatasaray 1-1 Ostersund
Europa League group stage:
Ostersund 1-0 Fola Esch​
Fola Esch 1-2 Ostersund​
PAOK Salonika 3-1 Osterund​
Ostersund 2-0 PAOK Salonika​
Zorya 0-2 Ostersund​
Ostersund 1-0 Hertha Berlin
Ostersund 2-2 Athletic Bilbao
Athletic Bilbao 1-0 Ostersund​
Ostersund 2-0 Zorya​
Hertha Berlin 1-1 Ostersund
Ostersund qualified for the last 32 as runners-up in Group J.
Join our new commenting forum
Join thought-provoking conversations, follow other Independent readers and see their replies