Wracked by corruption and mismanagement, Romanian football is in crisis as players start to walk away
The Independent spoke to title-winning Laurentiu Petean, who is retiring at just 29 for the security of working at a hotel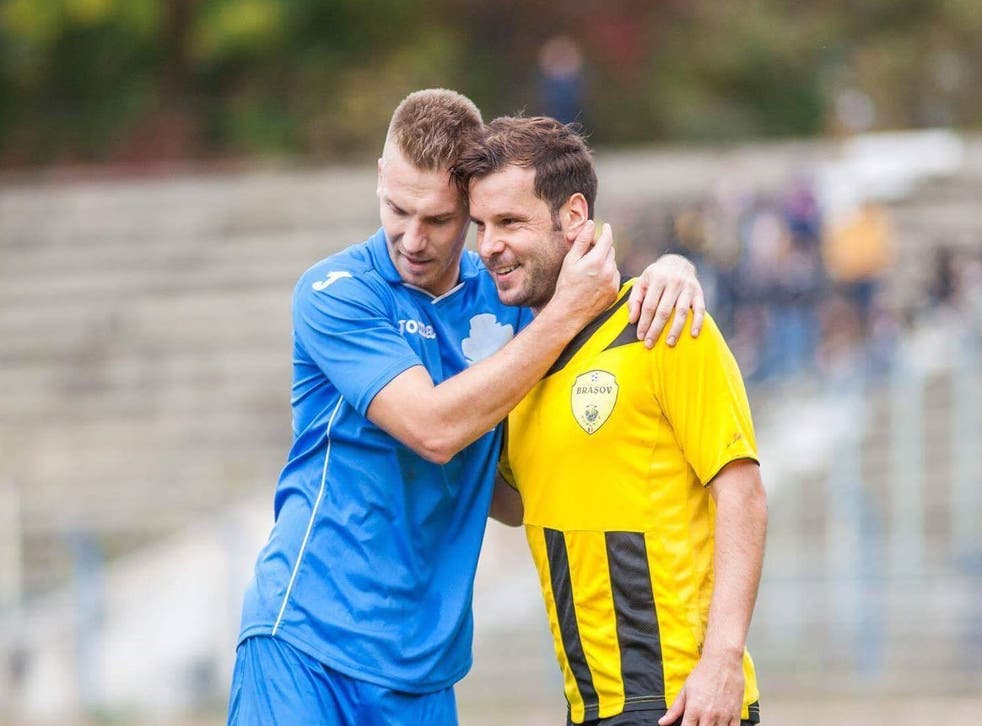 You might remember Otelul Galati, but if you're not a Manchester United fan then it is unlikely.
Even if you are, it's improbable that of the raft of Champions League opponents you have faced over the years, you'd remember this tiny Romanian club who burned so brightly, yet so briefly, making a starry-eyed trip to the Theatre of Dreams on their one occasion sitting at European football's top table.
Having spent the majority of their existence as a lower-league club in Romania, Otelul aren't particularly well known beyond their national borders, and even moreso because they hail from the historical region of Moldavia, in the far east of the country. But in 2011 they won a first Romanian title and the Steelworkers, as they are known, were catapulted onto the European stage.
Indeed for local boy Laurentiu Petean, born in Galati itself, it was a dream come true.
"I was able to win the league with Otelul Galati, my hometown team. Every player wants to win a championship: and doing it with your favourite team is incredible," he told The Independent.
"It was a big surprise for everyone, nobody expected we could win because we were a small team in Romania. But the group and the coach Dorinel Munteanu made the difference".
But Petean, now 29, has this week retired from football as the league he won wrestles with corruption and financial oblivion. Five years after holding that trophy, he is beginning a new life doing odd jobs in a hotel in southern Germany just so he has the assurance of a monthly income.
The former full-back speaks of how Romanian football's decline has been mirrored in that of Otelul, now in the fourth tier of the league pyramid just five years after their greatest day. Clubs up and down the top flight regularly struggle to pay their players on time, if ever, and it has left the entire sport in this country open to match-fixing and nefarious external influences.
"It's easy to understand that there's a big temptation for taking money [for unscrupulous reasons], because most of the players are not getting paid. Up to now only CFR Cluj and Steaua Bucharest were solid clubs that could guarantee regular wages to their players. This is why some fix matches and there are corrupt players and managers".
Freshly loaded with that Champions League money and memories of rubbing shoulders with European top brass, Otelul's owner pocketed the cash and scarpered. It would have been shocking to Romanian fans had it not already happened so recently, with Unirea Urziceni winning the league in 2009, playing in the Champions League in 2010 and yet managing to go out of business by 2011.
Asset-stripping is more common, seemingly, than paying players what they are owed.
In a survey conducted by FIFPro, the global players' union, 75 per cent of players in Romania said they were paid late during the previous two seasons – the second-highest percentage of 31 European countries.
And so after leaving Otelul and bouncing from club to club, intermittently picking up wage packets when team finances permitted, Petean sat down with his mother and decided to call it a day.
"I was staying at home with my mum and talking with her about my life in football. After two hours of speaking, I took the decision to stop and move on.
"I have no money, I've played 23 years only for pleasure: and I can't play football for 100 years.
"My mother has some problems with cancer and my last team didn't pay my wages for five months, so I decided to stop playing football and find a job to have a regular wage.
"When I told her, one eye was crying and the other was smiling. She knows how much I love football and that it was all I've done for all my life, but she realised I'm an adult man and I have to do something for my life, to live and building a future. In Romania this is not possible playing football.
"My mother wants to see me happy, and only thing that made me smile was training: In those two hours every day, I was forgetting everything: my mother's cancer, the fact that they didn't pay me, the discussion about money in family.
"I wrote to my team, because I wanted them to know that I love the team and I enjoyed the time spent there. My soul was not prepared for this, but I think this is life".
This life is now in Freiburg, Germany, and entails living with a former teammate, Bogan Spataru, who is himself only just carving out a living with local tenth-tier club SV Jechtingen. Petean's new calling is working at a local hotel to help pay for his mother's cancer treatment.
"Today is my first day at work. The first day of my life.
"I am 29 and this is not what I would have done in my life. I love football more than my life! But..." and the pause he leaves speaks volumes for a career lost amid Romania's failing system.
"Now I am in Freiburg, I work in a hotel. I do everything."
Petean's life is now very different. From the changing rooms to room service, his story is a sad case but not an isolated one in the stricken world of Romanian football, a world he is bravely, reluctantly, checking out of.
Join our new commenting forum
Join thought-provoking conversations, follow other Independent readers and see their replies