Alvaro Morata ends his goal drought but so many questions remain: Five things we learned from Leicester vs Chelsea
Morata ended a miserable run of 13 games in all competitions without a goal, but question marks over his level of performance remain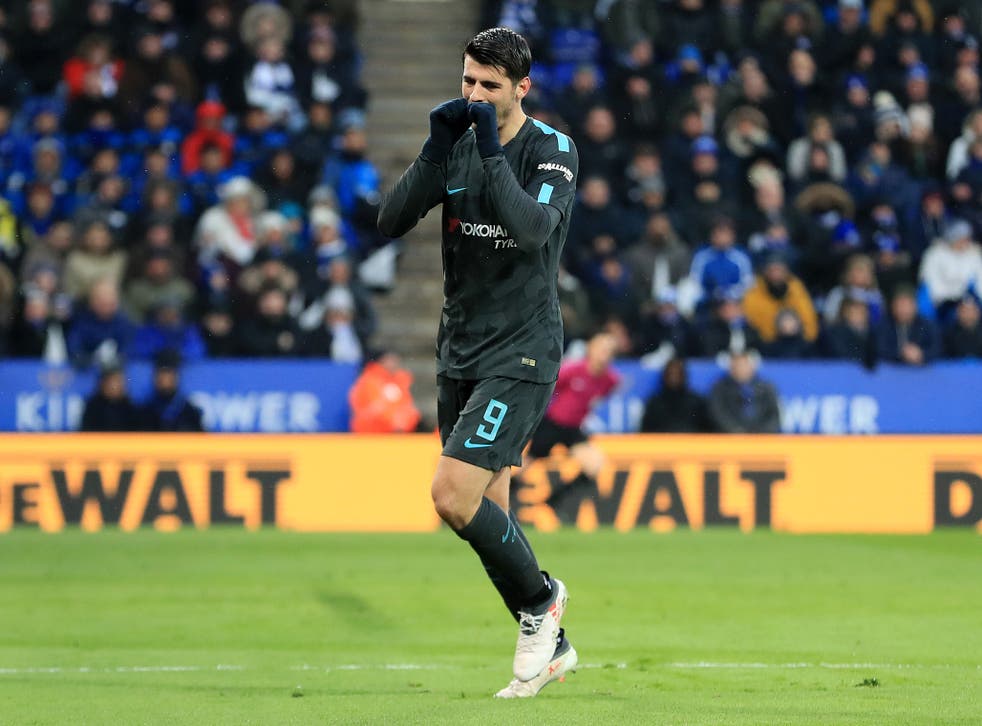 Rarely has an elite level footballer looked quite so despondent at hitting the back of the net – especially considering the quality of the finish.
Running onto a prod forward from Willian, Álvaro Morata strode into the penalty area, opened up his body and lifted the ball daintily over the advancing Kasper Schmeichel, handing Chelsea the lead over Leicester in this attritional Sunday evening snorefest.
As Morata peeled away – leaving Schmeichel to beat the turf in frustration – his arms initially darted out to his sides, perhaps in excitement, perhaps just out of muscle memory. But then he seemed to remember. And while his team-mates rushed to congratulate him, he dropped to the turf on his knees, with the ashen-face of a man who had just been told some particularly bad news rather than one who had scored the opening goal in an FA Cup quarter-final.
It was Morata's first goal of 2018 and he didn't mark it with a celebration, more a moment of earth-shattering realisation.
In a way, his reaction neatly surmised his difficult debut season in English football. Nobody doubts that he is a fantastically talented player with the predatory instincts to succeed in Chelsea colours, but his concerning tendency to dwell on spurned opportunities with that thousand-yard stare of his has many questioning whether he will be handed the necessary time to succeed.
This has been yet another difficult week for Morata, left on the bench for Chelsea's trip to the Nou Camp before Spain coach Julen Lopetegui surprisingly decided against handing him an international call-up. And perhaps more concerning about that second snub was Antonio Conte's decidedly ambivalent reaction to the news, when quizzed about it in his press conference on Friday.
"I think that this question is for the coach of the national team, not for me," he parried. "My only worry is to try to have the players in the best form for Chelsea. Then there is a national team coach to make the best decision for the country." If Morata had been hoping for a vote of confidence similar to the one recently handed to Marcus Rashford by Jose Mourinho, he would have been left sorely disappointed.
So his goal – which ends a dismal run of 13 games in all competitions without one – comes at a very good time. But it fails to truly disguise another underwhelming performance. It took just seven minutes for his first mix-up with Eden Hazard – animatedly demanding the ball in an offside position, receiving it, and then turning in bemusement to see the linesman standing with his flag in the air – while a little later he wasted a rare opportunity by shooting tamely at Schmeichel.
And, in truth, he didn't get much better after breaking the deadlock. True, he did come close to winning it late on with a backheeled flick which clipped the crossbar (albeit from an offside position), but he then spurned a far simpler chance to wrap things up in injury time when he again failed to test Schmeichel.
What happens next largely depends on Morata himself. An experienced striker would concentrate on the one converted chance rather than the cluster of wasted ones and work hard to finish the season in the same promising way that he started it. But does Morata have the resilience?
Patience is in famously short supply at Stamford Bridge and it will surely grow harder for Conte – under significant pressure himself – to excuse too many more of these performances.
Four other things we learned:
Morata wasn't the only struggling striker on the pitch. Kelechi Iheanacho has had a poor debut season at Leicester, salvaged only slightly by his fine scoring record in this season's FA Cup. He never came close to adding to that tally.  
Willian is some player and has now been involved in 18 of Chelsea's last 20 goals. He truly is beginning to rival Hazard in terms of importance.
How do Leicester supporters begin evaluating their season? Claude Puel has more than steadied the ship after that disastrous start, but he has work to do to prevent all of that early promise from petering out.
N'Golo Kante showed Leicester exactly what they were missing with a characteristically industrious performance in the middle of the park. He was influential at both ends of the pitch and laid on the assist for the goal which won Chelsea the game.