Anfield needs Jurgen Klopp to lay foundations on pitch for a brighter Liverpool future
Liverpool through but far from impressive
Simon Hughes
Anfield
Tuesday 26 January 2016 23:23 Comments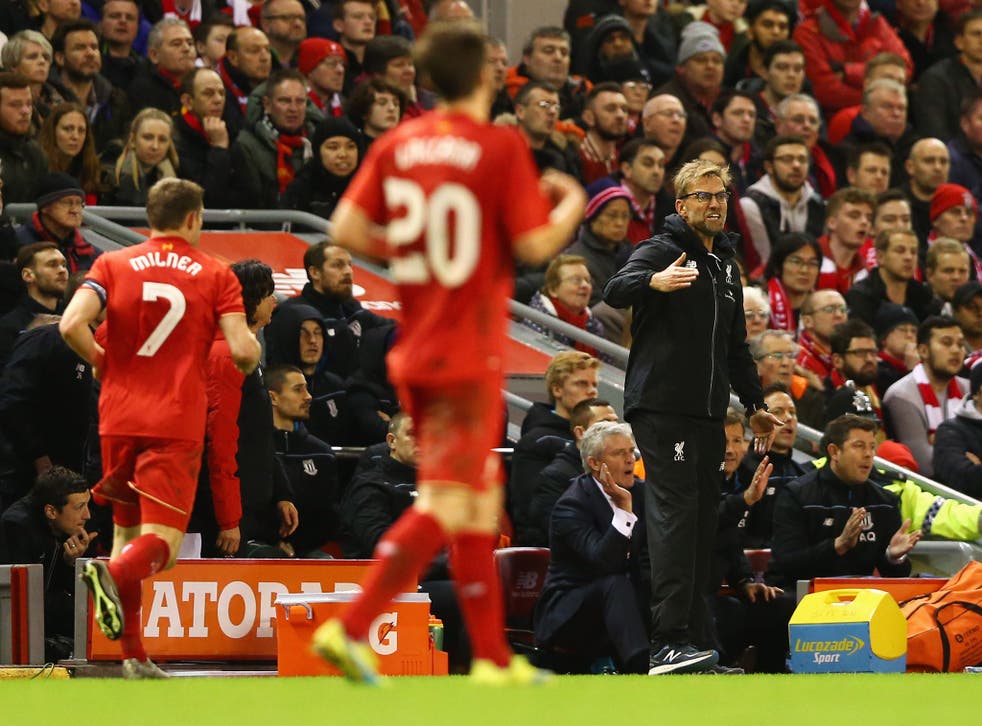 On Tuesday morning, Liverpool's website released a time-lapse video of the new Main Stand after the first sections of glazing were installed, the 760 window panes presenting supporters in the highest tier views as far as the north Wales coastline. Soon, the imposing words of The Liverpool Football Club, are expected to stretch across the rear of the structure and Merseyside will have a new skyline.
In the process of the redevelopment, Liverpool's old trophy room has been cut in half and replaced by a temporary press area, where the managers come to speak in the aftermath of a match.
Signs of the past remain, with giant pennants gifted by famous opponents protected by a glass casing. There are oil paintings of Anfield royalty: Bob Paisley and Kenny Dalglish. Yet the trophies have gone, the majority stored in a secret location; a few left in the museum, acting as a reminder to tourists of past glories.
Liverpool 0 Stoke City 1 player ratings

Show all 24
On Tuesday evening, as the cameras began to roll and Jürgen Klopp tried to explain another excruciating Liverpool performance, it was tempting to ask whether it will be necessary for a greasing agent to be placed near the doors of the space where any silverware will be laid to rest in the future or, indeed, whether the installation of a wider room will be relevant at all.
For clubs where the ache of gripping title metal had charred across the decades, the League Cup proved a catalyst for Nottingham Forest, Arsenal and Chelsea. It is a coincidence that on each occasion, final victories were recorded at Liverpool's expense: for Brian Clough's Forest in 1978, for George Graham's Arsenal in 1987 and Jose Mourinho's Chelsea in 2005.
It took Forest only another seven weeks to achieve what had not been achieved before or, indeed, since when the First Division championship was secured; it took Arsenal a further two seasons to achieve what they really craved, following an 18-year wait; while at Chelsea, a matter of months did not matter in the context of half a century, back when rationing was still in place.
Liverpool's wait will stretch into a 27th season but this was an opportunity to create a platform, enabling Klopp to begin establishing the "culture of success" he spoke about at Borussia Dortmund. In the context of time, a rotten display like this in a semi-final would not have mattered.
David Moores sold Liverpool because he feared they would fall behind competitors like Chelsea because he did not have enough money to support the club. He envisaged the letters in the Liverpool Echo blaming him for all of the ills that might follow.
And yet, American ownership has not been successful for Liverpool in a sporting sense. Next month will mark the ninth anniversary since the beginning of the dreadful reign of Tom Hicks and George Gillett and, although Fenway Sports Group has organised Liverpool in a far more professional manner, the fact remains that since 2007 Liverpool have lifted just one trophy – a grim record considering there were nine in as many years before the end of the Moores era.
Klopp got Liverpool this far with a squad of players where none of them are his. It shows because he wants a rage in Liverpool's play, to be counter-attacking and decisive. His predecessor, Brendan Rodgers, frequently referred to needing "the tools" to be able to do his job well and Klopp is no different. That is why Liverpool have pursued Alex Teixeira on Klopp's insistence, though it is unlikely they will be able to meet the huge financial demands of Shakhtar Donetsk in a transfer process where not is all as simple as it might seem outwardly.
Liverpool may have scored five against Norwich but for long periods they did not appear capable of scoring once here against a Stoke defence brilliantly marshalled by Marc Muniesa. By comparison at the other end, Liverpool's own defence was as shaky as ever – Kolo Touré and Mamadou Sakho rocking and rolling like a pair of drunken sailors on land leave. Observing Liverpool defend is akin to viewing an amateur horror movie from the 1970s when the killer is lurking behind the door. You know what the outcome will be eventually.
Cup final at Wembley or not, Klopp has so much to do anyway.
Register for free to continue reading
Registration is a free and easy way to support our truly independent journalism
By registering, you will also enjoy limited access to Premium articles, exclusive newsletters, commenting, and virtual events with our leading journalists
Already have an account? sign in
Join our new commenting forum
Join thought-provoking conversations, follow other Independent readers and see their replies