Manchester City's old guard blow away Arsenal in EFL Cup final to claim first trophy under Pep Guardiola
Manchester City 3 Arsenal 0: Sergio Aguero, Vincent Kompany and David Silva were on the scoresheet at Wembley as the Gunners were swept aside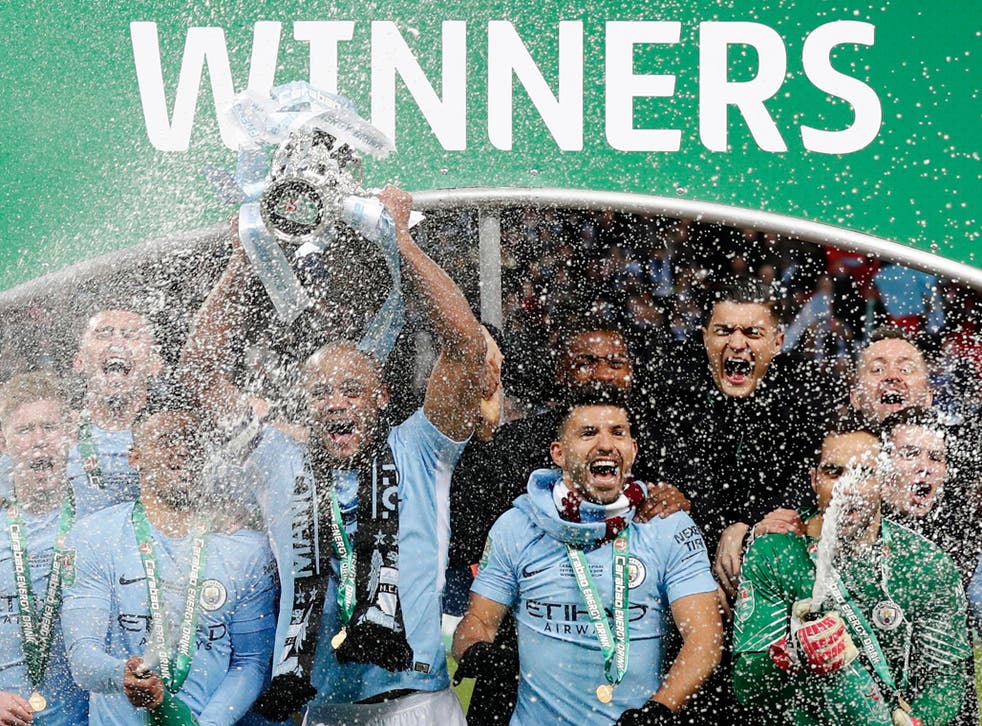 So much for Pep Guardiola finding it a challenge to win trophies in England. The Manchester City manager can scarcely have claimed one as easily as this in the 15 of his career, this simple 3-0 victory over Arsenal ensuring the League Cup became his first piece of silverware in the job and potentially the first of three this season.
For once in this campaign, though, that big win was as much down to how appalling Arsenal were rather than how luxuriously brilliant an actually somewhat flat City were. Arsene Wenger's side just collapsed, and ensured this became just another of his worst days, rather than a first League Cup. They were that bad, City not even that good. Wigan Athletic offered so much more of a challenge, as City claimed that first trophy of a reign rather than losing two in the space of a week.
If the Premier League leaders did not quite offer the kind of uplifting display that would have been a fitting way to lift silverware, though, there were still fitting moments and scorers. The first trophy of the new regime was delivered by all the stalwart legends: Sergio Aguero, David Silva and – in between those two – a very emotional man-of-the-match Vincent Kompany.
How Arsenal could have done with his resolve. And this is to City's credit too.
As easy as the game ultimately became for them, it was mostly a match where they again found greater difficulty doing all the things they're normally so divine at, where there were a few worries too given Fernandinho's hamstring injury. That's why Kompany's clinching goal was all the more significant. It was a day when his passionate fight, rather than the passing fineness of John Stones, was more marked for Guardiola's side.
Then again, it's hard to know how defiant you really have to be against an Arsenal as submissive and supine as this. They are the opposite of the famous line from Rudyard Kipling's 'If'. If you can lose your head and lose a game no matter what is happening all about you, you'll be the modern Arsenal, my son!
This was one of the worst aspects – you couldn't say outright worst, because there were many – for Wenger. His side had actually started the game the better side, had the first really big chance, and were applying a workable gameplan against a City initially off their game. This was thing. There was a lot going in Arsenal's favour early on, not least the flow of the play. They had even exposed a potential source of further openings, given how uncomfortable Kompany had looked with that first long ball of the game, and how much City – without that properly ball-playing centre-half – were struggling to bring the ball out of defence. It was one reason why they were so initially flat.
It was just Arsenal's luck, though, that this was a day when Claudio Bravo started to do all the things he had so struggled with last season and had so ended his time as first-choice goalkeeper. Primarily signed for his footwork, that became a bad joke when he couldn't seem to save the simplest of shots, and created such difficulty when the ball was played back to him.
The Chilean here first made a fine double save from Pierre-Emerick Aubameyang when he wouldn't have reasonably been expected to stop either, before then offering that Ederson-like assist for the opening goal.
There was no luck in how Arsenal dealt with it, though. It was just bad. Some qualifications have to be made for Shkodran Mustafi given how he had to step up to cover so much space in front of him, but that doesn't cover how he easily he was bounced out of the way by Aguero. The Argentine then of course finished sublimely, lifting the ball over David Ospina.
And the blunt truth was that was it for Arsenal. Having so meekly wasted some advantages and the initiative, it was as if all conviction had gone from their game. They were still trying the same gameplan, but with nowhere near the same application.
It made City's win, and the manner of the next two goals, inevitable.
Arsenal had been struggling with with the physicality that Kompany had been showing, and he had already threatened from a corner. He then won another in the second half, and eventually diverted home.
You could understand his joyous celebration given his injury struggles, even if it should be baffling just how Arsenal keep allowing these things to happen. It isn't baffling. It's just their nature now, just as it's David Silva's nature to finish with the kind of technical excellence he did for the third goal.
It is meanwhile Guardiola's nature to win.
That made this one of multiple "worst days" for Wenger in the latter part of his career, but maybe one of multiple trophies this season for City.
Join our new commenting forum
Join thought-provoking conversations, follow other Independent readers and see their replies