Arsene Wenger set to start Petr Cech in goal in FA Cup final as he ponders defensive options
He preferred Ospina against Preston, Southampton and Sutton United, in the third, fourth and fifth rounds, before going to Cech for the quarter and semi-finals against Lincoln and Manchester City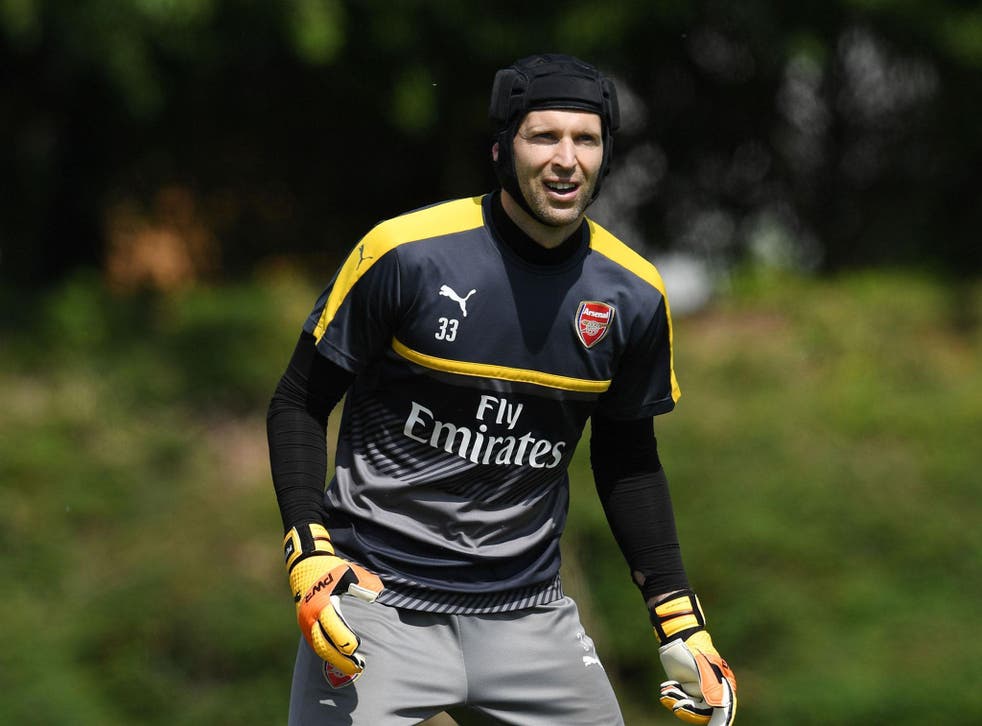 Arsene Wenger is set to pick Petr Cech in goal for the FA Cup final against his former club Chelsea on Saturday.
Wenger has picked both Cech and Colombian understudy David Ospina in the cup so far this season. He preferred Ospina against Preston North End, Southampton and Sutton United, in the third, fourth and fifth rounds, before going to Cech for the quarter and semi-finals against Lincoln City and Manchester City, when Ospina was injured.
With Ospina fit again, Wenger has a decision to make but he is leaning towards picking Cech for the biggest game in Arsenal's season. "That is not decided," he said, when asked about it at his Wednesday morning press conference. "It is possible, we will see." Wenger pointed out that Ospina was not, in fact, guaranteed of a place just because it was the FA Cup, because of the times he had picked Cech.
In front of Cech Arsenal are facing an injury crisis. Laurent Koscielny is suspended, Gabriel is out with a knee injury, Shkodran Mustafi is a major doubt with concussion while Kieran Gibbs has not yet trained all week so is running out of time to be ready.
"Gibbs has not trained yet, he has a test today [Wednesday]," Wenger said. "Alex Oxlade-Chamberlain is back in training, but Gibbs is not."
On top of that, Wenger will be without three of his main centre-backs. Koscielny is serving a three-game ban after getting sent off for fouling Enner Valencia on Sunday. Gabriel damaged knee ligaments that day and was stretchered off, which will slow down his return in pre-season.
"Gabriel is out for six to eight weeks," Wenger confirmed. "We had a scare about his cruciate, but it's only a medial knee ligament, so the positive is that he avoids surgery. He's out until the beginning of August now, certainly."
Mustafi suffered concussion in the 2-0 defeat of Sunderland eight days ago and has still not returned to full training. "Mustafi, we still have some worries about," Wenger said. "He is still sick at the moment, and has not trained yet."
Mustafi is bound by rigorous official guidelines on returning to action after a concussion and they mean that Mustafi is now running out of time to train in time to get ready for Saturday. "I don't know," said Wenger, downplaying the German international's chances. "I have to listen to medical people."
The result is a defensive crisis in which Wenger can only call on Rob Holding, Nacho Monreal, Hector Bellerin and Per Mertesacker of his specialist defenders. "It's absolutely unbelievable and unpredictable," Wenger said. "We have been hit hard in a position where we will need to be strong on Saturday. We'll have to find solutions and hopefully I will find the good solutions."
It means that, if Wenger chooses to stick with the 3-4-2-1 system, he is likely to start Per Mertesacker for the first time since April 2016. Mertesacker missed the first half of the season with injury and was then not selected by Wenger, but he will likely have to start on Saturday if Mustafi does not recover. "He has not played 90 minutes for a long time," Wenger said. "He has the leadership qualities. So it depends a little bit on the system I will go for, the system I will choose."
Mertesacker said that his substitute appearance on Sunday, his first of the season, was "completely unexpected", but he is determined to be fully ready on Saturday if he can be.
"I can't tell you," he said, when asked if he would be ready. "I haven't played this year. I used to do this for 15 years so I expect myself to be absolutely ready no matter what comes. That's my mind-set. No matter what happens or is facing me on Saturday, I'm going to go for it. I owe this to this team and to this club."
Register for free to continue reading
Registration is a free and easy way to support our truly independent journalism
By registering, you will also enjoy limited access to Premium articles, exclusive newsletters, commenting, and virtual events with our leading journalists
Already have an account? sign in
Register for free to continue reading
Registration is a free and easy way to support our truly independent journalism
By registering, you will also enjoy limited access to Premium articles, exclusive newsletters, commenting, and virtual events with our leading journalists
Already have an account? sign in
Join our new commenting forum
Join thought-provoking conversations, follow other Independent readers and see their replies