Arsenal v Coventry: Keith Houchen flies Sky Blue flag ahead of FA Cup meeting
One of the heroes of Coventry's 1987 triumph tells Simon Hart that the battling League One side can make more Cup memories
Simon Hart
Friday 24 January 2014 02:22 Comments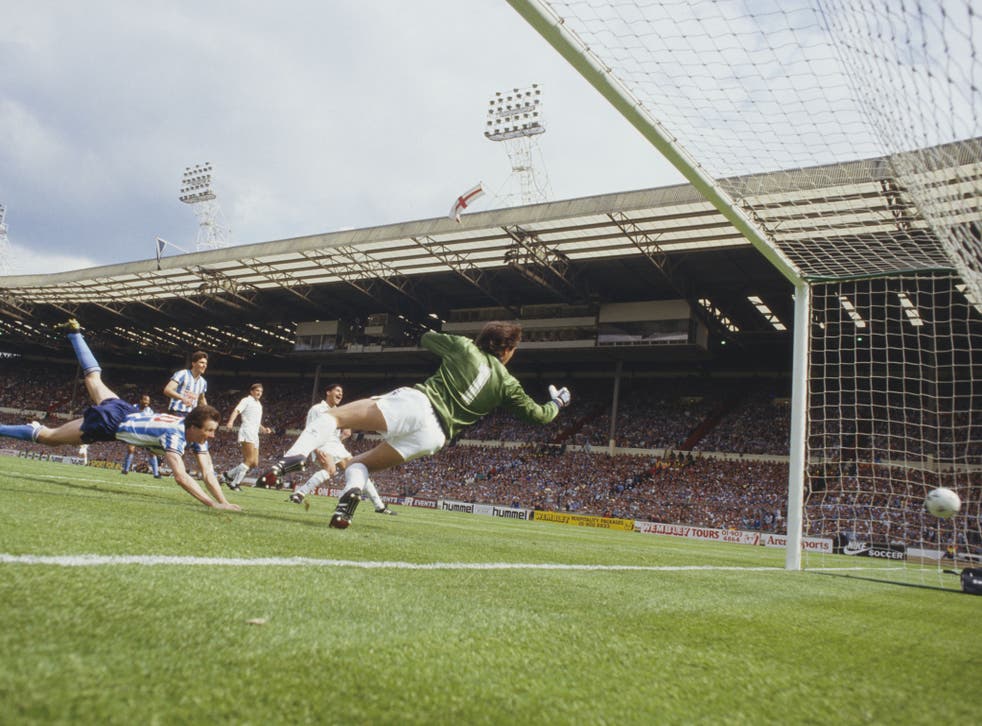 For Coventry City's long-suffering supporters, it must feel like a lifetime ago. Yet for Keith Houchen, the man whose diving header provided the iconic image of the Sky Blues' 1987 FA Cup final victory over Tottenham Hotspur, it is a moment still vivid today.
The years fall away as he remembers collecting Cyrille Regis's flick from a Steve Ogrizovic goal-kick, laying the ball off to Dave Bennett, then moving into the box to head the winger's cross past Ray Clemence. "The only way I could get on the end of the cross was to dive," Houchen tells The Independent. "You don't go into it thinking, 'Right, I'm going to do a spectacular diving header and people are going to be talking about it for 30 years'. You're probably only in the air for a split second but the whole thing looks so spectacular – it looks like I'm flying."
It was a goal that brought Coventry back to 2-2 in a final eventually won by Gary Mabbutt's extra-time own goal and remains one of the old trophy's most treasured moments. It is likely that few Arsenal fans at Coventry's fourth-round tie at the Emirates this evening could name a single member of Steven Pressley's League One side, yet Houchen's goal is a different matter. "I can be anywhere in Britain and even abroad and people come up and talk to me," says the 53-year-old, who two years earlier had scripted an even bigger Cup upset with York City's fourth-round winner against Arsenal. "It was still in that era when everything stopped for the FA Cup. It was the big competition when we played it. I'm pleased it has gone down as one of the classic FA Cups."
That triumph over a talented Tottenham side owed plenty, adds Houchen, to the "great spirit and camaraderie" built by the managerial team of George Curtis and John Sillett. It brought Coventry their only major honour, yet it was a sign of the times this week that when Franck Moussa, Coventry's Belgian midfielder, was asked if he knew who Houchen was, he replied sheepishly: "No, I'll check it on YouTube."
Today's Coventry are unrecognisable in so many ways. They said goodbye to the top flight after 34 years in 2001 and are now a League One club playing 35 miles away in Northampton owing to the complex rental dispute over the Ricoh Arena. "It is quite sad," Houchen reflects, yet the outlook is not wholly bleak. As in 1987, they can call on a formidable team spirit, forged in the face of adversity by manager Pressley. Calling on his cost-cutting experiences at previous club Falkirk, the Scot has streamlined Coventry's squad, turning to a crop of "fearless" – Pressley's word – young players including Aaron Phillips, whose father David was a colleague of Houchen's in 1987. Indeed, they would be play-off contenders but for a 10-point deduction imposed last summer.
Houchen is impressed. "There are a lot of young kids coming through and they are in there together. He [Pressley] has got them playing a very slick passing game."
An articulate figure and keen student of the game, his methods marry the old with the new – he quotes Pep Guardiola's book one moment, explains how he has apprentices cleaning boots the next – and has sought to create a "no-excuses attitude" since taking the helm last March. "I believe in controlling the controllable," says the 40-year-old Scot, briefly a Coventry player in the mid-Nineties. "You can talk about all the negative aspects of the football club but that doesn't mean we can't be the fittest team in the league, that doesn't mean we can't be the best organised team, that doesn't mean we can't have the best unity, the best mentality."
What Pressley wants now is to create fresh memories for the club's supporters. There will be 5,000 at the Emirates – more than double the 2,406 average at Sixfields, which most fans have boycotted. "When you take 7,000 away to MK Dons that shows the appetite of these supporters," says Pressley. "With the exception of '87 – and trust me, I've still got Steve Ogrizovic in the building and have to listen to that all the time – the Coventry fans have been starved. We'd love to give them something to shout about."
Coventry, thrashed 6-1 at Arsenal in the Capital One Cup last season, have home-grown forward Callum Wilson injured and his strike partner Leon Clarke on the brink of joining Wolves but Pressley's motto is to "find a way". And he believes beating Arsenal would even better that famed May day in 1987.
"I've said to the players, I don't want us turning up and taking photographs of the stadium – we must go there with a mentality that we want a result. It would probably be the club's finest-ever result and that's including '87, because the circumstances were completely different then. The gulf in finance now is enormous."
There is some logic in his argument but those memories of Houchen's flying header refuse to fade away. As the man himself says, "you can never compare with that".
Register for free to continue reading
Registration is a free and easy way to support our truly independent journalism
By registering, you will also enjoy limited access to Premium articles, exclusive newsletters, commenting, and virtual events with our leading journalists
Already have an account? sign in
Join our new commenting forum
Join thought-provoking conversations, follow other Independent readers and see their replies