Arsene Wenger to play strong Arsenal team with FA Cup ambitions in mind
Arsenal take on Swansea in the third round of the cup
Tom Collomosse
Friday 04 January 2013 13:02 Comments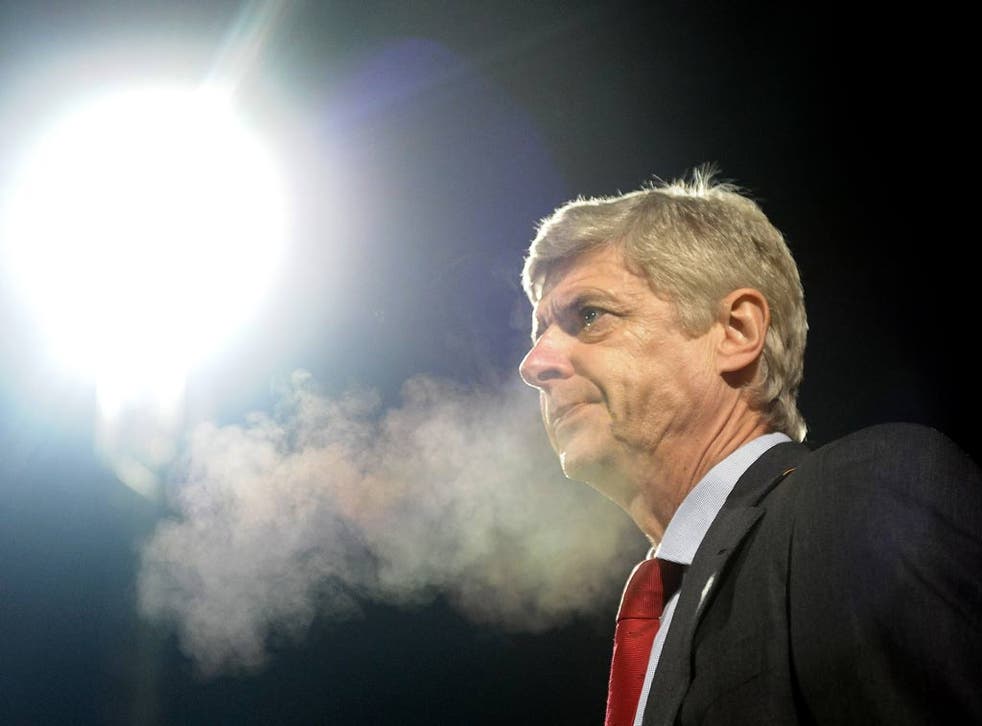 Success in the FA Cup helped Arsene Wenger build a reputation as one of the best managers in modern English football and, as he prepares for a third-round tie at Swansea this Sunday, the Frenchman is aware how badly Arsenal need to take the trophy again.
Four FA Cups have been gathered during the Wenger era but the last, in 2005, is the most recent major trophy won by the Gunners. Despite Wenger's reluctance to admit it, Arsenal's hopes of ending the fallow period this season will probably disappear should they lose at the Liberty Stadium.
Arsenal are sixth in the Premier League, 18 points adrift of leaders Manchester United, and face Bayern Munich in the last 16 of the Champions League. Chelsea's improbable European triumph last season means nothing should be discounted but clearly Arsenal's best hopes of cup glory lie in this country. Bradford's remarkable win in the Capital One Cup quarter-final means the match at Swansea - who won at Arsenal in the League last month - represents a moment of considerable significance in the Gunners' season. It is apparent, too, that Wenger will take no chances with team selection.
"I will play the team I think has the best chance to win the game, without considering any rotational desire," the Arsenal manager is quoted as telling The Evening Standard.
"If you look at Queens Park Rangers' victory at Chelsea on Wednesday, you see there is nothing between the teams now.
"The teams are well-organised, they are physically strong and if you are not at your best, you don't win the game. It is the same for everybody.
"Manchester United are top of the League but they have already lost three games this season, so I believe the teams at this level are very competitive. Then, the FA Cup is something special because it is something exciting.
"It is watched all over the world and it has a special history in England which I have always respected. I am always sad when we don't win it or when we go out and we will put in our maximum effort on Sunday to win the game."
Arsenal could be forgiven for feeling the draw had been unkind to them. Inspired by Michu, the Spaniard who has scored 14 goals in all competitions in his first season in English football, Swansea have maintained the form of last season.
Their 11th-placed finish last season following promotion from the Championship surprised many and when Brendan Rodgers departed to take over at Liverpool, they might have struggled to reprise their achievements.
Under new boss Michael Laudrup, however, progress has been similarly smooth and Wenger believes the hierarchy at Swansea deserve credit for their judicious selection of managers.
"They lost their manager but they are a successful story," he said. "They lost Rodgers but then they took Laudrup who is doing very well. In 2009, they lost Roberto Martinez to Wigan, so they usually find the right guy to replace the manager who is leaving.
"They are a team who have already shown last year that they are at a good technical level and that they could adapt well to the Premier League.
"They can also buy well and they've shown that once again this season by bringing in players such as Michu."
Michu cost only £2.2million from Rayo Vallecano and scored both goals at the Emirates Stadium in Swansea's 2-0 victory. His form has left scouts at top clubs with awkward questions to answer and Wenger admitted: "Was he on our radar? Honestly, no.
"You needed to know the market in Spain really well to do that. Laudrup did it because he worked there. We have quite good connections in Spain as well but he is not one who ever came to my attention."
Laudrup has a fully-fit squad to call on except for Neil Taylor, who is out with a fractured ankle. Danny Graham is expected to lead the line, despite hinting at the need for talks over his future at the club.
Register for free to continue reading
Registration is a free and easy way to support our truly independent journalism
By registering, you will also enjoy limited access to Premium articles, exclusive newsletters, commenting, and virtual events with our leading journalists
Already have an account? sign in
Join our new commenting forum
Join thought-provoking conversations, follow other Independent readers and see their replies