Bolton Wanderers vs Liverpool match report: Philippe Coutinho stuns Bolton as Reds leave it late to keep season alive
Bolton Wanderers 1 Liverpool 2: Spectacular strike in added time sees visitors reach fifth round on FA Cup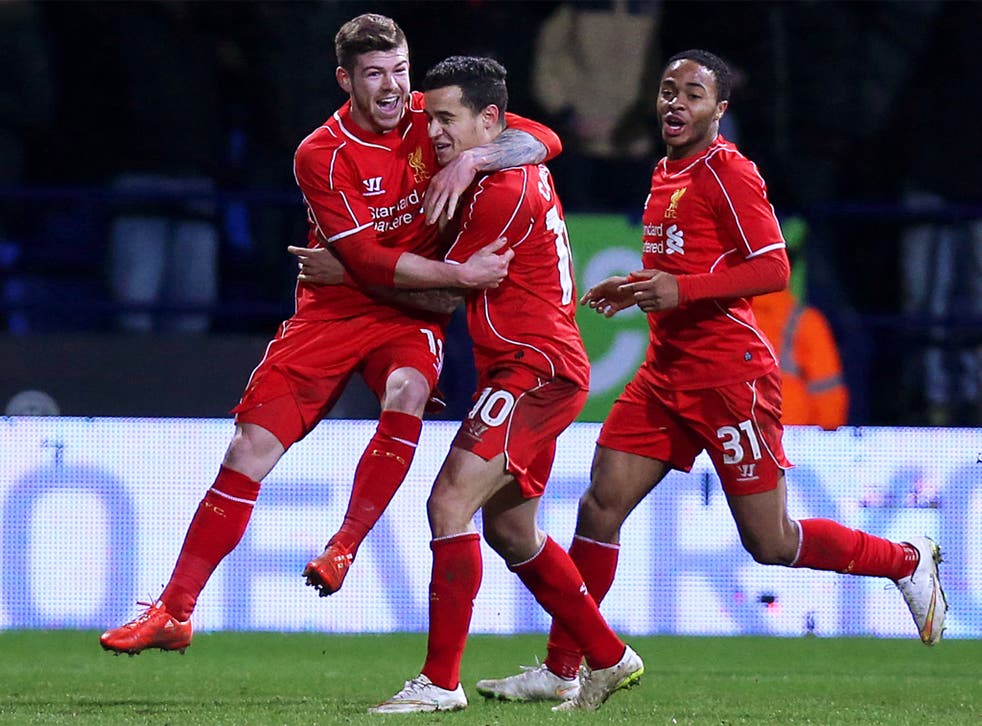 The resuscitation of Liverpool goes on. The football has been returning for weeks and here was as good a measure as you will find that there is spirit to go with it, too. They were four minutes away from being frogmarched out of the FA Cup, just like Chelsea, Manchester City, Tottenham Hotspur and Southampton, until their two goals sealed a tie which delivered the best of the FA Cup.
Bolton, whose performance in this fourth-round replay confirmed a revitalisation all of its own under Neil Lennon, contributed to their own demise, playing with 10 men for 24 minutes after Neil Danns' dismissal for his second bad challenge on Joe Allen. He could have no complaints about the decision.
But there was a calmness and presence of mind from Liverpool's galaxy of talents, who threatened all night, and it was all the sweeter that Philippe Coutinho, the man Brendan Rodgers suggested this week should look for more goals, should finish the night off in such a spectacular way.
Lennon sank to his seat with a face like thunder, and you could certainly see why he felt that way. For half an hour it seemed that Eidur Gudjohnsen had written the script for him and his team. Bolton had sold him to Chelsea for £4m 15 years ago because they were short of money once, and now they have signed him back as a 36-year-old because they are short of money: a bits and pieces club, looking to make do and mend.
Gudjohnsen repaid Bolton richly for their faith when he sent in a penalty just before the hour mark after Martin Skrtel had struggled with the pace of 20-year-old Zach Clough and clipped him on his way into the area.
Lennon says he still uses some of the coaching techniques he picked up from Rodgers, having watched his Northern Irish compatriot at work in the difficult Reading days when Anfield was a distant dream, but he clearly has ideas of his own.
The back three which both sides deployed helped Lennon utilise the strikers at his disposal. Clough, the great young hope here, displayed pace from the start, Liam Feeney is clearly dangerous with the dead ball at his feet and as both he and Dean Moxey offered width, the resurgent Championship side should have written a story far sooner than they did.
Gudjohnsen had already seemed set to write a big FA Cup headline across the bitter Lancashire night in the moment that Moxey's cross reached him just before the half-hour but his first-time shot was wild and high.
Feeney's whipped delivery offered David Wheater a point-blank chance but there was no time to fix a thought on it and he headed straight at Simon Mignolet. The absence of composure stood between Bolton and a goal.
Those chances were not to be sniffed at, because Liverpool's class was always there, below and on the surface, threatening instant destruction. Steven Gerrard, returned to the back of midfield as he became the third player – after Ian Callaghan and Jamie Carragher – to make 700 Liverpool appearances, pulled some strings.
But the man known affectionately to his manager as "wee Phil" caused the danger. Tim Ream looked as useful as a slalom post when Coutinho dropped a shoulder and whisked past him, only to find Dorian Dervite a more obdurate obstacle.
Raheem Sterling went a step further when Dervite gave him a precious square foot of space to play with, feinting to shoot three times before clipping a shot that struck the outside of the right-hand post.
Though the Merseyside threat continued after the interval, when a tackle of accuracy and impeccable timing was needed from Dervite after Coutinho arced a pass which sent Sterling clear into the six-yard box, Clough's speed of thought and mind was about to make the impact.
The penalty Skrtel conceded underlined how he had struggled with the Englishman's pace all night. Gudjohnsen's right-footed spot kick was decisive: low, hard and down the middle.
Danns had left the field within nine minutes of that opening goal and could have no complaint, though for a time it made no material difference. Clough was immediately off again – running the length of the pitch, cutting inside Emre Can and shooting narrowly wide of the left-hand post.
Gudjohnsen could have doubled the lead, heading the ball down into the turf to bounce into Mignolet's hands from another of Moxey's threatening crosses. Wheater, arriving in the six-yard box, thumped the net in frustration. He knew the potential significance of that moment.
It was time for Liverpool to seize the night and though the goals came late they had moved the ball around well throughout. Jordan Henderson, a substitute, had a shot deflected on to a post, Can had one of his own deflected against the bar, and then in the 86th minute the dam was burst.
Can clipped a weighted right-foot cross in for Sterling, who had been allowed to race free by substitute Liam Trotter. He volleyed the ball through Andrew Lonergan's legs with his left instep.
Coutinho's 92nd-minute strike was even finer. He took the ball that Henderson had rolled up for him and smashed it in right-footed off the underside of the bar. Liverpool dare dream of one more trip to Wembley.
Man of match Coutinho.
Match rating 8/10.
Referee R East (Wiltshire).
Attendance 22,171.
Register for free to continue reading
Registration is a free and easy way to support our truly independent journalism
By registering, you will also enjoy limited access to Premium articles, exclusive newsletters, commenting, and virtual events with our leading journalists
Already have an account? sign in
Register for free to continue reading
Registration is a free and easy way to support our truly independent journalism
By registering, you will also enjoy limited access to Premium articles, exclusive newsletters, commenting, and virtual events with our leading journalists
Already have an account? sign in
Join our new commenting forum
Join thought-provoking conversations, follow other Independent readers and see their replies