Two red cards and VAR controversy as Chelsea beat Norwich on penalties in FA Cup third-round replay
Chelsea 1 Norwich 1 AET (Chelsea win 5-3 on penalties): The Premier League champions avoided a shock loss after being taken to extra-time by the Canaries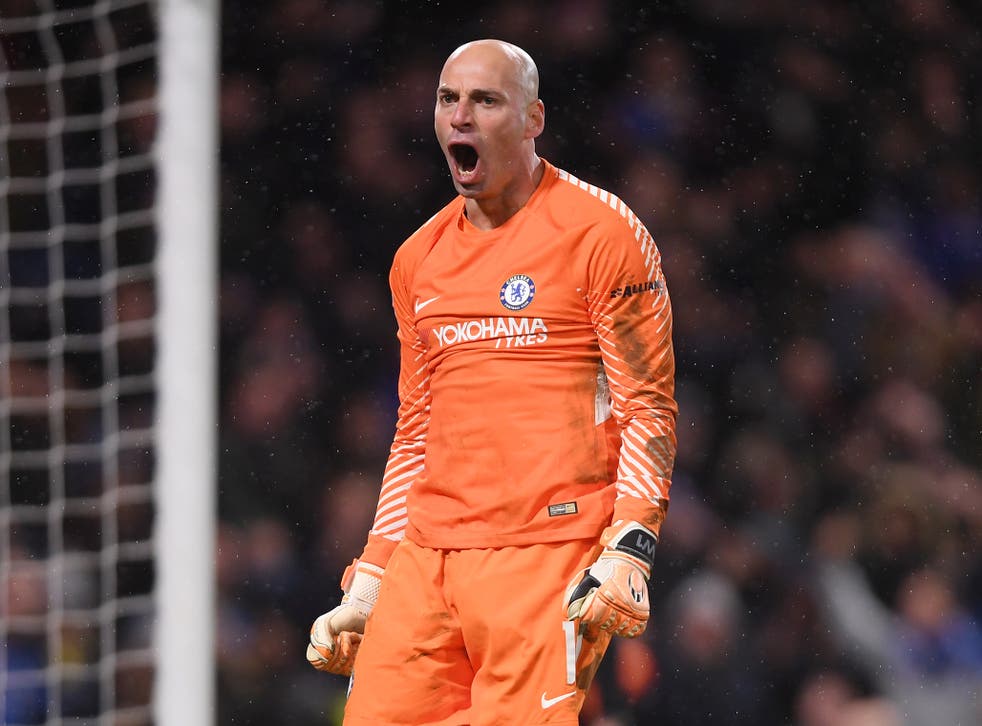 A replay that brought a lot of controversy about the use of replays, and so much more beyond that, but ultimately saw nine-man Chelsea avoid a repeat of recent problems.
They finally scored a goal again and thereby went through to the FA Cup fourth round, beating a defiant Norwich City 5-3 on penalties at Stamford Bridge after a 1-1 draw that came from a sensational 93rd-minute Jamal Lewis equaliser.
Substitute Eden Hazard typically scoring the winning penalty, but there was so much untypical about this ultimately raucous night.
A match that few wanted ended up with so many talking points and so much engaging action that a 19-year-old scoring his first career goal with a brilliant equaliser in the last minute of normal time was barely a main story by the end, nor was Michy Batshuayi ending Chelsea's five-hour goal drought just as he looks set to be sent out on loan.
He will now be needed, though, because substitute Alvaro Morata was sent off along with Pedro. Both received first bookings for diving, but what was so sensational about Morata's was that his second yellow came within seconds as he furiously complained.
He wasn't the only individual guilty of that. The furore around Willian's yellow card for diving was worse, as he went down in the box when it seemed a foul from Timm Klose, and seemed like a moment for VAR. Referee Graham Scott however immediately made his decision, and stuck by his own judgement.
After all that confusion, there was finally the simple black-or-white set-piece process of penalties - and without the ABBA system. Nelson Oliveira missed, and Chelsea finally couldn't stop scoring.
They hit all five for a perfect return, after a remarkably imperfect match.
The only spell of the game that seemed to have any shape was in the opening minutes. One of the problems with Chelsea's profligate recent spell is how slowly they've started games, and they at least started this game in a livelier manner and looking a goal threat.
A changed team had a changed attitude - but it didn't have a changed effect. None of Danny Drinkwater nor Kenedy nor Cesar Azpilicueta could strike with good opportunities, and it eventually saw Norwich break to exploit the space in behind.
It was one of those breaks, though, that ironically if typically brought Chelsea's goal. Batshuayi was being watched by the interested West Ham United manager David Moyes and up until then wouldn't have done too much to impress given that his only contribution had been a misplaced pass for an Oliveira chance.
It was a misplaced Norwich pass that saw David Luiz impressively charge in to win the ball, surging forward to then spray a fine pass out to Willian. Bakayoko's touch from that was less than fine, as he put the ball 10 yards ahead of himself. It did eventually work its way through to Kenedy, though, who fired across goal for Batshuayi to offer one of those trademark finishes.
For all the criticism the striker might receive when he starts, and as difficult as he has found it to adapt to Antonio Conte's methods, he is a master at those one-touch goals. They have contributed to a respectable goals-per-minute record at the club, and also aided Chelsea's record here. That was their first strike in 331 minutes.
Chelsea were still by no means secure in their situation, as emphasised when Conte decided to bring on Andreas Christensen for the otherwise impressive Ethan Ampadu and Morata for Batshuayi. Morata then sent a header just wide, and Conte responded by bringing on the ultimate security: N'Golo Kante.
It wasn't enough. The warnings were there. In the 94th minute, Lewis turned in a brilliant diverted header to divert the match into extra-time.
What timing from the 19-year-old, what a finish, what a moment.
What more was still to come.
Frustrated by going to extra-time, Chelsea looked to immediately break through, only to then be frustrated by the referee - and the lack of recourse to VAR. Willian had burst into the box and seemed set to shoot, but instead went over after a challenge from Klose. It looked a penalty, or at least something that should go to VAR. Scott instead decided himself it was a dive.
That was the start of a lot of rancour, right at the end of the night. He had already booked Pedro for what was a clear and obvious dive, and then sent the Spaniard off for a foul. His compatriot Morata soon followed him, but only after missing two good chances, as he then had a bad response to being booked for diving himself.
They will now be suspended at a time when Chelsea are stretched, although they won't mind their cup run going on after a night as raucous like this. It will have made the win all the more satisfying. There's no confusion when it comes to the feeling of victory, as Conte and his players made clear.
Join our new commenting forum
Join thought-provoking conversations, follow other Independent readers and see their replies