Chelsea manager Antonio Conte refutes Jose Mourinho's claim that he copied his counter-attacking style
This season Mourinho has regularly claimed that Conte is praised for playing the kind of counter-attacking football he used to be criticised for, but the Italian isn't convinced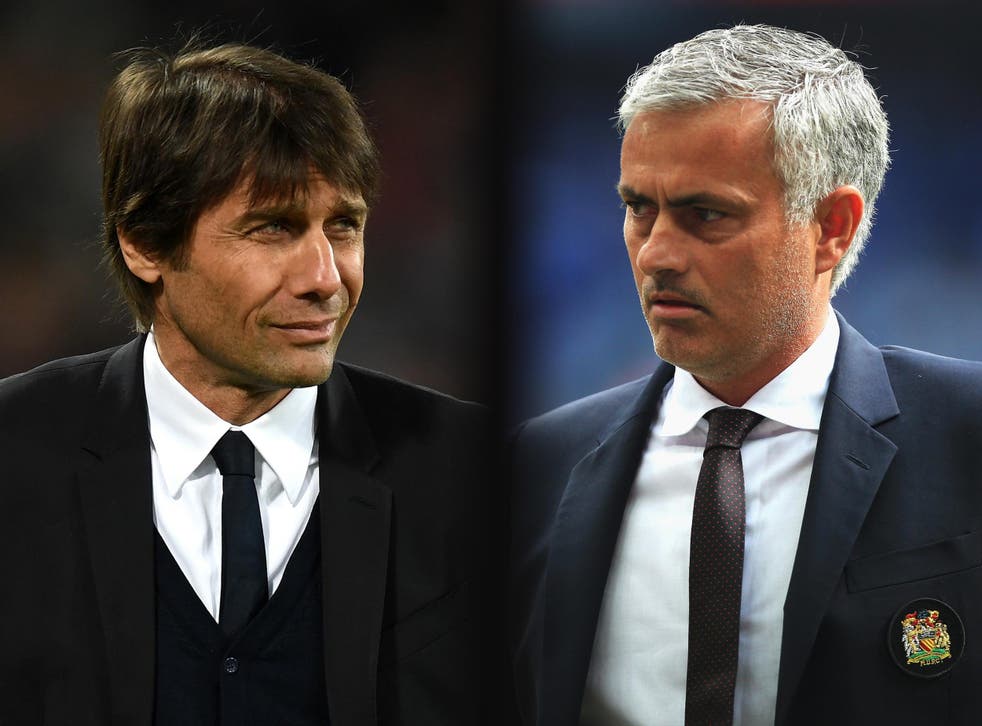 In a season when Chelsea have won so many matches, they have dismissed the vast majority of challenges, but there is one that has so far gone without answer. Until now. And Antonio Conte was unequivocal.
Because, one undercurrent to their overwhelmingly impressive campaign has been former manager Jose Mourinho regularly chipping away, and on more than one occasion bringing up how certain sides - namely Antonio Conte's - are now being praised for the type of counter-attacking his Chelsea champions apparently used to get criticised for.
The Portuguese, who returns to Stamford Bridge for the second time as Manchester United manager for Monday's FA Cup sixth-round tie, brought it up almost out of nowhere after his team's 1-1 draw at Everton in December and then their 3-0 win at Leicester City.
When this was naturally put to Conte ahead of their next meeting, he did not seem to want to get into any kind of dispute with Mourinho - but clearly wanted to pointedly dismiss such an argument. He emphatically rejected such a description.
"I have to tell you one thing, not only here... but I never, ever, ever train for the counter-attack; never prepare for the counter-attack," Conte asserted. "Never. I think the counter-attack is an option, above all if you have this type of player, players who are very, very fast.
Also [Diego] Costa is a counter-attacking man, and Willian and Pedro. It's normal to have this situation with space, so they know what they can do. For me, it's important to train the other aspects: when we have the ball, when we stay almost always in our opponents' half, to prepare when we are attacking. It's very difficult to train counter-attacking, but it's not my priority."
Chelsea v Man United: FA Cup match preview
Performances like Chelsea's own devastating 5-0 win over Everton would appear to back that up, and it seems really a case that Conte's side just have a number of potential weapons, not least a sturdy backline. They can afford to manage matches.
"There are different situations in games," Conte added. "You have to be prepared to play in different parts of the pitch. If you stay for 70 minutes in your opponents' half, you must know what to do otherwise you are in trouble. Sometimes you find teams who force you to defend in your own half, and you have to know how to react in this moment. You train for situations and it's important to have players who are prepared for this situation."
Conte also re-iterated his stance that United have the best squad in the league along with Manchester City, and that the trip from Russia after Thursday's 1-1 Europa League with Rostov should not necessarily be a disadvantage because they have been allowed four days' rest.
"There are four days to recover, and this game is an important game for us, for them. I think their formation will be very good. Also because, I repeat, United and City have the best squads in this league… "For the number of players in their squad, I think so. The number of quality, also.
"I don't know. But I repeat, we could play also Sunday, or Saturday, if the federation decided it. But we are playing on Monday. I think that the federation showed great respect for Manchester United to play the last day available the FA Cup. I think this."
Conte still paid great compliments to Mourinho, describing him as one of the best managers in the world, and saying he aims to emulate his success at Stamford Bridge. The Portuguese won three league titles and four domestic cups across almost six years at Chelsea.
Chelsea potential summer 2017 transfers

Show all 9
"I think it's very difficult to put a table on the managers. Very difficult to do this. For sure, he's one of the best in the world. Yeah."
"I think Jose Mourinho wrote a good part of the history of Chelsea. He won a lot with the players. He did a great job here in Chelsea. But it's important, always, not to forget this. I have great respect for him because he's a winner. I like his mentality. He has a winning mentality. For sure, he's one of the best in the world and, here, he did a great job. I think every single fan must respect him."
"His history with Chelsea was great. I know very well he's in the heart of Chelsea's fans. It's great this because he deserves it. For sure, I hope in the future to emulate his wins here."
Register for free to continue reading
Registration is a free and easy way to support our truly independent journalism
By registering, you will also enjoy limited access to Premium articles, exclusive newsletters, commenting, and virtual events with our leading journalists
Already have an account? sign in
Register for free to continue reading
Registration is a free and easy way to support our truly independent journalism
By registering, you will also enjoy limited access to Premium articles, exclusive newsletters, commenting, and virtual events with our leading journalists
Already have an account? sign in
Join our new commenting forum
Join thought-provoking conversations, follow other Independent readers and see their replies