Antonio Conte warns youngsters he will only select players capable of helping Chelsea win
The likes of Nathan Ake and Nathaniel Chalobah left the club this summer for more first team football
Jack Pitt-Brooke
Tuesday 19 September 2017 22:41 Comments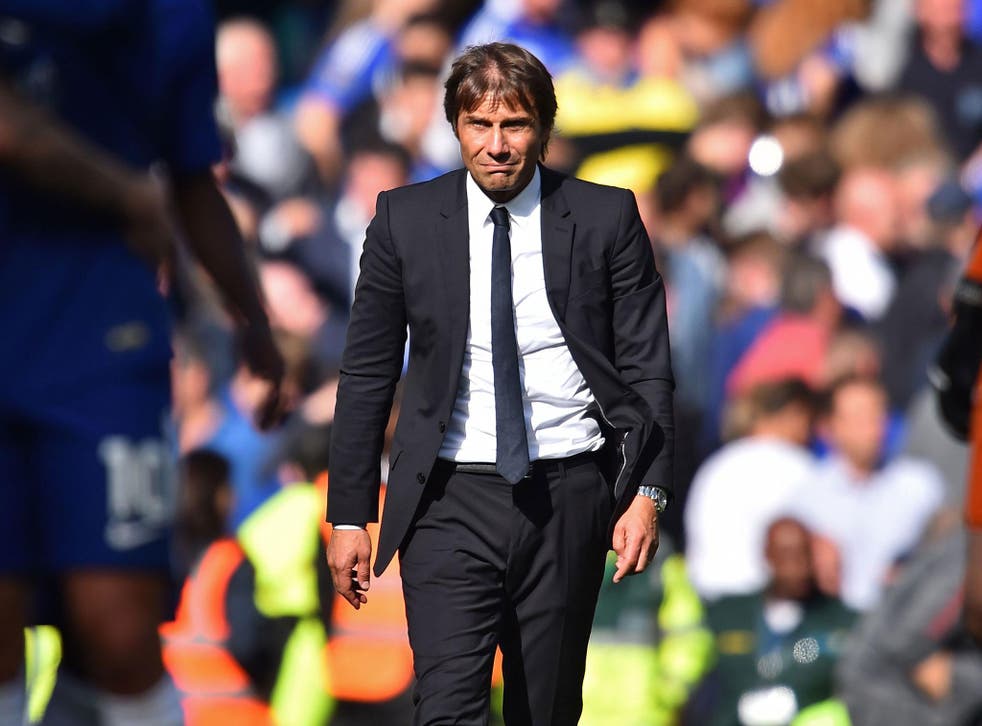 Antonio Conte has warned his Chelsea youngsters that they must prove they are good enough to help the team if they want to get picked. Only the players that can help Chelsea win, Conte said, would get in his team. There would be no special treatment based on age.
Conte is expected to try a few of Chelsea's next generation of youngsters - Charly Musonda, Kenedy and maybe even 17-year-old Ethan Ampadu – in Wednesday night's Carabao Cup third round game with Nottingham Forest. Rotation is necessary when a team is balancing four competitions. But when it comes to more regular games, Conte challenged his youngsters to push out the senior pros in their way.
"I think if you are good enough to play with a great team, you play," said Conte, putting it in simple terms. Only performance matters. "Every coach wants to win. I don't care if one player is a young player or an old player. If a player, an old player, 36-years-old, makes me happy and helps me to win, I pick him. It's the same if a player, a young player, 16-years-old, helps me to win, I'm ready to do this also."
Chelsea vs Arsenal player ratings

Show all 22
This summer Nathaniel Chalobah left Chelsea for Watford in pursuit of first-team football. Last year he made five starts, one in the Premier League, but when it came to discuss a new contract Conte advised him to go for a seventh time. Nathan Ake also left Chelsea permanently for Bournemouth, and regular Premier League football. Ruben Loftus-Cheek, Ola Aina and Tammy Abraham, inter alia, have all been loaned out.
But Conte explained that Chalobah had his chance to compete last season, and that he chose to pick Nemanja Matic, N'Golo Kante and Cesc Fabregas ahead of him. That is the high bar that Conte sets for young players trying to get in his team, and he is not going to lower it just because a player is a promising graduate of the club's academy.
"Last season, if you remember very well, Chalobah had the chance to play. Don't forget last season we won the league. Don't forget last season our midfielders were Matic, Kante and Fabregas. You have to consider all these components.
"Chalobah, last season, was the fourth midfielder. He had the chance to play. That is normal. If you ask to play regularly with a great club, then you must deserve to play. And to deserve to take Kante's or Matic's or Fabregas' place. If you show you deserve to play and can be better than these players, I'm ready to do this."
Ultimately Chalobah could not prove to Conte he was worth enough playing time to keep him happy. But Conte pointed to the example of Andreas Christensen, the 21-year-old centre-back, to show that he is open to playing youngsters when they have proved themselves. Christensen has started two games this season, against Tottenham and Qarabag, and made three other substitute appearances. He is sure to continue that run against Forest on Wednesday night.
"We have a clear example with Christensen," Conte said. "Christensen played on loan at Borussia Moenchengladbach and now he's in our squad. He has played [almost] every game, not against Everton, and now he's ready to play. Ready to play in the Champions League. Ready to play from the start with Chelsea. I think, for the young players, it's very important to find the right path for them. To try to make them good experience and then to be ready to play for Chelsea."
Conte himself pointed to his own experience, making his senior debut with Lecce at the age of 16, more than 30 years ago, to show his own faith in youth. "Don't forget that my first appearance in Serie A was when I was 16," he explained. "I am the first person to trust in the young players, to give possibilities to them, if young players deserve this chance. If the young players give me the possibility to win. I want to win. I don't want to lose."
But Conte acknowledged that playing a few seasons at Lecce, in Serie B and Serie A, gave him the experience that he might not have got had he started out Juventus, who signed him when he was a more experienced 22-year-old.
"I started my career with Lecce, not with Juventus," Conte said. "You must consider also this aspect when you start your career with a team that isn't a top team. It's easier to find space [to play] at a team that isn't fighting for the title.
"Every club (like this) tries to find space for younger players because then they want to sell him. This is an enormous difference, starting a career in a team fighting for the title or against relegation, or for a normal league."
Register for free to continue reading
Registration is a free and easy way to support our truly independent journalism
By registering, you will also enjoy limited access to Premium articles, exclusive newsletters, commenting, and virtual events with our leading journalists
Already have an account? sign in
Join our new commenting forum
Join thought-provoking conversations, follow other Independent readers and see their replies