Chelsea 0-2 Man Utd: Paul Pogba stars in cruise to FA Cup quarter-finals as Maurizio Sarri's woes worsen
Chelsea 0-2 Manchester United: There was such assurance to it, and the United display as a whole, only sharpening the contrast with the confusion at the core of the Chelsea team and especially their defence
Miguel Delaney
Chief Football Writer
Monday 18 February 2019 21:50 Comments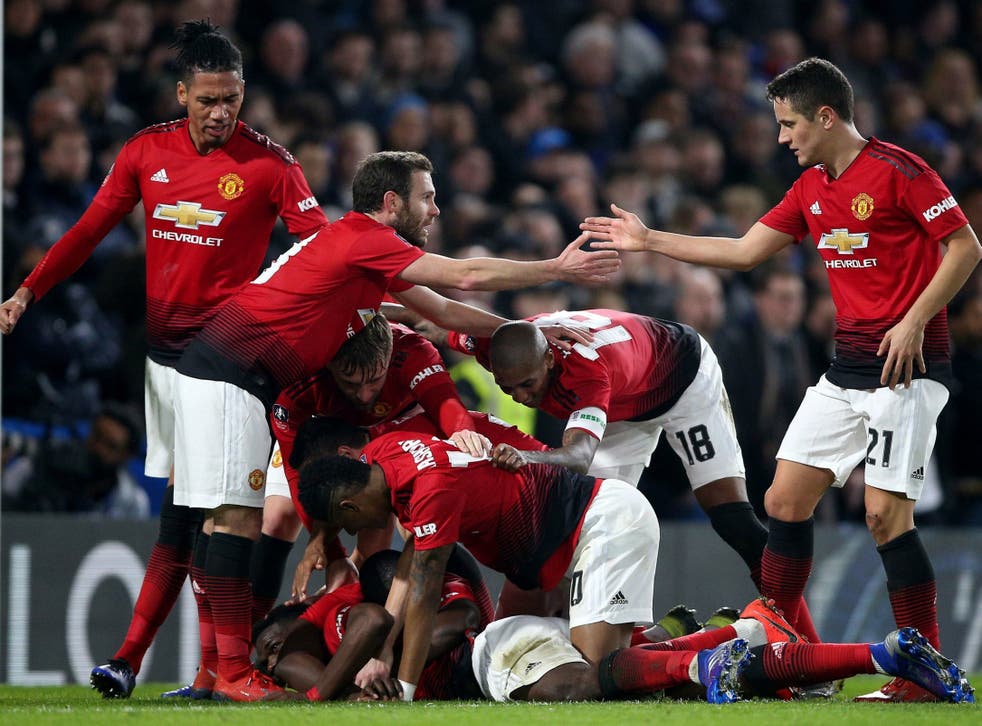 The most impressive response possible from Ole Gunnar Solskjaer's Manchester United and Paul Pogba to a first setback last week, and a hugely ominous reaction from Stamford Bridge to yet another convincing Chelsea defeat.
The home crowd were in open and cutting dissent of Maurizio Sarri's management, as yet another ponderous performance saw them lose 2-0, and crash out of the FA Cup at the fifth round.
That this is the first competition they have actually been eliminated from is irrelevant, such are the scale of the problems, and the questions.
Chelsea fans so quickly went from wondering why Callum Hudson-Odoi wasn't brought on to openly wondering what the manager was doing at all, before just singing "fuck Sarriball!" Against that, United fans predictably sang of how he'd be getting sacked in the morning to something more inventive: "bring back Mourinho!"
Whatever about their own problems under the Portuguese once upon a time, United instantly recovered from the problems of last week. Pogba particularly did. This was exactly the right response to his petulant red card in the 2-0 defeat to Paris Saint-Germain: a commanding and creative leader's performance that won the game, with a divine assist for Ander Herrera and then an authoritative header.
Player ratings: Chelsea vs Manchester United

Show all 22
There was such assurance to it, and the United display as a whole, only sharpening the contrast with the confusion at the core of the Chelsea team and especially their defence.
This was the kind of decisiveness Stamford Bridge can only long for right now.
It again begs the question of whether the club hierarchy will show their old decisiveness in actually sacking Sarri, but that seems unlikely given he can still win a League Cup this weekend.
It's just that the nature of this performance – not to mention the fact it's against the Manchester City side that humiliated them 6-0 only last week – make that seem highly unlikely.
Chelsea ran into a familiar problem under Sarri, which pretty much comes down to how they run compared to the opposition. Although they had again looked OK in passages of play when they had the ball, it was as if they just couldn't match United's energy any time Solskjaer's side decided to up it.
And up it they had, certainly from the second half of the defeat to PSG. This was not just the right kind of response, but also the right reactions, the right sharpness. They picked Chelsea off so ruthlessly.
It also allowed anyone watching to pick out another problem in what Sarri is trying to do with this team, and maybe any coaching education process. All the ideology and theory in the world won't mean anything so long as you don't really create chances, and concede them at will.
That was what it boiled down to.
While Chelsea were effectively waiting for Eden Hazard to do something, United just went and did enough, and then more. They looked so much more dangerous from midfield, and particularly through Pogba.
He ensured United so effectively exploited the expansive gaps left in the Chelsea side.
The first goal certainly showed the right kind of elaboration in his game, as he stepped over the ball to create space for himself, before putting in precisely the space left free by Sarri's backline. Marcos Alonso was caught out, Kepa stuck to the ground, and Ander Herrera running into position to place the ball past the goalkeeper with a header.
If that goal was mostly deft, the killer strike was so definitive.
It just summed up so much of the difference between the sides. With Chelsea again ponderously looking to try and get a hold of the ball in the middle of the pitch, Pogba just won it, played a thrusting through ball up the pitch for Rashford and then surged forward to meet the cross with a thundering header.
The French star is so often compared to midfielders of United's past for the sake of arguments about him, but this was a goal reminiscent of Bryan Robson, and ended any real arguments about which way the game was going.
Chelsea might not feel like that given they could have fair questions about why referee Kevin Friend was so lenient on some of Nemanja Matic's more cynical play, while there was also a call for an incident in the box to be referred to VAR.
There are still bigger questions, mind, about their team. One of them was the subject of a pointed chant: Hudson-Odoi. Why wasn't he brought on, especially given how his side were chasing the game, especially given how suited Gonzalo Higuain looks to his delivery?
The match from half-time felt so completely done that it got to the point where the most interesting exchanges were between songs from the stands, and whether Sarri would respond to any of it.
Of course he didn't. A final straw came when Davide Zappacosta was brought on, although many Chelsea fans had by then already left Stamford Bridge.
They will no doubt be hoping Sarri soon does the same.
They could only envy the intensity of United.
Register for free to continue reading
Registration is a free and easy way to support our truly independent journalism
By registering, you will also enjoy limited access to Premium articles, exclusive newsletters, commenting, and virtual events with our leading journalists
Already have an account? sign in
Join our new commenting forum
Join thought-provoking conversations, follow other Independent readers and see their replies