Antonio Conte ambushed by prankster presenting him with Manchester United shirt signed by Jose Mourinho
Conte refused to engage in the prank and the journalist was asked to leave Chelsea's Cobham base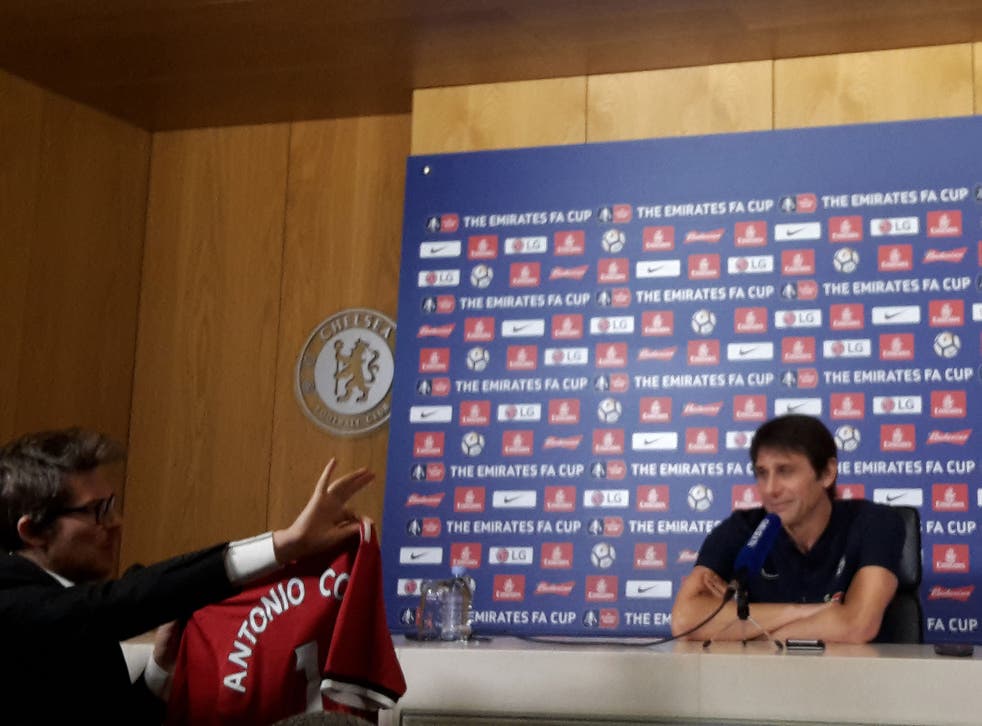 Antonio Conte was ambushed by an Italian prankster at his press conference at Cobham this afternoon.
The Chelsea manager, who was previewing tomorrow night's FA Cup fifth round clash with Hull City, was presented with a Manchester United shirt, signed by Jose Mourinho and with 'ANTONIO CONTE 1' on the back by an Italian journalist.
He was also shown a video message in Italian on an iPad about Mourinho being friends again, and Conte was asked to extend his hand in friendship.
Who could replace Antonio Conte at Chelsea?

Show all 5
Conte and Mourinho have been in a bitter feud this year, with Mourinho referring to allegations of match-fixing against Conte dating back from his time in Italy, and Conte referring to Mourinho as a "little man in many circumstances".
But Conte refused to engage with the prank, did not take the shirt and told the journalist to take the shirt with him. The journalist was asked to leave at the end of the press conference. He is unlikely to be allowed back into Chelsea's Cobham training base.
The Italian journalist, thought to be Stefano Corti from Italia 1 show Le Iene, had previously tricked Mourinho into signing the United shirt before showing him that it had Conte's name on the back. They had already written a message on the shirt so that they could take it to Conte, as if it were written by Mourinho.
Conte and Mourinho will meet again next Sunday when Chelsea travel to Manchester United for a Premier League match.
Join our new commenting forum
Join thought-provoking conversations, follow other Independent readers and see their replies