Why Alvaro Morata is still struggling to step out of Diego Costa's shadow at Chelsea
The problem for Morata at Chelsea is that he has come in to replace a striker from whom he could hardly be more different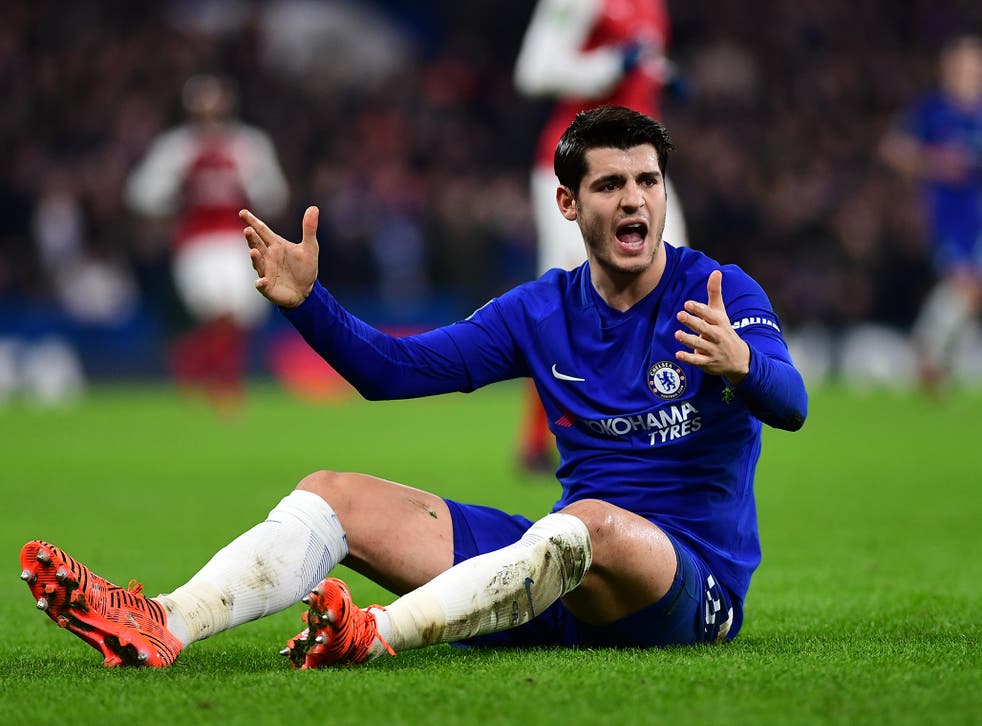 The problem for Alvaro Morata at Chelsea is that he has come in to replace a striker from whom he could hardly be more different.
If Diego Costa was about abrasion and rough edges, Morata is all finesse and sleek lines. When things are going Morata's way, he looks like some immaculate luxury product. But when they are not, like against Arsenal, he looks too honed, almost too diffident, to be truly effective.
Perhaps we were spoilt with Morata's fast start, his seven goals in his first eight games for Chelsea since joining from Real Madrid. Because since then he has been drifting away from his best form, and finds himself now heading into the serious end of the season bereft of form and confidence.
Chelsea vs Arsenal: Player ratings

Show all 23
Morata managed three goals from seven appearances in December, but this was his third game without a goal in January, and he looked further away than ever from the player we saw in the autumn.
When these two teams met at the Emirates last Wednesday Morata struggled badly, missing three good chances when straight through on goal, showing none of the easy confidence from the opening months of the campaign. He skewed the first one well wide and never truly recovered, and in the final minutes he thumped one straight at Petr Cech. Antonio Conte said afterwards that for Morata, the goals were coming, but this evening, against the same opponent, back at Stamford Bridge, was little improvement.
Up against a back three of Rob Holding, Shkodran Mustafi and Calum Chambers – hardly impenetrable – Morata managed to carve out some half-chances for himself, but could never find that assertive conviction needed to score. Against two of the same backline on Sunday, Nottingham Forest scored four goals and could have had twice as many. But this was a stronger performance by Arsenal, and a more frustrating evening for their opponents.
Morata got in behind Chambers easily enough at the start but hooked his shot wide. Just like at the Emirates, that early miss appeared to sink his confidence and he never truly recovered. One goal would surely unlock his best form again, but one miss has the opposite effect.
Morata went into his shell for most of the rest of the first half and he had to wait until the second half to get back into the game. 10 minutes in he found himself in a good position again but gave David Ospina a fairly easy save down to his right. Soon after Morata managed to get in behind once more, rolling Mustafi with power reminiscent of Costa himself, but his second touch was too heavy and he ran too close to Ospina.
When Morata broke forward one more time, only to be shrugged off the ball at the edge of the box by Granit Xhaka, the game was up. Morata was taken off with three minutes left.
It was another frustrating evening for the Spanish striker, because so much of what he does looks good, but he failed to hurt the opposition again. It was one of those games where it was impossible not to think about Costa. Yes, there was plenty of ugliness in his game, but that ugliness was a weapon against Arsenal, rubbing them up the wrong way, forcing them into errors, ripping open gaps in their defence.
During his three years at Chelsea, Costa always starred against Arsenal. He scored three times for them, back when they always used to win these games. In another, in September 2015, he crucially got Gabriel sent off, to send Arsenal spiralling and to bring about a 2-0 Chelsea win.
But if Costa knew Arsenal's weak points, and how to hurt them, Morata is finding them fairly impervious to his own finely-tuned game. This was his third match against Arsenal this season and he is still yet to score. If he is to improve that record, and kick-start his season, he may have to add some of his predecessor's edge.
Register for free to continue reading
Registration is a free and easy way to support our truly independent journalism
By registering, you will also enjoy limited access to Premium articles, exclusive newsletters, commenting, and virtual events with our leading journalists
Already have an account? sign in
Register for free to continue reading
Registration is a free and easy way to support our truly independent journalism
By registering, you will also enjoy limited access to Premium articles, exclusive newsletters, commenting, and virtual events with our leading journalists
Already have an account? sign in
Join our new commenting forum
Join thought-provoking conversations, follow other Independent readers and see their replies