Chelsea news: Cesc Fabregas says 'last thing I will do is complain' despite Antonio Conte's first-team snubs
The 29-year-old Spaniard has been worth no more than a place on the bench in Premier League matches since Conte took the helm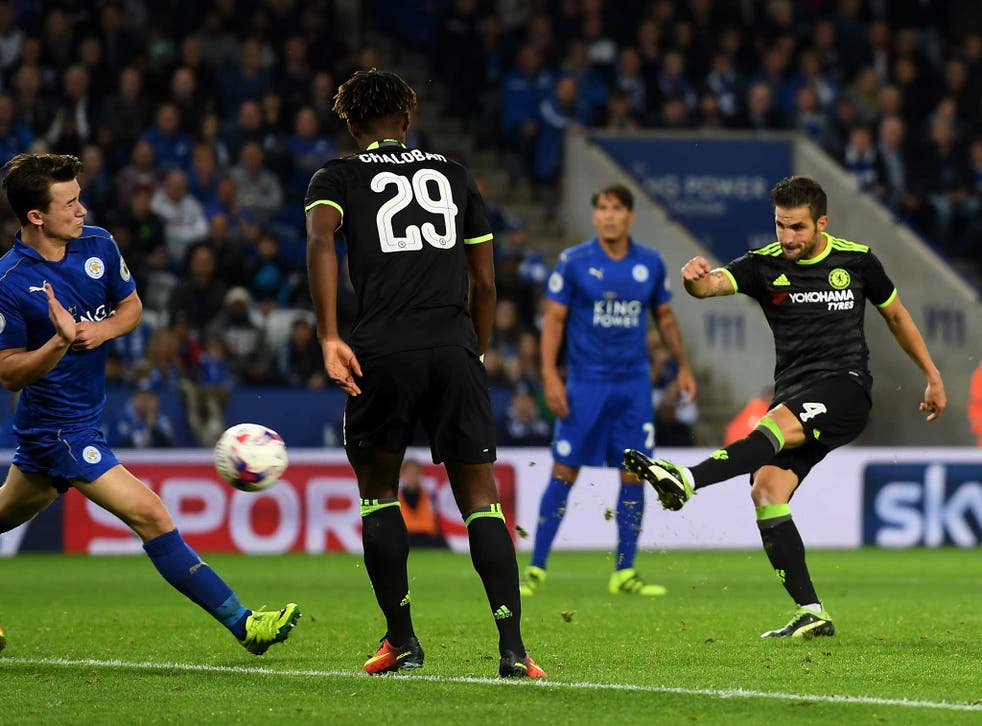 Cesc Fabregas insists he will accept his fate and respect the judgment of his manager even if his match-winning performance in the EFL Cup on Tuesday does not see him restored to Chelsea's Premier League line-up against Arsenal on Saturday.
Yet his candid admission in the wake of the 4-2 win at Leicester that earned a place in the fourth round that he feels "like a little boy trying to win my spot back" is an indication of the frustration he is suffering since being pushed to the fringes by Antonio Conte.
The 29-year-old Spaniard has been worth no more than a place on the bench in Premier League matches since Conte took the helm, the Italian preferring N'Golo Kante and Nemanja Matic in his defensive midfield positions, with Willian, Oscar and Eden Hazard supporting Diego Costa in the more attacking roles.
He capped an impressive performance as Chelsea recovered from a 2-0 deficit at the King Power Stadium by scoring twice in as many minutes in the first period of extra time, effectively killing off a Leicester side by then down to 10 men. Conte offered some praise afterwards but stopped short of giving any hint that Fabregas might return to face his old club at The Emirates, even if the defeat at home to Liverpool prompts him to consider changes.
"It's a new situation for me in my career after 13 years of basically playing everything for my club and national team," Fabregas said.
"And it's been tough. I'm not going to deny it but the last thing I will do is complain or put my hands up and give in.
"Something from inside is coming out stronger than ever and I just feel like a little boy in training trying to win my spot back as I used to do at Arsenal when I was 16.
"It's a new situation but you have to accept it, you have to be professional, to keep your attitude. All my team-mates deserve respect. My coach deserves respect because I know he wants to win and if he doesn't play me there is always a reason.
"Hopefully I can open his eyes and make him see that I deserve to play."
He and Conte have spoken about his future and the manager has made it clear that even after 382 appearances in La Liga and the Premier League he feels there are ways in which Fabregas can improve.
"If you have to analyse me, maybe I'm a bit more the playmaker, creative going forward and he wants me to be a little bit more stable and compact in defence," Fabregas said.
"For Matic, who is the opposite of me, he wants him to be better offensively. For Oscar, for Kante… he works with every aspect for us to be the best we can.
"I know what I can do. After 13 years I know myself very, very well. I feel very mature. I know physically what I can give. I know when I have to press and I choose much better my game overall.
"I just want to play and give my all and hopefully this will come soon."
To be back on the bench on Saturday would clearly hurt. "It's a special fixture because I've lived moments there that I've never lived in my career," he said. "It's a very special place for me. Arsenal will always be a fantastic, special club in my heart.
"It's too early (to say when I might be back in the team). I'm not going to deny I want to play every single minute. It's what I work for but the coach chooses the 11 he thinks is best suited to win the game.
"And that's it. Wherever I am I will support the team. Inside, outside and when my time comes I will try to perform as I have been doing over the last few weeks."
Register for free to continue reading
Registration is a free and easy way to support our truly independent journalism
By registering, you will also enjoy limited access to Premium articles, exclusive newsletters, commenting, and virtual events with our leading journalists
Already have an account? sign in
Register for free to continue reading
Registration is a free and easy way to support our truly independent journalism
By registering, you will also enjoy limited access to Premium articles, exclusive newsletters, commenting, and virtual events with our leading journalists
Already have an account? sign in
Join our new commenting forum
Join thought-provoking conversations, follow other Independent readers and see their replies