Chelsea pain finds no cure in Cup win
Birmingham City 0 Chelsea 2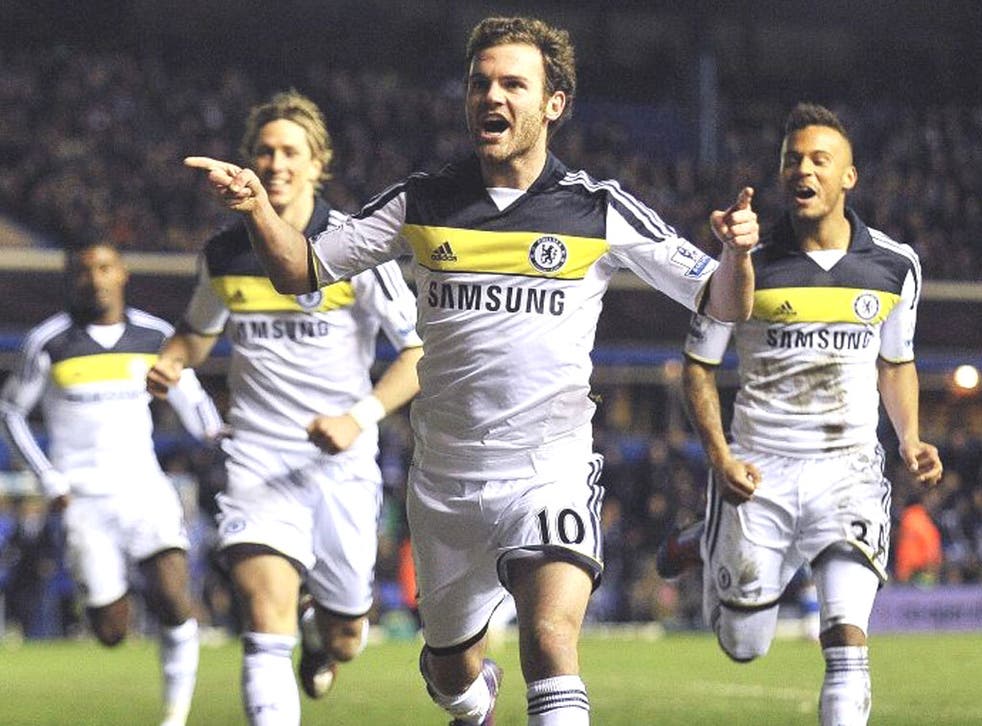 In the end, there was a funny side for the Chelsea faithful who chanted that Roman Abramovich "sacks who he wants," though it was not one shared by the pillars of the side Andre Villas-Boas was beginning to build.
It was significant that Raul Meireles and Juan Mata, the outgoing manager's two major signings, should have scored the goals which eased the turbulence of this week, but even more so that Meireles chose not to celebrate his own. Wembley is not far away for Chelsea, who will believe they can move beyond the FA Cup quarter-final home tie with Leicester City they earned here last night, but the wounds of what has happened to the manager who set them on this course will not be easy to salve. Pep Guardiola may be wise enough to know that, though last night he laughed off the idea he would step into the job the former Chelsea manager Luiz Felipe Scolari has called "hell." "Every day, every day!" Guardiola said when asked if Chelsea had been in touch.
For now, it falls to Roberto Di Matteo to tackle this war zone, with its factionalism, and his eye-catching team selection provided another sense that the divides which Villas-Boas created in the name of progress have not left through the same door as him. In some ways, the team sheet's publication was the most significant event of the night; not so much a statement as a clarion call to those players Roman Abramovich considers to have been the malign, destructive force for Villas-Boas that their number is up. Frank Lampard, Florent Malouda, Ashley Cole and Didier Drogba are all in that number and not one of them featured in a starting XI which also reflected the owner's wish, spelt out to Di Matteo on Sunday, that Fernando Torres should be restored to the side.
The caretaker manager last night said he was "too tired" to discuss the notion of taking over permanently and, though he wanted to say that he had demanded his players now be more "selfless" rather than less "selfish", his post-match message was that they have a responsibility now to Abramovich. It is "for their own good" to remember the fact, he said. It was why John Terry featured among the substitutes a mere two weeks after undergoing surgery on his right knee, when he had not been expected back in less than a month.
The Chelsea players did not look too chastened, with their high jinks in the warm-up. "They've let their manager down badly, and they're carrying on like that in the warm-up flicking each other's ears... absolute disgrace," was Roy Keane's observation from the TV studio and neither did the football that immediately unfolded offer the impression of a side on a mission.
Torres tried. The first half was ticking down when he spun away from Jonathan Spector and at last created space for himself in the area, but he screwed his left foot shot horribly. When he had won the penalty-kick which might have delivered his first goal in 23 games, Mata took the kick instead.
It was Nikola Zigic, with his 6ft 7in frame, who forced the outstanding piece of goalkeeping in a dismal first half, though class did tell in the end. Mata had just been deprived by one of several excellent challenges by the redoubtable Pablo Ibañez when he poked home from amid a sea of legs, after Salomon Kalou's route to goal been blocked. Meireles added his own with a trademark 25-yard strike six minutes later, on the hour. Substitute Daniel Sturridge somehow missed the chance of the night when Torres' low, accurate cross left the goal at his mercy but the ball was caught under his feet.
Di Matteo, who features comfortably behind Jose Mourinho and well ahead of Rafael Benitez on the Chelsea fans' wish list, to judge by last night's choruses, is a shrewd exponent of that managerial art of making words say nothing – another reason to mourn Villas-Boas, with his intelligence and candour. "I'm a Chelsea boy. I didn't really think too much about it," Di Matteo said of his decision to hang around. "It's been difficult. Difficult for the whole club. When events like this happen... we've lost a great guy." His assertion that Chelsea was a "happy club tonight" stretched belief. This may get worse before it gets better.
Man of the match Mata.
Match rating 6/10.
Referee A Taylor (Manchester).
Attendance 21,822.
Join our new commenting forum
Join thought-provoking conversations, follow other Independent readers and see their replies