Chelsea vs Bradford City: Roast beef and Yorkshire to batter Blues
Premier League defenders are not used to facing old-fashioned centre-forwards like James Hanson. Bradford City's leading scorer tells Simon Hart about the League One side's game plan to shake up Jose Mourinho's men in the FA Cup today
Simon Hart
Friday 23 January 2015 21:34 Comments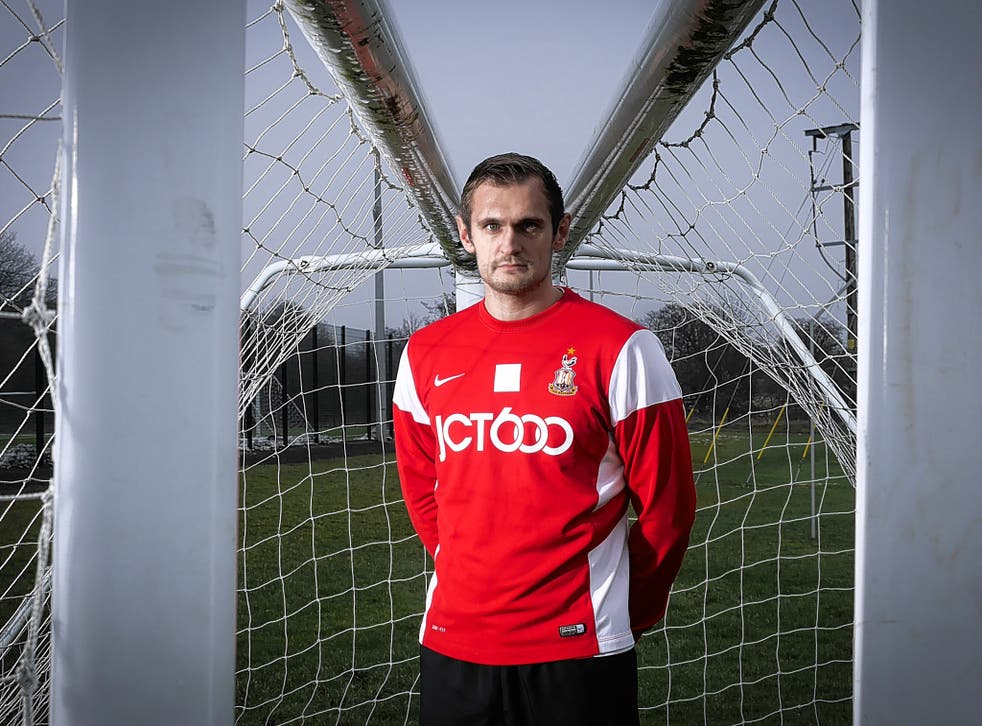 Yorkshiremen are famed for their plain speaking and James Hanson is clearly no exception. His Bradford City team-mate Filipe Morais – the focus of some media attention at the club's press day this week – may have a Portuguese name and a past life as a Chelsea reserve but Hanson is nonplussed. "We call him Phil Morris," he says, teasingly. "He is from London really, he is not this Portuguese guy – he's got a London accent. We question if he's even been at Chelsea."
With Hanson himself, by contrast, what you see is most definitely what you get. The Bradford No 9 is the type of footballer that was once as English as roast beef and Yorkshire pudding – a 6ft 4in battering-ram of a centre-forward. Factor in his romantic back story – he grew up five minutes from the club's training ground in the village of Idle and until the age of 21 was stacking supermarket shelves – and you could not get more of a throwback, though whether Chelsea's defenders see it that way when the League One club visit Stamford Bridge in the FA Cup fourth round this afternoon is a different matter.
Hanson, after all, is one of an increasingly rare breed. "There aren't too many about," he tells The Independent. Arguably only Andy Carroll and Peter Crouch ask similar questions in the Premier League and Hanson's experience of facing – and beating – Arsenal and Aston Villa during Bradford's run to the 2013 Capital One Cup final tells him that top-flight defences are less geared than ever to handling his type of threat.
"How I have found it against Premier League sides is that a lot of the ball is on the ground and when you're coming up against centre-backs they are probably not as physical as League One players because they're probably not used to it in the air all the time," says Bradford's leading scorer. "In a certain respect I've found it a little bit easier playing against that sort of defender. I know they're top-class internationals and that's probably just a little bit of their weakness coming up against my strengths."
His words lend weight to Arsène Wenger's comments a fortnight ago about the demise of the commanding defensive stoppers of yesteryear and while the Arsenal manager offered a caveat in the old warhorse John Terry, the fact the Chelsea captain is due to be rested today offers Hanson and his team-mates a glimmer of encouragement
Gary Cahill and his likely partner Kurt Zouma can expect an old-school battle, especially if Bradford manager Phil Parkinson unleashes Hanson alongside the on-loan Jon Stead, once a Premier League striker with Blackburn Rovers and Sunderland. Ian Holloway described the pair as "monsters" after both scored in the 4-0 third-round replay rout of his Millwall side that set up today's fixture and Parkinson has warned the Premier League leaders of the "underrated" Hanson's threat.
"I feel he might give them something to think about on Saturday," says Parkinson, whose team have spent this week working on their defensive shape – and set-pieces. "All of it is off-the-ball because we know we are not going to see much of it," Hanson explains. "If we show plenty of discipline and play for the set-plays then get the right delivery and right movement, you just never know."
The big striker is speaking at Bradford's training base in the grounds of Woodhouse Grove School, and when we walk out onto a snow-flecked pitch to where the photographer is waiting, there is a shout of "Is that Hanson?" from a group of boys nearby. It is a long way from the privacy of Cobham, Chelsea's £20m training base, but then no Chelsea player has worked in his local Co-op. "I still love coming in to work because I've done the other side of it," says Hanson.
He was rejected twice by Huddersfield Town as a teenager – "They let me go at 14 and then let me have a trial at 16 and said I was too thin to play up front and too small" – and ended up playing for non-league Guiseley. "I was only at Guiseley for two years; I scored 25 and 21. I always thought if given a chance I could play at a higher level and luckily I got a chance."
It came when Mark Lillis, then Guiseley's assistant manager, recommended him to Stuart McCall, the Bradford manager, in 2009 – although the basic starting wage of £250 a week was a shock. "I was humming and hawing because it was a pay cut from what I was getting. I had to back myself and my dad backed me to do well."
Hanson credits Parkinson, manager at Valley Parade since 2011, with helping smooth out his rough edges. "When I first came on the scene I was trying to flick everything on," he confesses. He has also added power to his game. "[Defenders] tried loads of different things so I had to bulk up myself. I have learned so much and now I fancy my chances against anyone."
City fans still chant "He used to work in the Co-op" even though Hanson is now their longest-serving player. "I'd prefer a better one [song]," says the 27-year-old, who is one of only four survivors of the team that appeared in the Capital One Cup final against Swansea two years ago, along with captain Stephen Darby, Andrew Davies and Rory McArdle. For a League Two footballer, stepping out at Wembley for a big final "was surreal, it sent shivers down your spine" and Bradford's subsequent success in winning promotion via the play-offs was a lesson to some managers about the momentum a cup run can provide. "It definitely galvanised us. We were 12 points away from the play-offs [before facing] Swansea. We got beaten but we thought 'We want to come back here and have happy memories of playing at Wembley'."
Bradford, sixth in League One, have kept on building since. This season's reinforcements include two players with Chelsea connections in the aforementioned Morais – "such a direct winger," says Hanson – and former England Under-20 midfielder Billy Knott. Morais featured as an 83rd-minute substitute in Jose Mourinho's first pre-season game as Chelsea manager in July 2004, while Knott captained the club's academy sides. Neither made a senior appearance but, Hanson notes, "they are more excited" than anyone.
He is hoping the excitement will be shared by his two-year-old daughter Lexie, who was only a baby when City reached Wembley two years ago. "She recognises me now on TV. With any football game that's on, she will be shouting 'Daddy' and pointing at the football."
Hanson has given Bradford fans plenty to shout about too. His personal highlights reel includes the goal at Villa Park that got them to that Wembley final, his opener in the League Two play-off final triumph over Northampton, and his winner against Leeds United (a favourite because of the "local rivalry") in the Capital One Cup last August. All, of course, came with his head.
"At the end of the day that is my strength and where I am most of a threat when crosses are coming into the box," he says.
It may not be fashionable but it is Bradford's best hope this afternoon.
--
BRADFORD IN NUMBERS
1912 - The Bantams' last win at Chelsea was a 3-0 victory in October 1912
18 - Years since Bradford made last 16 of FA Cup – losing 1-0 to Sheff Wed
1 - Defeat for the Yorkshire club in their last six matches away from home
Register for free to continue reading
Registration is a free and easy way to support our truly independent journalism
By registering, you will also enjoy limited access to Premium articles, exclusive newsletters, commenting, and virtual events with our leading journalists
Already have an account? sign in
Join our new commenting forum
Join thought-provoking conversations, follow other Independent readers and see their replies