Di Matteo's faith helps Torres lift goal burden
Chelsea 5 Leicester City 2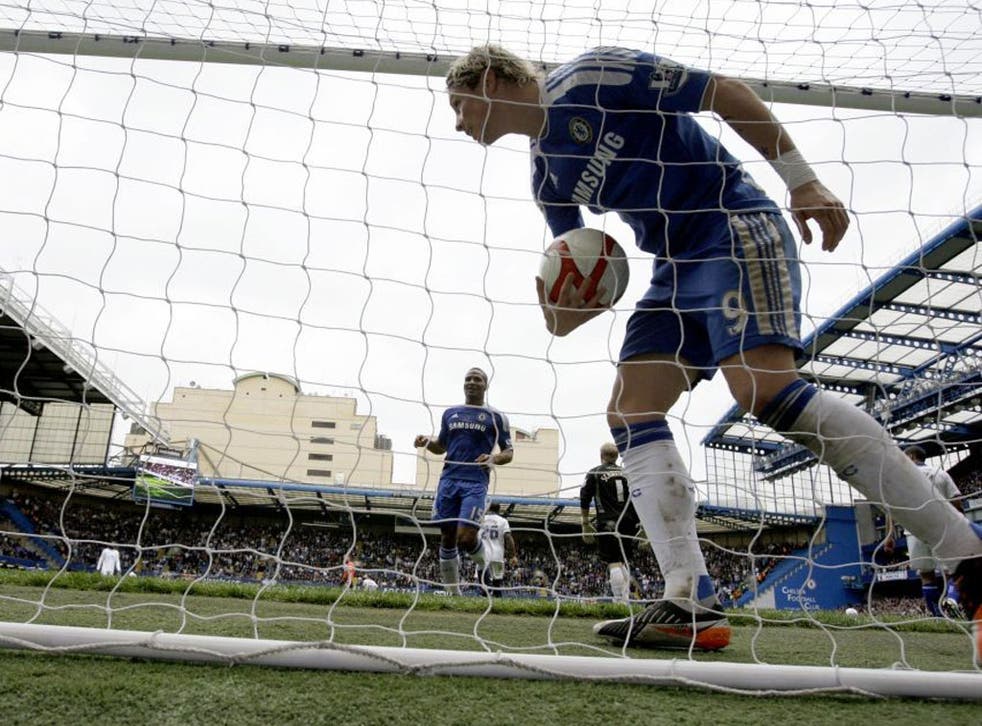 No goals for 150 days, then two in 17 minutes. Even London bus passengers do not experience periods of drought and plenty to the extreme Fernando Torres has since joining Chelsea a turbulent 14 months ago.
Torres had been scoreless for 25 hours and 41 minutes' play, plus more than an hour's worth of injury time, when he ran onto Raul Meireles's pass yesterday and scuffed a 10-yard shot past the off-balance Kasper Schmeichel. Team-mates ran the length of the pitch to congratulate him, and the Spaniard looked like a man who had been relieved of a great burden.
As he had. For a £50m striker to go goalless in 24 games, during which he has been paid around £3.5m, must be crushing. The sense of freedom Torres experienced was underlined when, with Leicester City threatening an improbable comeback, he was first to a Meireles near-post corner and neatly glanced the ball inside the far post to double his tally. That confirmed Chelsea's fourth win in four matches under their interim manager, as Roberto Di Matteo is billed.
Torres has been here before. Against West Ham last season, Manchester United, Swansea and Genk this season, the dam appeared to have been burst. Each time it sealed up again. This time may be different for Torres followed his goals with two significant comments.
He said: "The team is much better than before; we are more committed and we have shown this in the last few games. We are creating more chances than before." Of himself he added: "I feel the confidence of the manager now. It is a good time for me and Chelsea."
Di Matteo is Torres's third manager at Chelsea, and like the others Di Matteo has preferred Didier Drogba for the big matches, but in the conversations he said he had with Torres he has obviously said the right things.
"The whole team and club were happy for him as he works so hard for the team," said Di Matteo. "Hopefully his confidence is high now, but I didn't mind when he wasn't scoring; as long as we win as a team is all that matters to me."
Comforting words, but Torres admitted: "I was playing at a very good level but not scoring goals. The job of a striker is scoring goals. I have been working so hard to get those goals." The issue, he added, was "not mental".
To give Torres his due, he has recently been working ferociously and looking sharp in general play; the problem has been goals, once his forte, and there has been a sense that he has been not getting into scoring positions with the enthusiasm he once would have shown. In the circumstances a hat-trick, even against a defence as porous as Leicester's, would have been a choice riposte to his critics, and Torres might have had one were he greedier. He showed, however, great unselfishness in squaring the ball to Meireles in the last minute, enabling the Portuguese to score.
Torres also gave Salomon Kalou the chance to end a less publicised drought with his first goal since 3 December. The Ivorian's 17th-minute strike followed one from Gary Cahill and seemed to put the tie to bed. However Leicester, roared on by vociferous support, never gave in and, though a replay always looked unlikely, late goals for Jermaine Beckford and Ben Marshall ensured Chelsea could not relax.
The Championship club had arrived in the capital hoping to revive a season drifting towards disappointment. Pearson is the third manager since Vichai Raksriaksorn bought the club in summer 2010 and he is no nearer the Premier League than Paulo Sousa and Sven Goran Eriksson were. The Thai,who made his fortune in duty-free shops, has ploughed more than £50m into the club but since around half of this is in the form of loans attracting eight per cent interest, and last year the club lost £15m, there is reason for nervousness. It is not quite a decade since Leicester went into administration over £30m.
Raksriaksorn's investment has brought a clutch of well-paid players to the East Midlands, some looking very well fed, but the team are better going forward than defending and Chelsea enjoyed themselves upfront. Cahill nodded in Juan Mata's corner unchallenged after 12 minutes then, after Paul Konchesky had cleared a Daniel Sturridge effort off the line, Kalou finished coolly following Torres's break down the right.
By then it was clear Leicester's 30-year wait for an FA Cup semi-final place was to be extended and Torres became the centre of attention. When he directed a free header from Mata's clever cross at Schmeichel, then saw the keeper turn aside a 20-yard effort, it seemed another day of frustration loomed. A Leicester reply seemed more likely, with Petr Cech saving well from Neil Danns.
Then came Torres's first goal since a double against Genk on 19 October. Illustrating his renewed confidence, he whipped a fierce shot just over the bar two minutes later. The next goal came, however, from Beckford, a smart drive after Danns's shot rebounded off the post which made him the competition's top scorer with six goals. Though Torres's second killed any hope of a shock, Marshall cheered the visitors with the goal of the game, a long-range drive, before Meireles capped a fine personal performance with his goal.
Chelsea thus moved into the last four of the FA Cup for the fifth time in seven years, Di Matteo returning to Wembley where in 1997 he scored the fastest ever FA Cup final goal against a Middlesbrough side which included yesterday's rival manager, Nigel Pearson. If the interim manager keeps this up, he will assume an air of permanence.
Match details
Chelsea: CECH 7/10; BOSINGWA 6; IVANOVIC 6; CAHILL 7; BERTRAND 6; MEIRELES 8; MATA 8; MIKEL 6; STURRIDGE 6; TORRES 8; KALOU 7
Leicester: SCHMEICHEL 5; KONCHESKY 5; BAMBA 5; MORGAN 4; ST LEDGER 4; DYER 5; WELLENS 6; DANNS 7; BECKFORD 6; GALLAGHER 5; NUGENT 6
Substitutes: Chelsea Malouda 6 (Mata, h-t), Essien 6 (Kalou, 63), Luiz (Ivanovic, 75). Leicester City Peltier 6 (Gallagher, 43), Schlupp 5 (St Ledger, 62), Marshall (Wellens, 83).
Booked None.
Scorers. Everton: Cahill 12, Kalou 17, Torres 67, 85, Meireles 90. Leicester: Beckford 77, Marshall 88
Man of the match Torres. Match rating 7/10.
Possession: Chelsea 51% Leicester 49%.
Attempts on target: Chelsea 14 Leicester 8.
Referee L Probert (Wiltshire). Attendance 38,276.
Join our new commenting forum
Join thought-provoking conversations, follow other Independent readers and see their replies