The Independent's journalism is supported by our readers. When you purchase through links on our site, we may earn commission.
Chelsea vs Tottenham: Eden Hazard exclusive interview - All is rosy in the garden of Eden
Chelsea's Eden Hazard is the league's most fouled player –  and he can't stop smiling. As he prepares for the Capital One  Cup final against Spurs on Sunday, he tells Sam Wallace that is because he wouldn't have it any other way
Sam Wallace
Friday 27 February 2015 20:58 Comments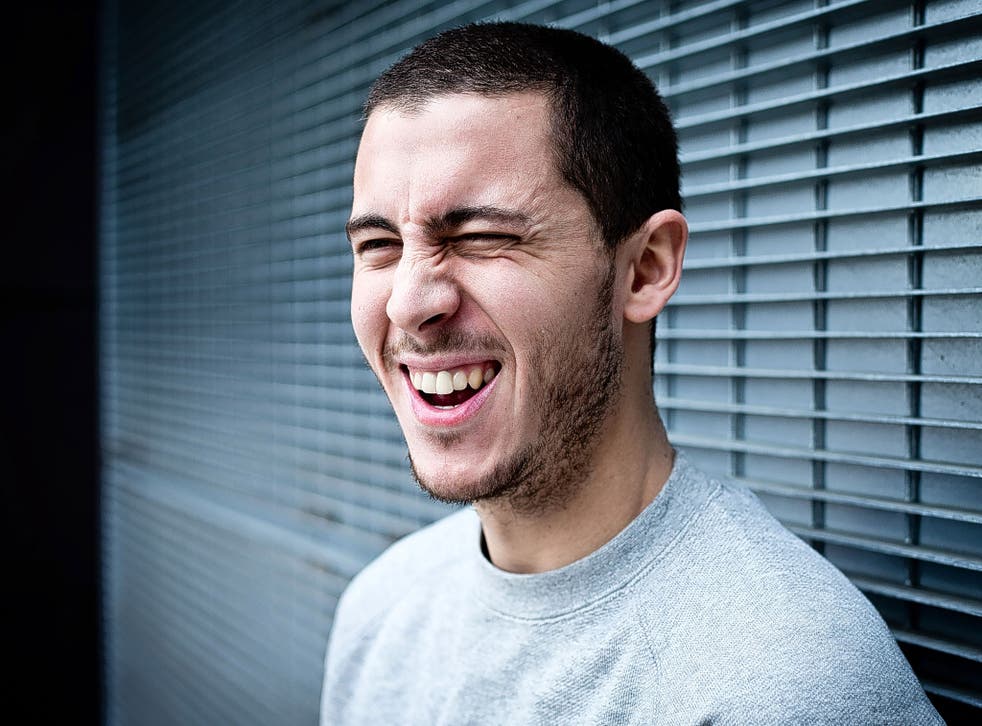 The most fouled man in the Premier League has a spring in his step, and if the opponents charged with stopping Eden Hazard by any means necessary are having an effect then when we meet this week it does not show. When he strolls through the door at Chelsea's training ground, Hazard does not look like a man who plays football in fear of the next challenge; he looks like he does not have a care in the world.
It is his third season at Chelsea and the 24-year-old Belgian is now one of the Premier League's biggest stars. He signed a new contract this month to stay until 2020 at least, and by that time the expectation is that he will have added considerably to the one trophy he has won so far at Chelsea, the Europa League in 2013, starting with Sunday's Capital One Cup final against Tottenham Hotspur at Wembley.
Hazard was one of the goalscorers in the 5-3 defeat to Spurs at White Hart Lane on New Year's Day and when that game is mentioned, he shrugs and points out that Chelsea beat Spurs at Stamford Bridge at the start of December. "It's true it was a bad day but the first time we met them we won 3-0," he says, "so that's in balance over the two matches. Now we need to win the third match."
Hazard is a glass half-full kind of character, the sort of winger who will gladly reach out a hand to haul a full-back to his feet, even if the opponent in question has spent the game kicking him. It's an endearing trait, and while you might expect it to drive Jose Mourinho mad, even the Chelsea manager seems to admire it.
Never more so than in the 2-0 win over Stoke City in December when Phil Bardsley almost put one of Hazard's legs in the stand with a challenge in the first half. After the break, the English full-back went down with an injury and, in possession at the time, Hazard noticed and kicked the ball out so that Bardsley could have treatment. "I wouldn't do it for a player who kicked me," Mourinho joked afterwards. "It shows the kid is fantastic."
Hazard remembers the moment in the game but he says it never occurred to him to do anything different. "That's my mentality. Just because somebody has fouled me there is no reason for me to be nasty to him. I try to respect football as much as possible and when someone is injured you put the ball out."
As for the fouls on him, the numbers are inarguable. Hazard has played 2,301 minutes of Premier League football over 26 appearances this season, according to the statistics website whoscored.com. Over that period he has been fouled 75 times, an average of a foul every 30 minutes. In the Champions League – 534 minutes over six appearances encompassing 28 fouls on him – that frequency rises to a foul every 19 minutes.
By way of comparison, Cristiano Ronaldo is fouled on average every 55 minutes of football he plays in La Liga and every 51 minutes he plays in the Champions League. For Lionel Messi, the frequency is even lower: a foul every 124 minutes in La Liga games, every 121 minutes in the Champions League. Hazard is not even the player who has drawn the most bookings in the Premier League, despite being the most fouled. We could go on.
He tries not to worry about it too much. Hazard says that as a kid growing up in Braine-le-Comte, south-west of Brussels, with his football-obsessed family he also did a bit of judo, which helps now. "I learnt how to fall safely. I was only doing it at a low-level. I wasn't a black belt!"
He hardly ever gets injured and, although he is small, there is a lot of core power. Like a lot of prodigies he has always played with older boys and been forced to compensate for his size. From the academy at Lille to life in the Premier League he seems to adapt. He uses the French "rugueux" to describe the typical profile of defenders in English football – "rough" or "rugged" – but if it bothers him, he doesn't show it.
Didier Drogba's stunning record in cup finals

Show all 8
"I have always thought if there is a game and there have been a lot of fouls on me then I have been playing well for the team, so that means we're having a good match," he says. "You can win a free-kick when there's a foul and that's a chance to score a goal.
"I have always been small so defenders have always been taller and tougher than me. So that's difficult for me, they foul me sometimes but there you are – that's what the rules of the game are for."
It is the absence of anger or annoyance that has always been striking about Hazard. His only red card in England has been for the ballboy incident at Swansea in the 2013 Capital One Cup but, other than that, he has picked up just seven bookings since joining Chelsea and only two this season, when arguably he has been targeted more than ever.
"I don't see the point in reacting," he says. "True, it's a human response but it is the way I have been brought up. I have been used to taking the knocks. The more I take, the happier I am. It always makes me want to outdo them but in a football way and I don't want to make their life a misery by kicking them. I want to hurt the opponent but in terms of the football.
"That [Swansea] was the only one [red card] – it's true that I don't normally get red cards. I am still young. Maybe with age it will come. Maybe I will become more aggressive but I hope not."
In recent weeks, Mourinho has taken the debate back to what he considers the lack of protection for his player, especially after the Paris Saint-Germain Champions League first-leg tie, in which the French team broke the competition record for the most fouls on one opponent – nine on Hazard. Mourinho has even suggested new shin pads that protect Hazard's calves as well, but really the Chelsea manager seems to be making a point to referees.
"I know when I was in France there was a moment when the [Lille] coach Rudi Garcia pointed his finger at refs who should have been protecting me," Hazard says. "I hope they do try to protect me because they should be protecting the players who are playing the ball. That is the point of it. All we want is that there is a bit of consistency."
That was France, what about England as a tougher place for his breed of player? "Well, that is what characterises English football. Obviously, there are more rugged defenders but that is also the beauty of English football – as long as it does not get too much.
"Of course, there are defenders who are typically English. It's up to me to adapt to them. That's how I always play against a defender. I try to adapt to his character so the more that they foul me the more I want to succeed on the pitch. So, in fact, maybe it's a good thing to get fouled!"
A young Ryan Giggs would tell stories about how opposing full-backs would warn him of the consequences of humiliating them, and that there were times when Bryan Robson would insist on switching positions with his teenage team-mate to sort out individuals. Hazard has a more 21st-century approach to the problem.
"The more you play against teams and defenders, the more you get to know them. You know if they are more nervous, you know on the pitch people are different. I try to adapt to their character.
"It is true that when I was younger – mind you, I'm still young – there were defenders, mostly in France who would say to me: 'Go gently, otherwise I will break your leg'. But it has always been friendly! Now I am no longer entitled to the friendliness, we've gone beyond that point. It's part of the intimidation. It is what defenders do. If they don't have the quality on the ball, it's what they do."
Asked who his most difficult opponent is, he talks about the team-mates he faces in training and then alights on Pablo Zabaleta. "It's always a tense game with lots of conflict and he is always right behind me – it keeps you up right on your toes." If anything it sounds like he enjoys it.
For Hazard, there is the possibility that one day he will inherit the status that the likes of Messi and Ronaldo have now and perhaps might be a Ballon D'Or winner himself. At first he says that he still has "two or three stages" to go up before that. When I raise my eyebrows he corrects himself. "Well, maybe just one. It sounds better to say two or three! It is not the primary objective but it would be great."
What of Mourinho? The perception is that the Chelsea manager changed Hazard. That he turned him from an all-out attacker into more of a team player. Hazard sees it differently; very differently, in fact. He says that Mourinho gives him a lot of freedom.
"It's true we do have a special relationship. What is good about him as a coach is that he lets us play. He lets me play. He is not always on at me and I really appreciate that. If it isn't good he says so, if it is good he says so. He is always direct. But I don't think he has changed me. He has taught me to become more professional and to be better on the pitch. I don't think I have changed my mentality. You can't change that. I am who I am. He has always taught me to get the best out of myself."
Before we finish we talk about the possibility of those futuristic, wrap-around shin pads. I ask him if he often comes off the pitch with bruises all over his lower legs. "Sometimes," he says, but he is smiling when he answers.
Eden Hazard was speaking ahead of the Capital One Cup final on behalf of Capital One – the card in your corner. Visit facebook.com/CapitalOneUK
Register for free to continue reading
Registration is a free and easy way to support our truly independent journalism
By registering, you will also enjoy limited access to Premium articles, exclusive newsletters, commenting, and virtual events with our leading journalists
Already have an account? sign in
Join our new commenting forum
Join thought-provoking conversations, follow other Independent readers and see their replies