The sad story of Bobby Stokes, Southampton's forgotten Cup final hero
Stokes won Southampton their only major honour, but he goes without a lasting memorial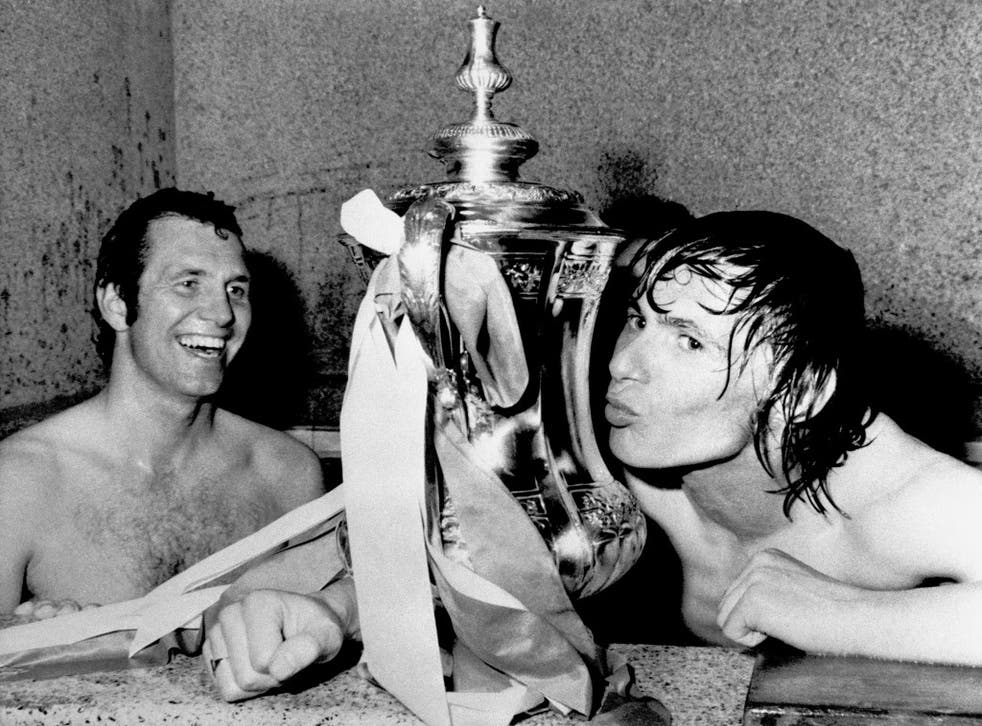 There is a statue outside St Mary's of Ted Bates, the former player, manager, director and president who gave a lifetime of service to Southampton Football Club and took them into the top tier of domestic football for the first time in 1966.
Among Southampton diehards, no one argues that such recognition is not deserved. Many, though, think he ought to have company, perhaps of the player who scored the club's most famous goal, the one that won the club's only major trophy in 131 years.
Given that this was the goal, seven minutes from time and the only one of the game, that beat Manchester United in the FA Cup final of 1976, it is being recalled this week in particular as the current Southampton side prepares to take on United at Wembley again on Sunday.
So too is the rather sad story of its executioner, the straggly haired attacking midfielder, Bobby Stokes.
I interviewed Bobby 22 years ago - 22 years this week, as it happens - as part of a Where Are They Now? series for The Independent. Back then, pre-Google, there was no trail of digital footprints to help track down a subject and it took several phone calls before I found him at the Harbour View Cafe by the docks in Portsmouth, part of a transport hub known as The Hard.
The cafe was owned by his cousin, Maria, and he had worked there, he told me, for about eight years, brewing tea, cooking breakfasts, wiping down tables and chatting with the bus and taxi drivers and with the stream of travellers heading from the ferries to the railway station who kept the place busy from dawn to dusk.
When I suggested, as tactfully as I could, that it might seem an unlikely situation in which to find a man who had scored the winner in an FA Cup final, I was struck immediately by his humility. "I don't wear my medal around my neck," he said. "But I'll happily recall every detail of the match with anyone who has 90 minutes to spare. It was the best day of my life."
Clearly, the goal had not made his fortune, although there was no hint of bitterness. He did confess that after 11 years at Southampton he had been disappointed not to be given a testimonial. Yet that had been remedied, he was pleased to say, after he decided "to just brassneck it and ask" a few weeks before we spoke. A series of fundraising events were in the planning.
Yet the story was to take a sadder turn. Only three months later, Stokes was dead. Living alone after his marriage broke up, his health suffered. An infection turned to bronchial pneumonia and, in spite of moving back to the family home on the Paulsgrove estate in Portsmouth, he was not able to fight it off.
Today, Maria says she will never forget losing him. "It was heartbreaking," she told me. "He was my cousin but we were more like brother and sister. My mum and his mum were sisters and their houses backed on to one another. To get to Rob's house - he was always Rob to us - you just climbed over the fence. We were all the same family, really.
"He lived in Southsea when he married and after they broke up he was choked, lonely I think. I used to pick him up in the morning sometimes and I knew he wasn't right.
"He would always shrug and say he was okay but eventually I brought him home. To begin with he seemed to improve but when the pneumonia took hold that was it. I was pregnant and had an antenatal clinic the day it happened and I didn't get back before the ambulance took him away.
"He'd told me he wanted me to have a girl and that when she was born he wanted me to put her on his shoulder. It was a girl. She was born four days after he died. I took her to see him and I did lay her on his shoulder."
Stokes' life had begun to change within months of his Wembley triumph. The Charity Shield at the start of the following season was the last time that team would play together. They had won the Cup as a Second Division side, the underdogs against a resurgent United, but the manager, Lawrie McMenemy, needed to build a team to win promotion.
Stokes lost his regular place and by May 1977 had been sold to the Washington Diplomats of the North American Soccer League. He stayed for two seasons, in between times achieving his dream of signing for Portsmouth, who had rejected him as a schoolboy, although the move was not successful.
On returning to England permanently, he played for a number of non-League teams, followed the well-trodden footballer's path into the pub trade and also worked as a labourer in a plumbing and heating business before settling to his job at the Harbour View.
The plumber who took him on was John Robson, who had played professionally in Scotland and sometimes lined up alongside Bobby in charity games.
"He was such a warm guy and everybody loved him," Robson said. "He never wanted to brag about what he'd done. He liked a drink - that's how it was in football in those days - and he loved to meet up with his old teammates, but he never thought he was anyone special.
"There was an occasion when I took him to the village near Bishop Auckland where I was born and he disappeared. After looking in all the pubs in the village my brother-in-law and I eventually found him at my old football club. Someone had recognised him and invited him in to meet the lads.
"Afterwards, he couldn't get over it. 'Wasn't that fantastic,' he said. 'They wanted to listen to me and I'm nobody'. I said to him 'Bob - you scored the goal that beat Manchester United in the FA Cup final!'"
Robson later tried to persuade Stokes to set up his own cafe in Southampton. "We found a place on Shirley High Street that would have been perfect.
"I told him we'd put his pictures on the wall and I came up with a name for the place, The 83rd Minute. He said 'why would you call it that?' and I said 'because that's the time you scored the goal!
"He would have been great but days before we were meant to get started on the place he told me he couldn't do it. He never really explained why. Maybe it was the responsibility, maybe he just didn't want to be the centre of attention, I don't know. He just said he couldn't do it."
Jim Steele, the Scottish centre half in the 1976 team and a teammate for the Diplomats too, believes Stokes simply was not equipped to deal with life after football.
"He made some money in America but not a lot," Steele said. "When he came back he ran the pub but he wasn't cut out for that, really. I just think he didn't know what to do with himself after the football had finished."
There are pictures of Stokes on the walls at St Mary's and his Cup final shirt is on display in a frame in the boardroom but a suite named after him disappeared during changes to the stadium's infrastructure. His name on an apartment block where The Dell used to be hardly equates to a statue.
"It is disappointing," Robson said. "I did ask Lawrie (McMeneny) once about a statue but he told me they would have to go through the council, which I know is true. As for the testimonial, he should never have had to approach the club. It should have been the other way round."
The closest to a lasting memorial to Stokes so far is a book written last year by Mark Sanderson, a local journalist, which tells the player's story from the viewpoint of those who knew him best.
"I loved the book and it's something I'll never part with," his cousin, Maria, said. "I want people to know what Rob was like. He was a real gentleman, just a lovely person.
"He didn't complain. He was happy with what he had and proud as punch with what he'd done. No one could take that away from him."
Join our new commenting forum
Join thought-provoking conversations, follow other Independent readers and see their replies