Ilkay Gundogan breaks deadlock as Man City snatch late victory against Everton to reach FA Cup semi-finals
Everton 0-2 Man City: Pep Guardiola's side remain on course for an unprecedented quadruple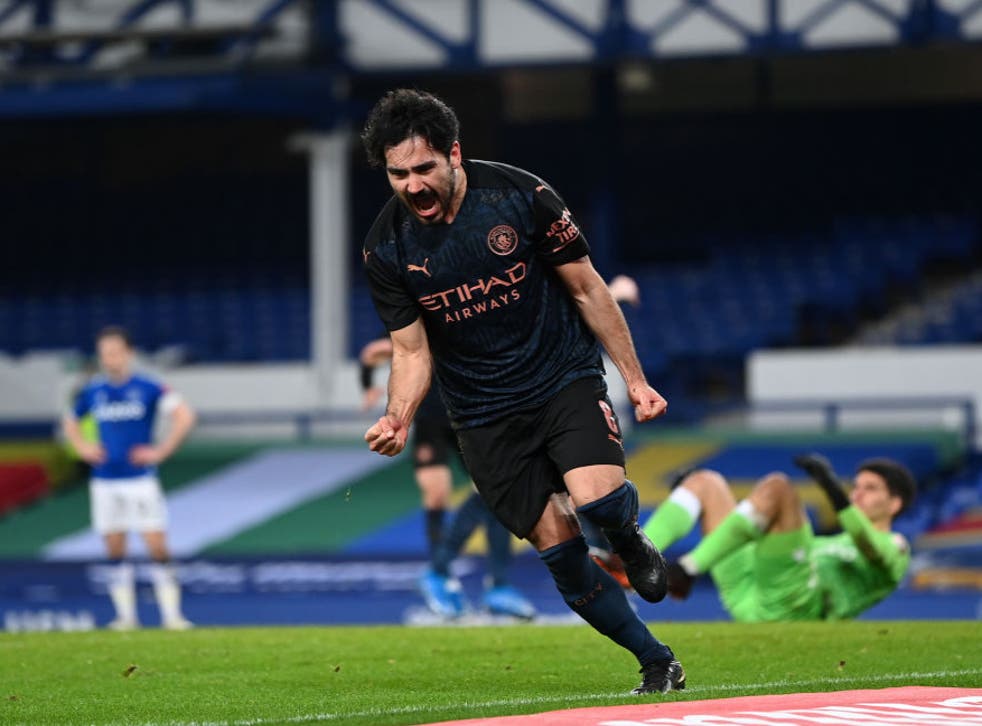 One dream had to die in the FA Cup quarter-final at Goodison Park, but it was not Manchester City's. Ilkay Gundogan ensured their crusade for an unprecedented quadruple ticks on, before Kevin De Bruyne dusted the sprinkles on top of that reality.
For Everton, however, visions of a first trophy since 1995 will be shelved for another year. They were so close to rattling City, to getting the result that was marked beyond them. 
The home side's ambitions were seared by Gundogan on 82 minutes and obliterated by substitute De Bruyne shortly after.
Everton had done a great job of containment, but City - as they do - were patient and finally paved a path to victory.
It was a month ago when Carlo Ancelotti sat at the top table at Goodison Park, staring into his laptop screen and shrugging his shoulders over how to and who could stop Pep Guardiola's machine. 
Everton had survived 32 minutes without being breached by City back then, ultimately succumbing 3-1. They hadn't even completed a pass in the final third when Phil Foden's volley deflected in off Seamus Coleman for the opener.
They had to up the obstructive anti on Saturday evening, while adding a thick layer of attacking aggression to their play. 
An already mammoth task was made more taxing by having third-choice goalkeeper Joao Virginia between the sticks, with Jordan Pickford and Robin Olsen both injured. 
Yet Everton turned in a near-perfect first half, frustrating City with their organisation and disruption, allowing them possession but not comfort. 
The visitors found themselves in a scrap that they clearly didn't enjoy. Despite completing 322 passes to Everton's 73 in the opening 45, the Premier League leaders were afforded just one shot from inside the box. 
It was all pass, pass, pass and when they did cede the ball, Everton made sure to go direct and hard, particularly looking to maximise set-pieces. The best opportunity of the half had fell to them.
Read more
Lucas Digne's whipped delivery towards the near post was met by Yerry Mina, his header navigating into the top left. Oleksandr Zinchenko was the obstacle to that, heading off the line with City keeper Zack Steffen beaten.
The second best opportunity of the first stanza also fell to Everton. After playing through City's press, Gylfi Sigurdsson slipped a neat pass to release Dominic Calvert-Lewin.
Steffen rushed out and timed his slide tackle, well but the ball ricocheted off the striker. Ruben Dias, as has so often been the case this season, averted the danger.
The match was livelier after the interval and Richarlison went close following a Sigurdsson free-kick that Mina knocked down. But not as close as Raheem Sterling in the next phase of play. 
The England international connected with a cross from the left, side-footing his effort aiming for the bottom right from 12 yards. Virginia, the 21-year-old making his FA Cup debut, diverted it with his fingertips.
In the league clash here in February, Bernardo Silva had decorated the game and bent it to City's will. Everton totally negated his influence and he was replaced by Riyad Mahrez.
It was the throwing on of De Bruyne that was more significant, with the midfielder driving greater verve and intention into City's play. 
He was unsurprisingly involved in both goals. Laporte motored down the inside left and supplied iDe Bruyne, whose shot was tipped onto the crossbar by the excellent Virginia. 
The ball ricocheted to Gundogan, though and his diving header was decisive.
A poor Mina header was picked up by Rodri, who played in De Bruyne. He drove into the box, shifted possession to his left foot and Everton's dream turned to ashes as City's flashed up in lights.
Join our new commenting forum
Join thought-provoking conversations, follow other Independent readers and see their replies