Exeter City vs Liverpool preview: Jurgen Klopp well aware of the value of winning the FA Cup
Liverpool manager's favourite victory at Dortmund was beating Bayern Munich to win the DFB Pokal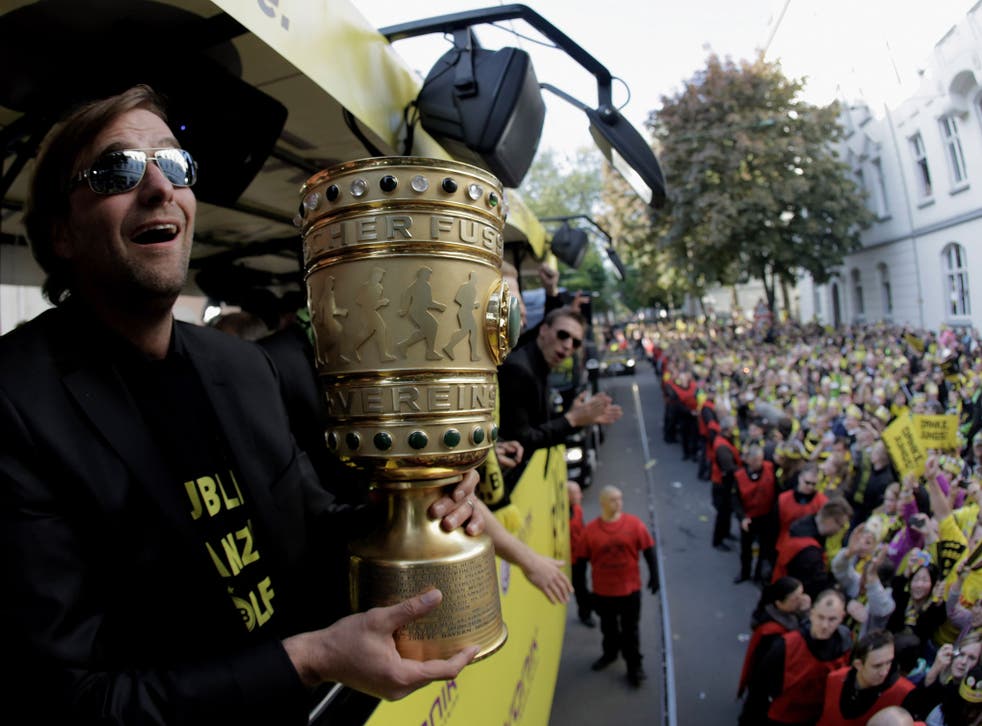 When asked for his best memory of Borussia Dortmund, Jürgen Klopp chose neither of his Bundesliga triumphs, nor the evening when he led the club out for the European Cup final at Wembley. It was their victory in 2012 over Bayern Munich in the German Cup final, the DFB Pokal, a display of pressing and power in Berlin's Olympic Stadium that finished with Dortmund winning 5-2.
"For the sheer emotion of it, I would have to choose that game," Klopp said. "It was not so much the scoreline but the fact that everything we did went bang and we did it against Bayern Munich."
As he prepared for his first FA Cup tie against Exeter City, Klopp was keen to stress that cup competitions also matter deeply in Germany.
"When I came here, people talked about how I had won two league titles in Germany but nobody mentioned the fact that we had done the Double in 2012," he said. "In England, Arsenal have won the FA Cup for the last two years but here I only hear talk that they haven't won the league for I don't know how many years. The FA Cup is a big, big tournament."
His last match as Dortmund coach in May last year was another, sadder final in Berlin. Having taken a side ruined by injury from the foot of the Bundesliga table in December to a respectable seventh, winning the garish, golden trophy would have been a lovely way to say goodbye.
At the end the Olympic Stadium echoed to his name but they were chants of defiance in defeat. Wolfsburg, inspired by Kevin De Bruyne, won 3-1 and in the post-match press conference, wearing the yellow Borussia baseball cap for the last time, Klopp fought, often in vain, to stem the tears.
"I am trying very hard to keep my emotions in check," he told reporters. "Every time I hug a player the tears come because it is the last time I will hug them."
Before he takes charge of his first FA Cup tie as manager of Liverpool, Klopp might have to be introduced to some of his players. The club is so riddled with injuries and the fixture list so forbidding – their next two Premier League games pitch them against Arsenal and Manchester United – that Klopp will have to scrape together a side from the reserves.
For some, like Jose Enrique, it will be a chance to remind people he is still at Liverpool. The Spaniard's last game for the club was in January last year, in a goalless draw with Bolton in the FA Cup. He played centre-half then and, given that Liverpool have no available centre-backs, that is probably where he will play this evening.
Liverpool will fly down to Devon, which will give Klopp and his backroom staff more time to assemble a squad. "I will be there and I will take a few players with me," he grinned. "At the moment I don't know who is available."
While Klopp was giving his press conference, Tiago Ilori was in another part of Melwood having his loan agreement with Aston Villa cancelled. The young defender is another of Liverpool's forgotten men. Having paid £7m for him in 2013, Ilori had never actually managed a first-team game for the club and been loaned out to Villa, where he had not got a game either.
In the circumstances, it was a mutually beneficial agreement. Aston Villa can expect a refund on some of the £1m they paid for the 22-year-old as a loan fee while Liverpool have got a footballer to put on the pitch at St James Park. If that is the only game he plays for Liverpool, Ilori will prove an even greater waste of money than he has so far.
Naturally, given that the tie will be televised live on the BBC, Liverpool are steeled for some headlines that they are "disrespecting the FA Cup". It is a suggestion that causes Klopp's near constant smile to disappear immediately.
"If someone wants to write such a headline, it will not be the truth because we respect the FA Cup," he said. "There is only one team in the Premier League that had the same number of fixtures as we had and that is Tottenham and they did not play on Tuesday because they were out of the Capital One Cup.
"If we hadn't played on Tuesday, then Phil Coutinho and Dejan Lovren would not have been injured and would have still have been in the race."
Even though he knew what to expect, Klopp has been surprised by the sheer intensity of the English game as December folds into January.
The introduction of his brand of high-octane football to a squad that was not overtly physical was bound to cause casualties but Klopp has handled Liverpool's League Cup campaign superbly. Tuesday night's 1-0 win at Stoke in the first leg of the semi-final was in its way as impressive as the 6-1 rout of Southampton at St Mary's in the quarter-finals at the start of last month. Now there is the FA Cup.
His first match in the DFB Pokal with Dortmund carried echoes of his first FA Cup tie with Liverpool. It was, like this one, an away game at a fourth division club, Rot-Weiss Essen. However, then Dortmund had to make only a 46-mile round trip rather than 500 and Klopp did not have to scour the training ground asking anyone and everyone if they fancied a game.
Register for free to continue reading
Registration is a free and easy way to support our truly independent journalism
By registering, you will also enjoy limited access to Premium articles, exclusive newsletters, commenting, and virtual events with our leading journalists
Already have an account? sign in
Register for free to continue reading
Registration is a free and easy way to support our truly independent journalism
By registering, you will also enjoy limited access to Premium articles, exclusive newsletters, commenting, and virtual events with our leading journalists
Already have an account? sign in
Join our new commenting forum
Join thought-provoking conversations, follow other Independent readers and see their replies