Antonio Conte calls himself a 'serial winner' but insists he'll respect any decision made by Chelsea over his future
The Italian stated that the club knows he 'can't change' who he is as a manager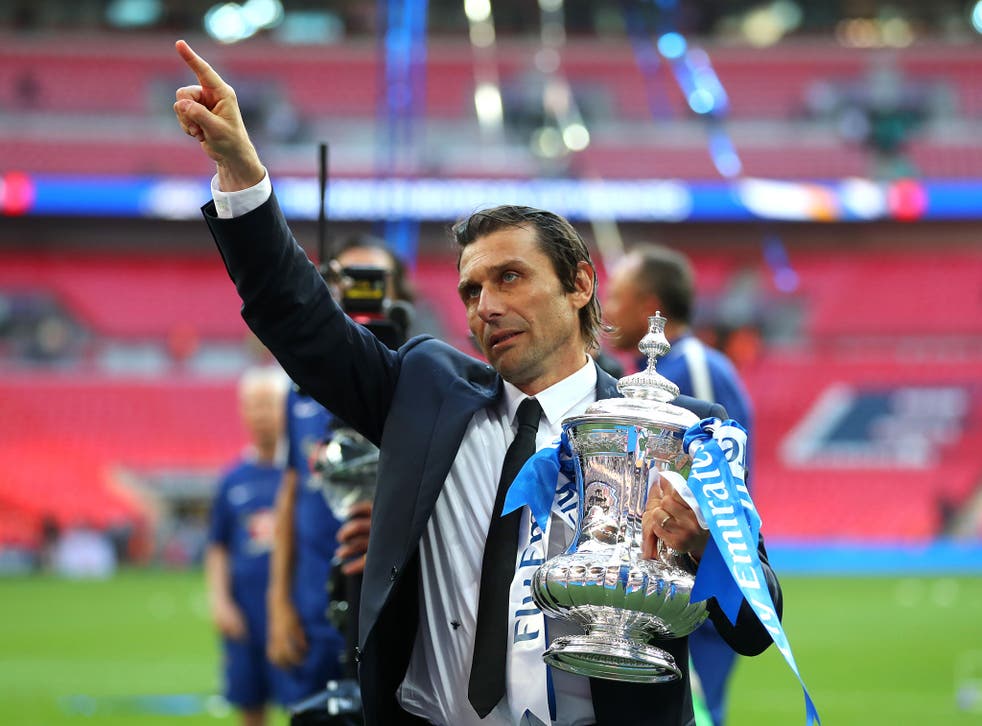 Antonio Conte says that Chelsea's FA Cup final victory proved he is a "serial winner", as he again insisted he had achieved the "maximum" possible with the resources available to him. Debate over whether the club has fully backed him has fuelled speculation over his future at Stamford Bridge, though the Italian spoke ambiguously on the subject. He stated the club knows he "can't change" who he is as a manager, but that he will respect any decision and always love the club.
Conte is now widely expected to leave Chelsea, although there remains something of a stand-off given he has no obvious job to walk into and they have no obvious replacement, with that further complicated by the issue of a pay-off. It is a situation ironically further complicated by this 1-0 win over Manchester United, since a focused Chelsea performance was a reminder of why they hired Conte in the first place. The manager said that the nature of the season meant this win was one of his most satisfying, as he claimed his first knock-out trophy.
"For sure in this season when you are used to winning every season – don't forget I was used to winning every season – this type of season can try to create some problems in yourself," he said. "When you have this type of season there are moments that you have a lot of questions for yourself. But I think, also in this season, in a difficult season like this, I showed I'm a serial winner. This is the truth. To win in this way this season give me more satisfaction than my wins in the past.
FA Cup final player ratings: Manchester United vs Chelsea

Show all 22
"I think after two years the club knows me very well. The club knows me very well. If they want to continue to work with me, they know me. I can't change. I can't change. My way is always the same. Hard work and to build a strong mentality with my players. I can't change. I can't change. I'm this. I'm this and I think my past speaks very clear as a player and as a manager.
"You can tell what you want, but I'm a serial winner. I showed this in England in a difficult moment for the club, after 10th place. I've showed this also today, because we found the right way to win this trophy. I'm very happy for the players, I'm very happy for our fans. At the same time I'm happy for the club. The decision to charge me, in two seasons I brought two trophies for this club.
"I have a contract and I'm committed for this club. I think from the start of this season, because don't forget the speculation started after our first defeat against Burnley, my position was always the same: I'm committed for this club, despite a lot of speculation. One day I had the possibility to go to the national team, one day this team, one day another important team. In every press conference I always say I'm committed to this club, to respect my contract.
"As you know very well our job is not simple. I understand that the club can make a decision, a positive decision, a negative decision. I'm the first to understand. I'm the coach of a great, important club, in England and the world. It's right that the club demands of me a lot. I think you have to understand if in this season we had the maximum or not. There is also this possibility with this group of players we did the maximum. I have great respect for my club. For sure we'll make the best decision. I'm the first to accept every decision for the future. After these two seasons I will always love this colour, these fans, this club. Also if my future must be in a different way."
Conte meanwhile praised the commitment of his side in a tough game.
"I'm very satisfied because today was very difficult. Very difficult. To win in this moment, to win the FA Cup against a really strong team, a really great team like Manchester United, we must be pleased. It wasn't easy. But I'm very happy for our fans, for my players. The fans and especially the players deserve this win, to win an important trophy in this season that for sure was very difficult for many reasons. I have predicted at the start of the season the difficulty of this season.
"Despite this we finished fifth and have won the FA Cup. We lost the semi-final against Arsenal in the other cup. For sure to miss a place in Champions League is not good. It's not good for a club like Chelsea. We must be honest to say this. Me, the players. But at the same time I think you have to know the real situation, to understand if this group of players did their best this season.
"But to finish in this way, to win an important trophy like this it showed great commitment of my players, it showed great desire to finish the season in the right way despite the great difficulty we have had."
Register for free to continue reading
Registration is a free and easy way to support our truly independent journalism
By registering, you will also enjoy limited access to Premium articles, exclusive newsletters, commenting, and virtual events with our leading journalists
Already have an account? sign in
Register for free to continue reading
Registration is a free and easy way to support our truly independent journalism
By registering, you will also enjoy limited access to Premium articles, exclusive newsletters, commenting, and virtual events with our leading journalists
Already have an account? sign in
Join our new commenting forum
Join thought-provoking conversations, follow other Independent readers and see their replies