FA Cup final descends into farce after singer Karen Harding misses her cue during national anthem
X Factor star Karen Harding missed the entire first verse of the national anthem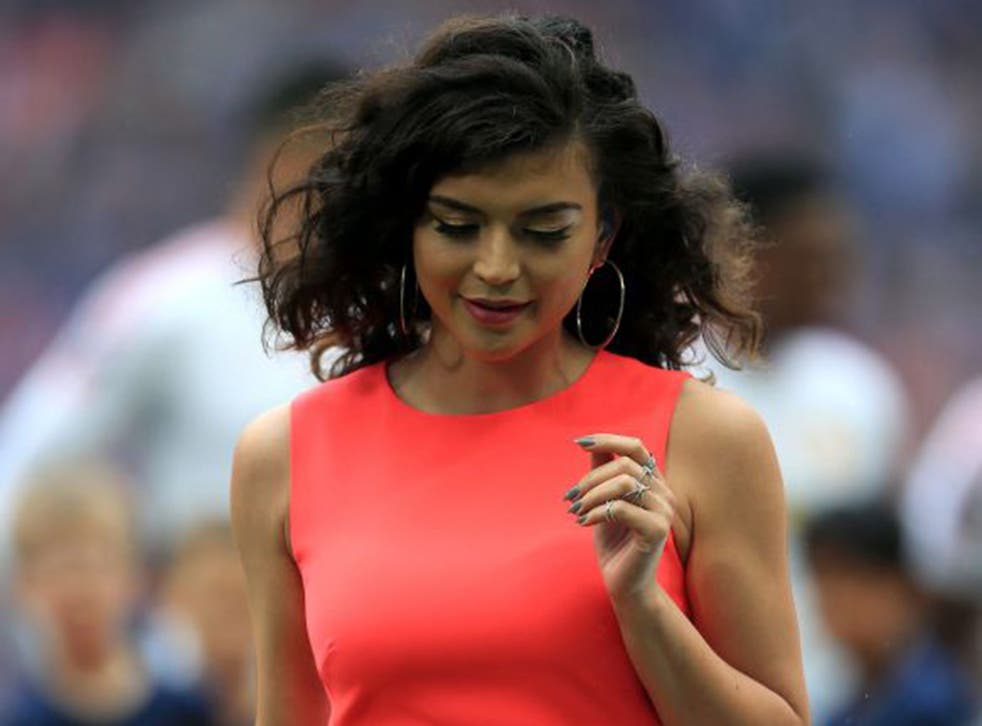 The FA Cup final got underway in chaotic scenes that left many fans scratching their heads and questioning whether they were watching the grandest match in the English calendar or a new version of the Super Bowl.
But while there was a mixed reaction to British rap artist Tinie Tempah's performance before kick-off, it was nothing compared to the moment when Karen Harding, the X-Factor star responsible for singing the national anthem, missed her cue.
While everyone around her begun to sing God Save the Queen, Harding smiled at the camera waiting for her cue to start, only to realise halfway through that she had missed the opening verse.
As the BBC's match commentator Guy Mowbray pointed out afterwards: "There's a lot of noise around the place, it's easy to miss your cue."
The 24-year-old, who featured on the tenth series of The X Factor, quickly realised the error of her ways, and started singing midway through the second verse, but the damage had already been done.
Harding took to Twitter afterwards to admit she was "mortified" by the ordeal, and revealed that a technical failure had led to her missing the cue to start singing.
FA Cup Final - Manchester United beat Crystal Palace in extra time
"OMG. Biggest audience of my life and I get technical difficulties! Argh so sorry Guys!!! Xx," she wrote.
"Mortified!! I don't know what happened. :("
A number of football journalists took to Twitter to express a mix of confusion, bemusement and outrage at the scenes leading up to kick-off – which for the third consecutive match involving United was delayed – with many comparing it to the Super Bowl.
However, there was a bit of sympathy for Harding, coming from BBC radio DJ Trevor Nelson, who said: "Feeling for Karen Harding missing her cue for the anthem.#FACupFinal."
After all the confusion, the match finally got underway five minutes late, though everything soon settled down once the game started and normality resumed.
Register for free to continue reading
Registration is a free and easy way to support our truly independent journalism
By registering, you will also enjoy limited access to Premium articles, exclusive newsletters, commenting, and virtual events with our leading journalists
Already have an account? sign in
Register for free to continue reading
Registration is a free and easy way to support our truly independent journalism
By registering, you will also enjoy limited access to Premium articles, exclusive newsletters, commenting, and virtual events with our leading journalists
Already have an account? sign in
Join our new commenting forum
Join thought-provoking conversations, follow other Independent readers and see their replies