FA Cup final: Hull's Ahmed Elmohamady flying flag for Egypt
The 27-year-old wing-back expects millions back home to watch him make history next weekend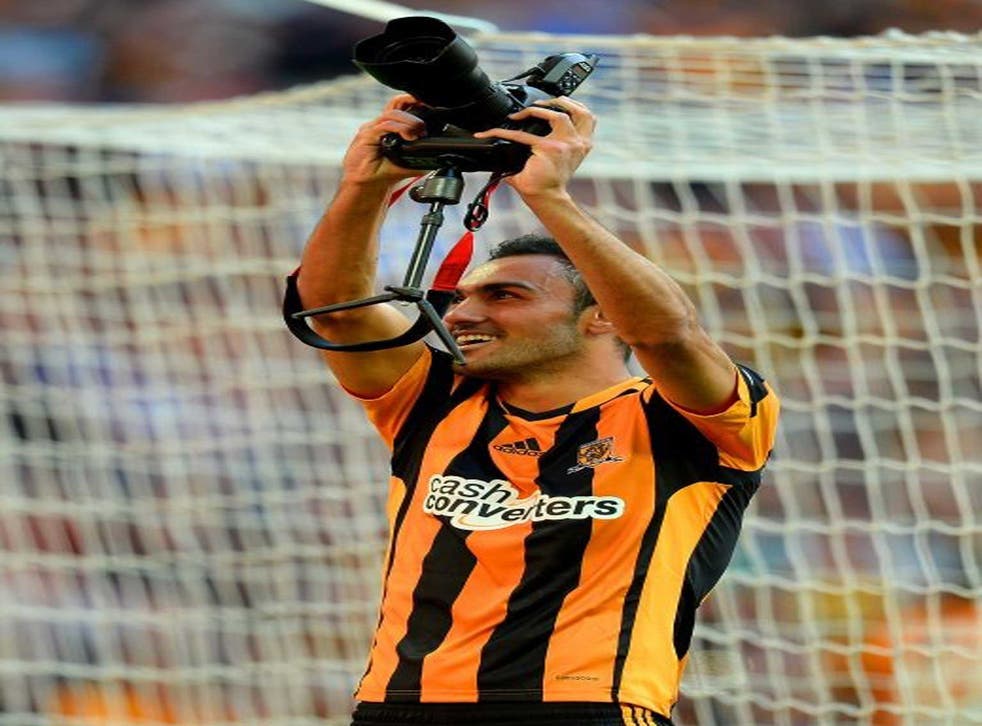 Asked to guess how many of his compatriots will be watching next Saturday's FA Cup final, Ahmed Elmohamady smiles. "Eight million? Ten? Maybe more, I don't know. After all, there are a lot of Arsenal fans in Egypt too."
The 27-year-old Hull City wing-back smiles, well aware the vast majority will be tuning in to watch him, the first Egyptian to play in the final of the world's oldest domestic Cup competition. Elmohamady acknowledges his country, still racked by political turmoil, will be very much on his mind when he walks out at Wembley against Arsenal.
"I think about what is happening [in Egypt] a lot, though every Egyptian who is away will be the same. When you are here, in another country, and some of your family is there, of course you worry about it, about them and your friends.
"But I am just a footballer. All I can really do is work hard and make people proud, so people from other countries think when you are from Egypt you work hard and do your best, always. That is very important to me. When it is hard at home, in your country, these things push you harder, to be a success and make your country proud, to make your family proud."
Such is even more the case after Egypt's failure to qualify for this summer's World Cup. Their chances had seemed good when they topped their qualifying group with six wins out of six, but a disastrous 6-1 defeat to Ghana in the first leg of the final play-off rendered the second leg in Cairo – which Egypt won 2-1 – all but academic.
Elmohamady, who already has 66 international caps to his name, winces at the recollection. "Everyone was excited about qualifying because we haven't qualified for a long time now [since 1990] and we'd done so well in our group.
"But sometimes in football you can have a bad defeat, and that one killed us. We have to forget and look forward to the qualifiers for the Africa Cup of Nations, which start in September, and the next World Cup. Next time will be our time."
In the meantime seeing their footballers being successful in foreign domestic leagues and cups provides genuine compensation. The fortunes of Hull City, owned by an Egypt-born businessman and with Elmohamady a regular starter, are followed with huge interest and the manager Steve Bruce usually has a pile of letters from the country on his desk.
Bruce it was, of course, who brought Elmohamady to England in the first place, when he was in charge at Sunderland. Unsurprisingly, the suggestion that even now the former Manchester United centre-half's managerial ability is probably underrated finds the player in vigorous agreement.
"Look at his results. The first year after he brought me on loan to Sunderland in 2010 was fantastic, we finished in the top ten, I think I played 36 of the 38 games.
"He leaves, Martin O'Neill comes, I didn't play as much and then I had a call from the gaffer to come to Hull on loan. The first season we win promotion, he signs me full-time, this season we stay up, reach the FA Cup final and the Europa League.
"You can say 'he picks you, you must say that' but I think he is a great personality. He looks after his players, he is always asking about our lives outside football, making sure there are no problems, and he is clever too. With his experience you trust him, and when he makes changes they usually work."
Elmohamady points to City's semi-final win over Sheffield United, when after a distinctly undistinguished first half, changes in both tactics and personnel prompted sufficient improvement for the Premier League side to come through.
As a wing-back who can also play right-back, Elmohamady's versatility adds to his usefulness. "I've played in three or four positions this year but it's not a problem for me. When I came to Hull the manager said he wanted me to play in the position I play with the national team, right wing-back, I know this tactic and position much better, but it's no problem for me to play right wing-back, or right midfield, or right-back."
Only when asked about the issue of owner Assem Allam wanting to change the club's name does Elmohamady shrug apologetically. "When I get the chance I sometimes speak with the owner, but I have no real idea about this. We are just players, it's not our job to talk about this."
Mention his family and the smile quickly returns. "My wife Hama is with me, and now we have a son, Malik, who is just nine months. He was born in England actually, so he is already used to the cold.
"So I feel very settled and happy here, and for sure on Saturday I will be very proud if I am picked to play. We know Arsenal will be favourites, their confidence is better now they have some important players back like [Mesut] Özil and [Aaron] Ramsey. But you never know in finals. It is one game and we will be 100 per cent focused."
A knock on the door indicates Elmohamady is required up the hall, where the City players are being fitted with their Cup final suits. Another first for an Egyptian footballer.
Register for free to continue reading
Registration is a free and easy way to support our truly independent journalism
By registering, you will also enjoy limited access to Premium articles, exclusive newsletters, commenting, and virtual events with our leading journalists
Already have an account? sign in
Register for free to continue reading
Registration is a free and easy way to support our truly independent journalism
By registering, you will also enjoy limited access to Premium articles, exclusive newsletters, commenting, and virtual events with our leading journalists
Already have an account? sign in
Join our new commenting forum
Join thought-provoking conversations, follow other Independent readers and see their replies